How to remove external factors that affect the sound of mobile device
Last Update date :
Feb 04. 2021
El sonido del dispositivo móvil puede verse afectado por factores externos comunes con los que tenemos menos cuidado o en determinadas situaciones. Aquí hay algunas notas para verificar cómo hacer un uso adecuado de los accesorios protectores, el líquido endurecedor y salir del caso de emergencia de exposición bajo el agua para un mejor sonido.
Antes de probar las recomendaciones, asegúrate de verificar si el software de tu dispositivo está actualizado con la última versión. Comprueba cómo actualizar el software de tu dispositivo móvil en el siguiente orden.
Paso 1. Ve a Ajustes > Actualización de software.
Paso 2. Toca Descargar e instalar.
Paso 3. Sigue las instrucciones en pantalla.
Aspectos a tener en cuenta al utilizar accesorios protectores no aprobados por Samsung
Ten en cuenta que no debes utilizar accesorios protectores no aprobados por Samsung que cubran la cámara o el flash. Recomendamos el uso de accesorios aprobados por Samsung.
Algunos de los accesorios protectores no aprobados por Samsung, como películas, cubiertas o vinilo que se adhieren a la parte posterior del dispositivo, pueden cubrir la cámara o el flash, y esto hace que se bloquee la ruta del aire dentro del dispositivo. Debido al bloqueo de la ruta del aire, el sonido de recepción no se escucha con claridad o se interrumpe de manera irregular, y el volumen también puede ser bajo.
Si el vinilo protector no se retira correctamente del producto y el orificio del micrófono está bloqueado, es posible que se escuche el sonido de la transmisión o que se produzca ruido. Comprueba el micrófono en la parte inferior del producto y retira cualquier plástico protector u objetos extraños antes de usarlo. 

Nota: asegúrate de quitar completamente el vinilo protector que está adherido al dispositivo.
Precaución al usar película protectora de vidrio templado
Recientemente, al utilizar un producto de vidrio templado (tipo vidrio domo) entre las películas protectoras que se venden en el mercado, existen casos de daños a los dispositivos de los clientes, como inconvenientes en el uso de funciones del producto del smartphone debido al uso excesivo y mal uso del endurecimiento.
Nota: Ten cuidado al colocar la película protectora.
Método de prevención
Cuando uses el líquido endurecedor, ten cuidado de no infiltrar el líquido en el altavoz o botones del smartphone.
Como se describió anteriormente, el mal funcionamiento del producto debido a la penetración del líquido endurecedor puede causar inconvenientes en el uso del smartphone, así como un cargo por repararlo. Al comprar una película protectora de vidrio templado, observa cuidadosamente las precauciones de fijación y presta especial atención al uso del líquido removedor incluso cuando lo uses en el producto para evitar dañar el smartphone.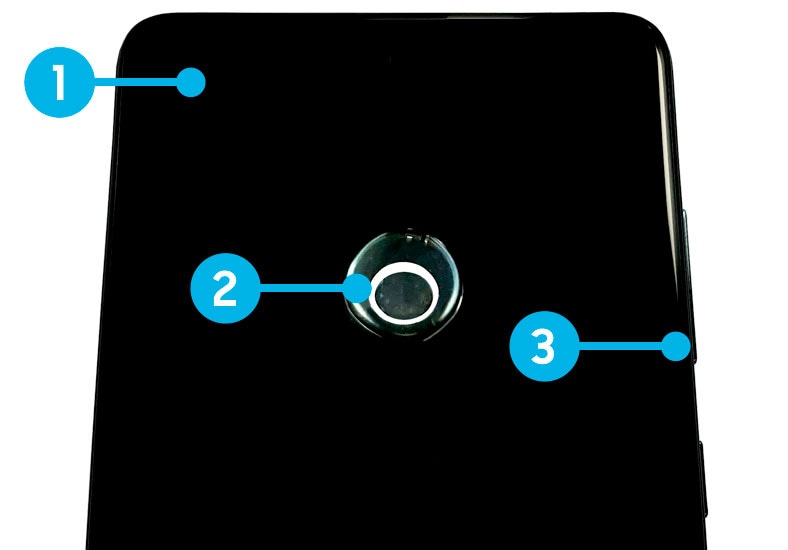 Receptor
Endurecedor
Botón
El dispositivo se ha sumergido en agua o el altavoz está mojado
Si el dispositivo se ha sumergido en agua o el altavoz está mojado, es posible que el sonido no se escuche claramente durante una llamada.
En primer lugar, limpia el dispositivo suavemente con un paño suave y seco. Continúa durante cierto período para secarlo completamente antes de usar el dispositivo. Además, para un secado más rápido del agua en el altavoz, será útil sostener el dispositivo mientras el altavoz está hacia abajo y agitar el dispositivo suavemente unas cuantas veces para eliminar el agua restante. A pesar de esto, cuando queda algo de humedad en la malla del altavoz frontal, es posible que el sonido no se escuche con claridad. En este momento, como esta humedad también se puede eliminar mediante la vibración del altavoz durante la llamada, verifica el estado de sonido del dispositivo mientras realiza la llamada durante un período. Si sigues teniendo problemas con el sonido después de probar estos consejos, visita un Centro de servicio de Samsung.
Nota: Esto es solo para teléfonos resistentes al agua. Los teléfonos que no son resistentes al agua no pueden exponerse a líquidos.
Nota: Las capturas de pantalla y el menú del dispositivo pueden variar según el modelo del dispositivo y la versión del software.
Si estás experimentando un comportamiento inusual en smartphones, tabletas o dispositivos portátiles Samsung, puedes enviarnos una pregunta por la aplicación Samsung Members.
Esto nos permite observar más de cerca lo que está sucediendo. Los datos son anónimos y solo se conservan durante la investigación. Obtén más información sobre cómo enviar un informe de error a través de "Cómo utilizar la aplicación Samsung Members".
Please answer all questions.