How to troubleshoot Google Play Store download
Last Update date :
Sep 22. 2020
Not being able to download an app from the Google Play Store or it shows some random error message? This is probably the most common problem faced by Android users getting stuck with the 'downloading' or 'pending' message. Yet not to worry, here are a few methods how easily you can resolve such issues related to the Google Play Store. 
Before you try out below recommendations as to your solutions, be sure to check if your device's software and related apps are updated with latest version. Please check how to update your mobile device's software in following order. 

Step 1. Go to Settings > Software update.
Step 2. Tap on Download and install. 
Step 3. Follow the on-screen instructions.
First check your internet connectivity

Most of the time, Google Play Store errors are caused by intermittent or slow internet. If you are on mobile data, try to connect the device to a strong Wi-Fi network. If Google Play Store is not downloading while you are connected to Wi-Fi, you may need to troubleshoot your Wi-Fi first. The general rule is to ensure that your phone has a stable internet connection before you start to download anything from the Play Store app.

How to check the Internet connectivity
If you are connected within a Wi-Fi network, you may find Wi-Fi status on the bar whether it has strong or weak internet connectivity. If you are using your mobile data, you will need to ensure that you have enabled mobile data via your Quick panel. Follow the steps below to check your mobile data available.

Step 1. Swipe down from the top screen to access your Quick panel.
Step 2. Turn Mobile data on.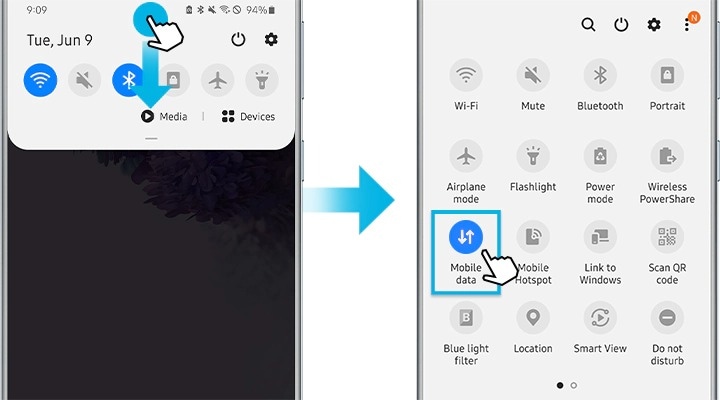 Note: Google Play Store downloads only one app at a time. If another app is being installed or updated, wait for it to finish or stop.
Note: Device screenshots and menu vary depending on the device model and software version.
Please answer all questions.