Galaxy Gear S: How to insert the SIM card?
Last Update date :
Sep 22. 2020
[This FAQ is relevant only for SM-R7500 / Samsung Gear S device]
Insert the SIM card provided by the mobile telephone service provider.
Note:
1. Only nano-SIM cards work with the device.
2. The available features may differ depending on whether or not a SIM is installed.
Follow the steps below. Ensure that the Gear S is switched off.
1
Use the SIM ejector tool when you open the SIM card cover to avoid damaging your fingernail.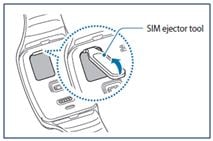 - Use caution not to lose the SIM card cover and the SIM ejector tool.
2
Insert the SIM card on the inside of the SIM card cover with the gold-coloured contacts facing outwards.
3
Place the SIM card cover on the Gear and press the cover to close it.
Ensure that the SIM card cover is closed tightly to prevent water anddust entering the device. 
After you install the SIM card, restart the Gear S.
Please click the submit button below to share your feedback with us. Thank you for your participation.
Please answer all questions.