Working at Samsung
Create, learn, and enjoy

Be an innovator, make an impact
It is the talented people who work at Samsung that have made us one of the world's most innovative companies, and our people continue to drive our innovation forward. We have a passion for what we do, and our work environment is open and collaborative which facilitates sharing of the unique knowledge and expertise that each individual brings. This is a place where you can work with great people and your ideas can be brought to life in new products and solutions that are shaping the future of how we live.
At Samsung we focus on continuous innovation to develop new technologies that inspire and empower people in new ways. This focus has helped us become the global market leader in numerous product categories including TVs, mobile phones, and memory (DRAM, NAND Flash, SSD).
And, to meet the ever-changing needs of our customers, we are constantly developing and adding new services like our mobile payment service 'Samsung Pay' and our artificial intelligence platform 'Bixby', that make our products even better.
Our Research & Development (R&D) teams constantly deliver breakthroughs and discoveries in technology and design, and this has not come about by chance. It's the result of Samsung's bold commitment to innovation and R&D, which is underpinned by massive investment and powered by the excellence and creativity of Samsung's employees, more than a fifth of whom are working in R&D.
We are also pushing forward with innovation through the acquisition of other companies. Some examples of this include our 2015 acquisition of Loop-pay, a company that developed the core technology that became 'Samsung Pay', and our large-scale acquisition of HARMAN, a world-leading connected car technology company in 2016.
To spark further innovation, we've made it a priority to maintain a work environment that promotes creative thinking. One example of how we do this is our Creative Lab, often called simply C-Lab.
The projects undertaken in C-Lab are suggested by employees, and the company provides personnel, budget, and space for employees to turn these ideas into new innovative technology. Many successful C-lab projects are developed further in existing R&D teams, or even spun-off into new startup companies outside Samsung.
What makes working at Samsung meaningful is knowing that you are playing an important role in bringing new technologies to the world that improve people's lives. Under our vision of 'Enabling People', we employ our technology to contribute to growth and development in communities around the world.
We operate programs like 'Samsung Smart School' and 'Samsung Junior Software Academy' to make the latest IT technology more accessible in schools, and since 2009 we have been running the 'Samsung Solve for Tomorrow' program that encourages the development of creative solutions to real problems and challenges facing the local community.
We have also established vocational training programs that include the application of advanced technologies, in fields like IoT and AI, to empower youth with valuable skills that will help them succeed in the future.
Our employees have the opportunity to get involved in volunteer activities themselves as well, using their skills to teach others and make a difference, and some even travel abroad to participate in volunteer programs.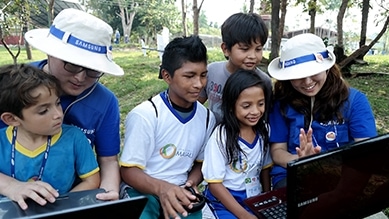 Take on big challenges, build your expertise
Throughout our history we've taken on big challenges and we strive to be the very best at what we do. This spirit is the driving force that has made us a world-leading technology company and sustains our ambition to continue pushing the boundaries of what's possible. Here at Samsung you have the opportunity to continuously learn and grow throughout your career and become a global expert in your field.
Samsung supports all of its employees around the world so that they can grow within the same training system which consists of three pillars: core (our vision, values, culture), leadership (building leadership skills), and expertise (skills development). We aim not only to hire the very best people, but also to provide outstanding training and excellent resources for career development.
Every year the company conducts STaR (Samsung Talent Review) Sessions, a comprehensive talent nurturing process that supports employees in designing an individual career path and establishing a clear vision with their supervisor. Through this process employees can also apply for various human resourcedevelopment programs, such as an MBA, academic training, overseas assignment, or job expert courses.
Based on a performance-based philosophy that says 'where there is performance, there is a reward', Samsung's fair evaluation and reward system enables talented people to focus on work and achieve the highest level of performance.
In accordance with their own circumstances and abilities, employees themselves set their own performance targets, and regular discussions about goals are held between managers and employees. Through a system of fair evaluation employees who demonstrate outstanding performance receive various rewards and opportunities for advancement.
Employees also have the opportunity to change career paths inside the company through our internal Job Posting system if they want to take on a new challenge in a different role.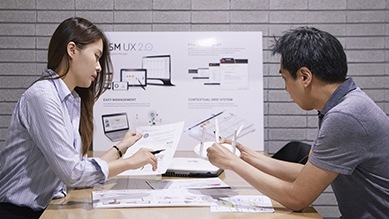 Enjoy your work, enjoy your life
There is no question that our success is a direct result of the hard work and dedication of our people, so at Samsung one of our main priorities is to provide a flexible, fun, and supportive work environment in which our employees can fulfill their potential, innovate and perform at their best. Samsung provides all the support you need to achieve everything you aspire to in both your work and your life.
To ensure our employees can achieve a good work-life balance and maintain a high level of productivity we work under a flexible hours system. In addition, we offer remote work / telecommuting arrangements and have mobile office apps that facilitate working from a mobile phone while out of the office.
Our employees can comfortably commute on our expansive network of buses that run to all areas of Seoul and surrounding suburbs, and enjoy three meals a day, free of charge, in our cafeterias that offer a wide variety of menu options including both Korean and international cuisine.
Our campuses have spaces for enjoying sports activities such as fitness centers, soccer fields, baseball diamonds, basketball courts, swimming pools, table tennis tables, squash courts, and climbing walls; and spaces for taking a break like walking paths and various indoor and outdoor relaxation areas.
The company hosts a wide variety of concerts, performances, and family events and also supports a huge number of employee clubs that make our workplaces a lot of fun. In particular, joining a club is a great way to explore your interests and meet people. There are clubs for activities like team sports, arts & crafts, travel, photography, dance, singing, hiking, cooking, and more. And, if there is no club for your favorite activity, you can start one!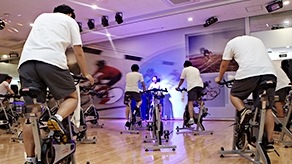 Samsung makes it easier for employees to manage their physical and emotional health by having general medicine clinics, physical therapy clinics, and counseling centers located on our campuses. Annual medical exams are provided free of charge for all employees and their spouses, and the company reimburses some of the expenses incurred when an employee or one of their immediate family members receives medical treatment.
The company also provides a lot of support for employees who are raising children including on-campus daycare centers and support for the payment of children's school tuition, from kindergarten all the way up to university. For expecting and new mothers we have comfortable rest rooms, yoga classes, and specially prepared healthy snacks in the cafeteria. Samsung also helps employees enjoy their time off from work with a travel mall that offers reduced rates at family vacation spots like water parks and resorts, and when employees have worked for the company for a long time they are rewarded with extra vacation time to rest and recharge.