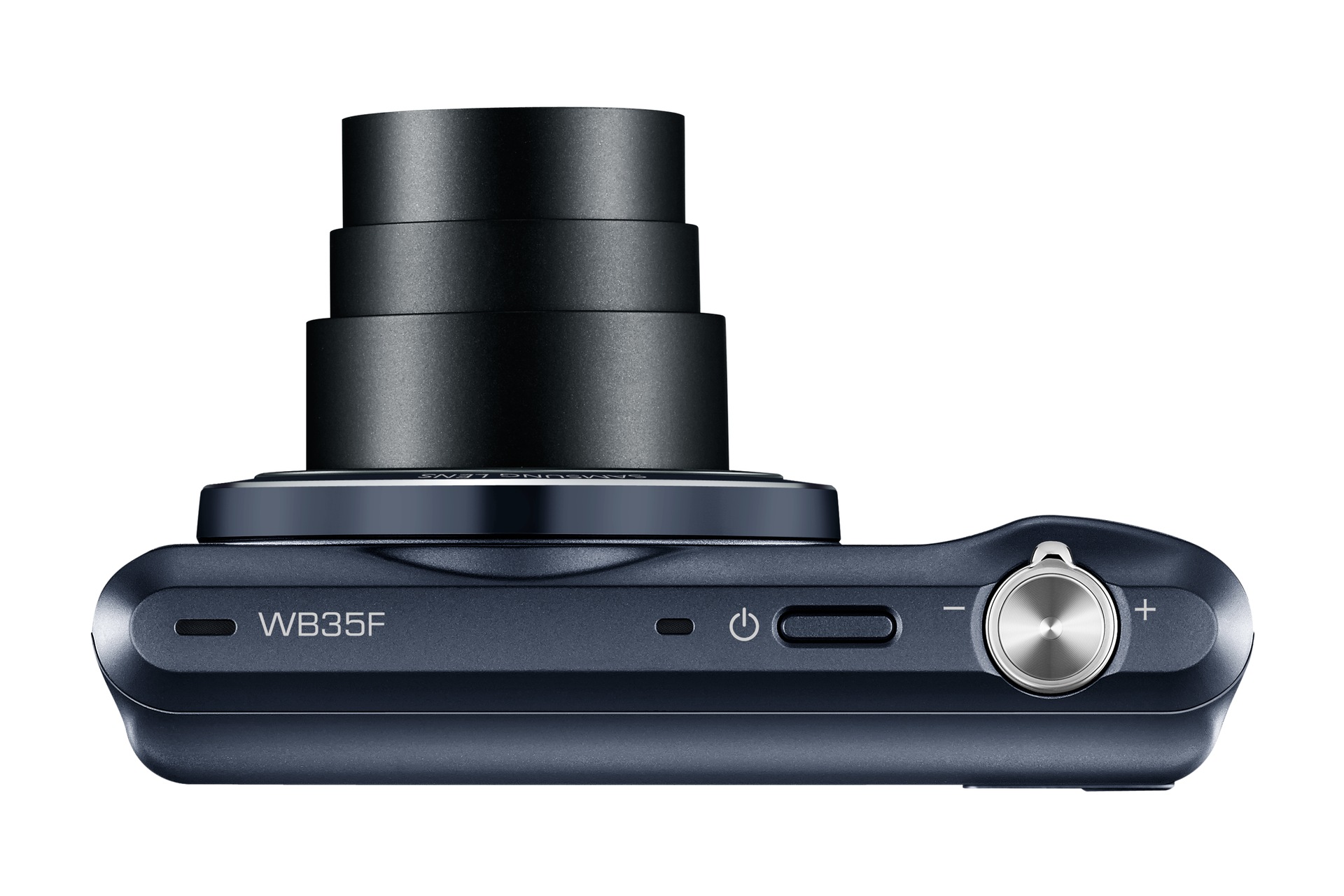 EC-WB35FZBPBGB
WB35F 16MP Digital Camera with 12x optical zoom
WB35F 16MP Digital Camera with 12x optical zoom
is rated out of
5
by
90
.
1/2.3 (Approx. 7.76mm)
Sensor Size
Expand your range of photo opportunities
From up close or far away, preserve the moment exactly how you want to remember it. Capture a spectacular mural that takes up the entire side of a building—or a field of colourful wildflowers that seems to stretch for miles—with the 24mm wide-angle lens. When you can't get physically closer to your subject, such as a windsurfer sailing across the sea, the 12X optical zoom lets you capture every sharp detail.
Share as fast as you snap
Wi-Fi and NFC technologies open up a world of possibilities. Photo Beam lets you transfer an image or video to a friend's smartphone when the two devices are placed back-to-back, while MobileLink sends content to another device much farther away. Other Tag & Go features include a Remote Viewfinder Pro, which lets you control your camera with your smartphone. AutoShare automatically sends every photo instantly to your smartphone or tablet via Wi-Fi that's powered by NFC technology. Sharing and saving have never been this easy.
The easiest way to shoot like a pro
Stop being jealous of the pros with their big cameras, and start taking great shots. Like the perfect trails of light at night on a busy intersection full of red taillights. Or instantly capture a high-speed scene with Action Freeze. A quick tap of Smart Mode and you're set with various special modes. Just choose the one you want and shoot perfection.
Capture brilliance, not noise
Tiny sensors tend to lead to noisy pictures. The WB35F, however, comes equipped with a 16-megapixel CCD sensor that's larger—1/2.3", to be exact—than those found in most compact digital cameras. The results are vivid yet natural images, whether you're shooting in a dimly lit room or outside on a sunny day.
See what you are going to get
With Live Panorama, you can capture a seemingly endless procession of gondolas gliding past a magnificent Venetian palace with an astounding 180º panoramic image. And you can preview the image on the LCD before you even snap it. Just hold the shutter button, sweep across the scene and see what you're going to get before you get it.
CCD

Type

1/2.3 (Approx. 7.76mm)

Sensor Size

67.5mm (2.7")

Size

230K dots

Resolution
Rated

1

out of

5
by
"Fox"
from
May be worthless, depending on computer.
I really love Samsung cameras, and when my old one finally broke down I replaced it with this model... sadly this one is worthless to me. It's not that the camera itself doesn't work, it works fine, the options are nice... but it flat-out will not connect to my laptop. I've looked at online tutorials, fiddled around with this thing for countless hours, and it won't connect before I ultimately gave up. Sadly this makes the camera useless to me apart from serving as the occasional paperweight. I really wanted to love this camera, but sadly it's worthless to me if I can't even upload pictures to my computer for processing and editing.
Date published: 2016-07-18
Rated

3

out of

5
by
Svein
from
Ok camera, but Dropbox function is discontinued
I bought this camera because of the wlan upload to dropbox feature. Only got 403 connect error from Dropbox server, and after contacting Samsung support, I got the message that Dropbox upload possibility was discontinued on this camera. Had to return the camera for a refund. Truly disappointing.
Date published: 2015-07-22
Rated

5

out of

5
by
Joe.r
from
Amazing camera
This is the best camera ever , it was cheap for the amount of features it has! Would recommend !
Date published: 2015-07-22
Rated

4

out of

5
by
jmtwybis
from
Good inexpensive camera.
I have had this camera for about a month and took it to Portugal on holiday. The photos are excellent in good light but not so good in poor light conditions. In bright sunlight it is very difficult to see the image on the screen. I reduced the resolution to 10MP and the photos are still excellent.
Date published: 2015-07-09
Rated

5

out of

5
by
John Ar
from
An easy to use point and shoot camera
Bought this camera for our recent holiday, wide angle lens great for group photos, and for such a small camera the zoom is impressive.
Date published: 2015-07-06
Rated

5

out of

5
by
SueR6
from
Good looking
Easy to use, excellent zoom and takes lovely pics , all you can ask of a camera.
Date published: 2015-06-29
Rated

3

out of

5
by
WheresTheDrobox
from
Dropbox doesn't work
I bought this so I could back up photos to Dropbox but it doesn't actually work. You aren't able to sign into Dropbox. I searched online for fixes and people were saying that they have spoken to samsung who have tried to fix it but been told it just wouldn't work. Pretty poor to be still selling this with dropbox as a feature if that is the case! If anyone has managed to get it to work please let me know. I have managed to get it to work with Picasa on Google+ so will use that instead.
Date published: 2015-06-29
Rated

5

out of

5
by
AJSE17
from
Great clarity of picture,. Easy io get it right.
I bought this camera, for myself, after buying one for my Wife. Her resulting pictures have shown a great improvement in clarity and suitable exposure ( better than my current 'work' compact. So I got one for myself
Date published: 2015-06-28
User manual & Downloads
Live Chat