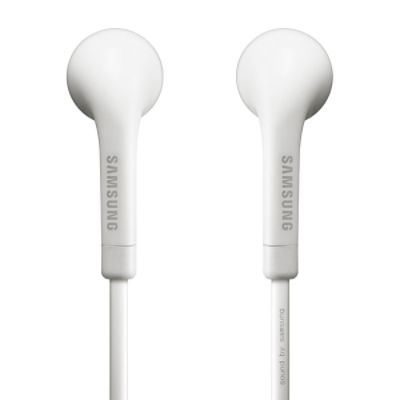 HS330 Wi Headset w/ Inline Mic
EO-HS3303WESTA
HS330 Wi Headset w/ Inline Mic
is rated out of
5
by
33
.
Rated

5

out of

5
by
Gml425
from
Samsung HS330 Earphones
These headphones are great. I love the quality of the product and the sound is amazing! Searched for months to find these after my original ones broke that came with the S5. Would definitely recommend to anyone who needs a good boost in sound as the block out all exterior noise! Love these earphones!
Date published: 2015-11-08
Rated

5

out of

5
by
elizabeth31001
from
Two years
Rarely do I ever review items, but I believe this one deserves it. I have had these earbuds for 2yrs+ and they still work. I have used them to the point where the white is starting to turn yellow and they sound better than ever. The sound quality is amazing and better than any other pair of earbuds I own.
Date published: 2015-07-07
Rated

5

out of

5
by
tm1012013
from
BEST EAR BUDS EVER!!!!
I have had numerous ear buds that all vary in cost, type, and quality. I have small ears and often have trouble with finding ear buds that fit securely in my ears without hurting them. There are two bigger sizes of the gels that come with the ear buds. I'll admit, I didn't pay for these ear buds because they came with my Galaxy when I purchased it. However, that shouldn't deter anyone from purchasing them if you don't get them with a Samsung phone. I have had them for almost 2 years, the longest I have had any headphones/ear buds. I have slept in them, worked out with them, pulled on them, untangled them, and thrown them in my bookbag with tons of pencils and other school supplies and they are still going strong. They also don't get dirty easily even from pencil dust buildup in my bookbag. The sound quality is remarkable, the durability unmatchable, and the sound-proofing stands up to college parties and noisy college girls trying to sing. Look no further, these ear buds will rock your world.
Date published: 2015-02-03
Rated

5

out of

5
by
peter681
from
Fall out of ear solution
The first light and most of the first day I had the sliping out of the ear problem than found out I wasn't wearing them correctly. For those who have this problem, and I will also put it in under a lowerstar rating to blend in with those, try to push them in farther. The test to see if they are far enough is plug it into a device, put them in your ear and nod up and down. The test result should be that they rotate on their own. If they fail this testit means that they are just not fin far enough and to put them in farther with some pushing pressure until they don't go any farther and keep repeating until tests works and after it doees it will just be muscle memory from around the next time and on. To those looking to buy this it is not a problem and njust natural to pushthem in and not have them resting on the bottom of your ear, but being pushed into your ear
Date published: 2015-01-30