What are the Ideal Temperature Settings for my French Door Refrigerator?
Last Update Date :
Apr 06. 2018
Ideal Temperature Settings for French Door Refrigerator
The ideal temperature settings for the French Door refrigerator are 0°F (-18°C) for the Freezer and 37°F (3°C) for the Fridge.
Adjusting the Temperature
To adjust the temperature, follow these steps:

IMPORTANT: On models with touch sensative displays, touch the words "Freezer" and "Fridge", not the icon or numbers.

1
Verify the display is not in child lock mode.

2
Press the Freezer button repeatedly to cycle through the available temperature settings.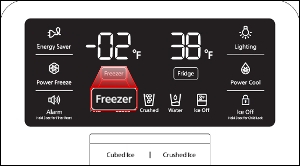 3
Press the Fridge button repeatedly to cycle through the available temperature settings.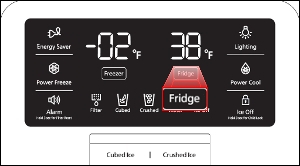 NOTE:
• The temperature controls on some models are labeled "Freezer Temp." and "Refrigerator Temp." However, they control the temperature the same way as the buttons described above.
• When the temperature setting that you want is displayed, do not touch the Fridge button again.
• If you accidentally touch the button too many times, passing the desired temperature, press the button repeatedly until the settings cycle through again.

Not finding what you're looking for? We're here to help.
Phone
East Africa
Kenya 0800 545 545
Tanzania 0800 780089
Sudan 1969
Uganda 0800 300 300
DRC 499 999
Rwanda 9999
West Africa
Nigeria 0800 726 7864
Ghana 0800 100077
Senegal 80000-0077
Ivory Coast 8000-0077
Cameroon 67095 0077
South Africa
South Africa 0860 726 7864
Mozambique 847267864
Zambia 0211 350 370 / 3434
Namibia 08 197 267 864
Mauritius 800 2550
Reunion 02625088 80
Zimbabwe 0808 0204
* For any printer related enquiries please visit the HP website .
Contact Us