How do I connect the Note9 S Pen via Bluetooth?
Last Update date :
Oct 30. 2020
Take full advantage of the Note9 through the use of the remote control S Pen which has a range of up to 10m.
The pen supplied with the Note9 is already connected to the device so there is no need to make a Bluetooth connection manually.
In case of wanting to connect another S Pen to your device, connect it via Bluetooth and enjoy its functionalities to the fullest.
Please note: You can only connect Samsung-approved S Pens that support Bluetooth Low Energy (BLE).
Connecting another S Pen
1
Insert the S Pen into the slot to start the connection.
2
Open the notification panel by sliding down from the top of the device.
3
Expand the options in the notification panel.
4
Slide the notification panel to the left.
5
Tap S Pen remote.
6
Tap it again to reactivate it.
The S Pen icon on the status bar will flicker and might take a few minutes to connect. 
minutes 

Please Note: Do not detach the S Pen from the device when it is being connected. Doing so will interrupt the process.
When the S Pen is connected, the S Pen icon on the status bar will disappear.
If it fails to connect or you want to use the previous S Pen, reconnect it following the earlier steps.
Resetting the S Pen
There are two ways to reset the S Pen connection: 

1
Long press the S Pen remote icon.
2
The S Pen remote settings screen will automatically open.
3
Tap the More options icon.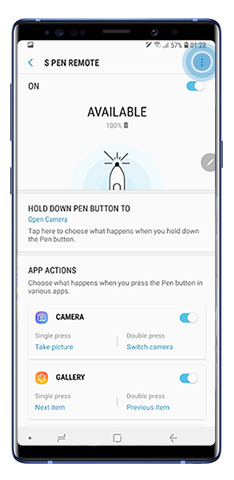 4
Tap Reset S Pen.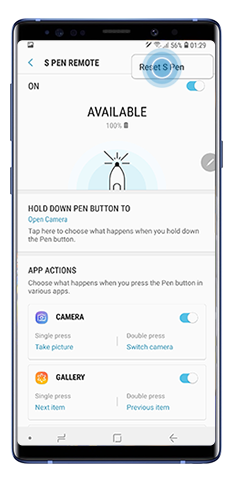 You can also access through Settings:
5
Tap the more options icon.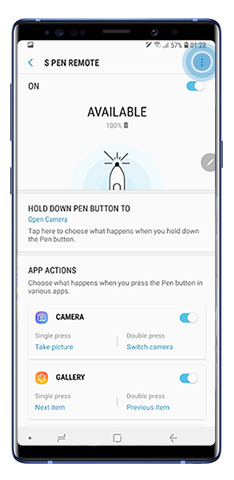 6
Tap Reset the S Pen.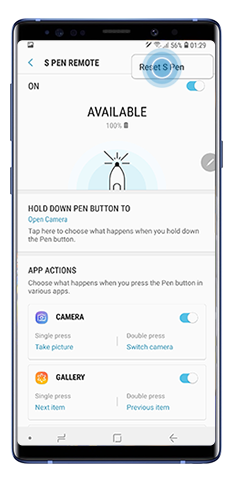 Please answer all questions.