What Is The Color Space Setting?
Last Update Date :
Apr 20. 2018
Color Space Setting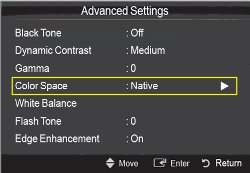 Color Space is an option available in advanced settings in Picture option of Samsung TV. Color space refers to the range of color that the Samsung TV supports.
This is a chart explaining the different color gamut's. There are three points to a color gamut Red, Green, and Blue that show how much of that color spectrum the unit can support.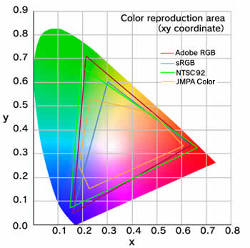 Settings in the Color Space Option
External devices connecting to the TV or a signal may support a different color gamut than the TV. If a device or signal is sending a different color gamut and the TV is expanding that range to the TV's full color range this will change the saturation of the colors and could enhance or degrade the picture. The color space option have two settings.
•
Native
: This will expand all incoming signals to the native color gamut of the TV, this can enhance the colors or over saturate them.
•
Auto
: The TV will adjust the display gamut to match the incoming signal to prevent any over saturation of the colors.
•
Custom
: It sets your own parameters. Reset the custom mode if you are unsatisfied with the results.
Not finding what you're looking for? We're here to help.
Phone
East Africa
Kenya 0800 545 545
Tanzania 0800 780089
Sudan 1969
Uganda 0800 300 300
DRC 499 999
Rwanda 9999
West Africa
Nigeria 0800 726 7864
Ghana 0800 100077
Senegal 80000-0077
Ivory Coast 8000-0077
Cameroon 67095 0077
South Africa
South Africa 0860 726 7864
Mozambique 847267864
Zambia 0211 350 370 / 3434
Namibia 08 197 267 864
Mauritius 800 2550
Reunion 02625088 80
Zimbabwe 0808 0204
* For any printer related enquiries please visit the HP website .
Contact Us