Behind the Scenes with The Vamps
Get a first look on the set of 'Would You' with Music Galaxy Thursday.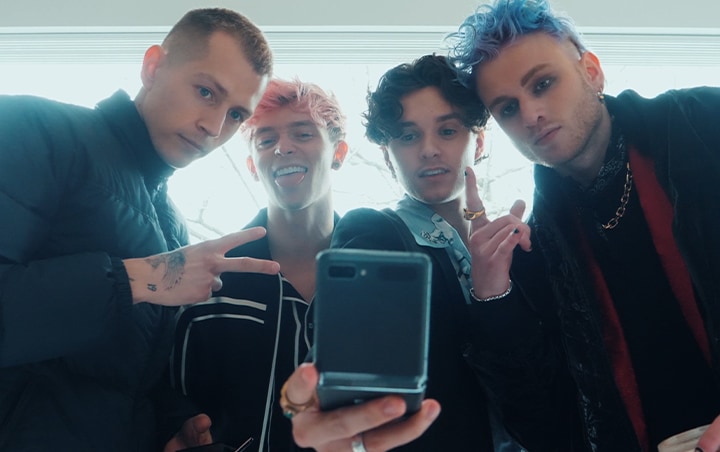 Please welcome the latest addition to the Music Galaxy Thursday line-up… British pop-rock sensations The Vamps. Formed in 2012, and with over 900 million views on YouTube, The Vamps are the first band ever to headline London's O2 arena five years in a row. In 2018 the band hit #25 in the Global Artist Charts and their 2020 album 'Cherry Blossom' debuted #1 on the UK Charts.

Shot for #SamsungMGT, we got the chance to go behind the scenes and spend some quality time with the band on the shoot of their latest music video 'Would You'. With the boys showcasing the stunning Galaxy Z Flip 5G – which even made it into the music video.
The band's highly anticipated latest single 'Would You' dropped earlier this month. The matured, chilled electric-pop track had an equally cool video to match. The narrative follows the story of a couple navigating through life, as we see how each tiny decision along the way has a magnified impact on their lives.

The video, mainly shot across East London, is beautifully crafted and cinematically shot. Beginning with Brad flipping open the Galaxy Z Flip 5G, kicking off the dream-like story, the unique smartphone features throughout this tumultuous love affair.
Take a look as we dive behind the scenes, to see what the boys get up to when the cameras stop rolling…

It's not every day you get to hang out on set with one the biggest boybands right now. So, in between snapping selfies with the Galaxy Z Flip 5G, we learnt what goes into creating a magnificent music video. An exclusive directors-eye-view of the whole process - from start to finish.
Get more from Music Galaxy Thursday
Keep your eyes on our social channels, for the hottest weekly drops and surprises.
Discover more on your favorite artists, and meet new and emerging talent.
Just search for #SamsungMGT.
Galaxy Z Flip | Z Flip 5G