How HDR Changes
The Way You Game
Has this ever happened to you?
You're playing a game with your friends, but all of a sudden you notice your screen is starting to lag. You're also too close to the screen, again, because you can't see anything in the darkness. In gaming, technology makes all the difference, so it may be time to level up. Samsung's QLED TV helps you dive into a fresh new experience. From hardware to software, here's how your next gaming TV will keep you on your toes.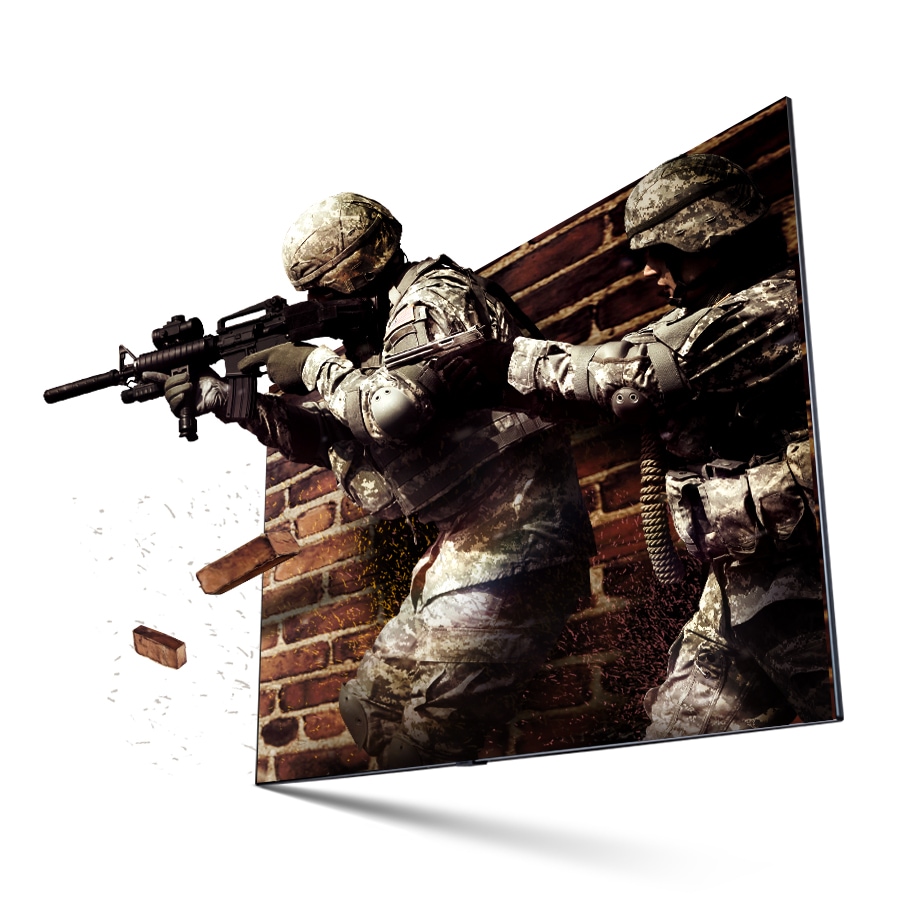 Clear, vivid images so you don't miss friend or foe
Disappear into the graphics of your favorite FPS game with truer images that immerse you in the action. With QLED TV and its HDR1500 technology, you can expect a range of lifelike color and contrast, so you can get crisp, clear details even in the dark shadows. But it's not just awesome color. You'll see the game in its entirety on the large, slim-bezeled 4K HDR screen as you pursue your virtual opponents. And vivid color and details on your QLED TV mean you won't overlook anything—or more importantly, anyone.
A TV that keeps up with the game
The sharp, fluid action of your QLED TV's 4K HDR screen helps bring out the best of your gaming abilities. To make sure your eyes can catch subtle, obscured movement, QLED TV's low millisecond input lag comes to the rescue. Then when you're ready to flex your reflexes, QLED TV's ultra-fast motion rate reveals just how smooth the action can be, without sacrificing finesse. With the precise timing necessary to come out on top, QLED TV creates a seamless transition into the world of your favorite game.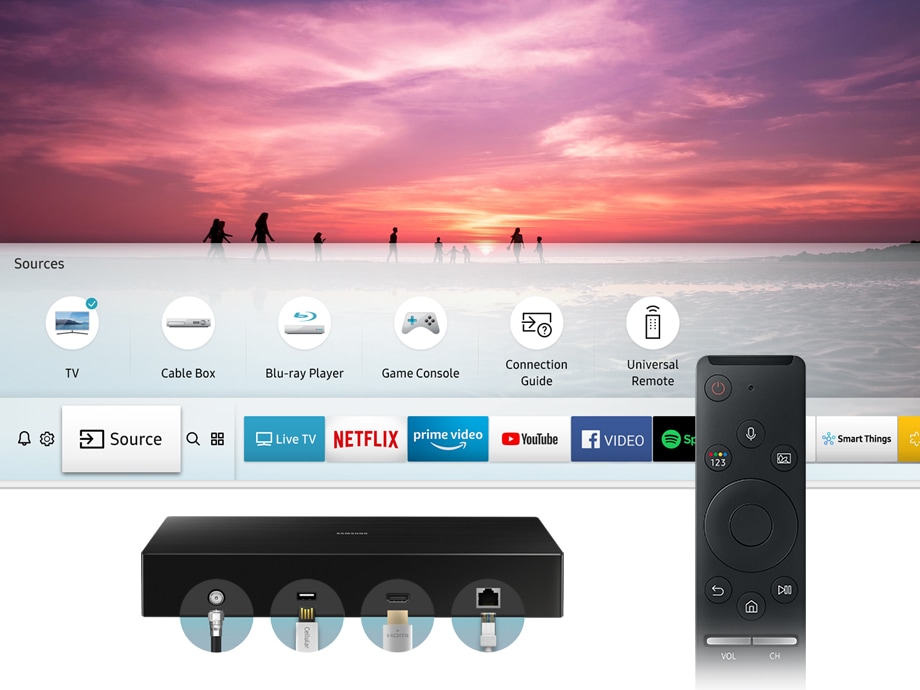 A convenient connection
An easy way to connect your consoles can enhance your overall gaming experience. The One Connect Box is a clean, straightforward way to hook your consoles up to your Smart QLED TV. Your QLED TV uses Auto Detection to recognize connected consoles, so simply connect your consoles to the One Connect Box and you're good to go. Once the consoles are connected, easily control your multiple devices with One Remote Control and quickly get to gaming with HDR.
Even without a console, the fun doesn't stop

There's more to your QLED TV than playing your go-to console games. One look into Smart Hub will show you thousands of games available for streaming on SteamLink. Through SteamLink you can connect with and play against players from all over the world, all from the comfort of your home. Whether console or online, sit back and dominate on the same QLED TV.
Enveloping you in a whole new experience
When you're ready for an adventure it's time to game on a QLED TV. Bringing together 4K, HDR, and QLED, the screen immerses you in its deep contrast, sharp detail, and seamless connectivity. You can grab that lightning-fast ball, explore hidden worlds, and take down bad guys with your buddies. So for quality gear to take your gaming to the next level, use a TV that's prepped for battle.
Ready for the next level?
Experience deep contrast, sharp detail, and seamless connectivity on another level.
Stay Apart,
Stay Together
Here are stories we've selected to lift your spirits in these challenging times.

* Compatible devices only.

** All devices must be on the same network and Internet connection is required.

*** Smart service and GUI (Graphic User Interface) may vary by model and region.

**** The availability of third party services and content is subject to change without notice.

***** Images are simulated and for illustration purposes only. The appearance and design specifications which is not affecting to product performance are subject to change without notice.

****** Auto recognition between mobile phone and TV may vary depending on the mobile device. For mobile devices that do not support auto recognition, open the SmartThings app on your mobile to begin set-up.