How to configure dark mode on your galaxy device?
Last Update date :
Jul 03. 2021
Shield your eyes, Adapt Display
Learn how to optimize your screen to reduce eyestrain.
Before trying the recommendations below, be sure to check if your device software and related applications are up to date to the latest version. To update the software on your mobile device, follow these steps:
Step 1 Go to Settings> Software Update.
Step 2. Tap Download and Install.
Step 3 Follow the instructions on the screen.
Dark mode settings
Help your eyes at night by softening the screen with an enhanced Dark mode. That is how!
How to enable Dark mode
1
Open Settings , tap Display , and then tap Dark Mode Settings.
2
Touch Activate on schedule to set a schedule for Dark mode.
3
Choose Dusk to Dawn to have Dark mode automatically turn on at night and turn off in the morning.
You can also choose Custom Schedule to set your own schedule for Dark mode.
Note: To set Dark mode to activate between dusk and dawn, location must be enabled.
Adaptive brightness
Maintain the optimal brightness for your Galaxy.
Find out how to adjust the brightness automatically in similar lighting conditions.
Take precautions against using the device in an extreme environment.
How to enable adaptive brightness
1
Go to Settings , swipe and tap Display .
2
Enable Adaptive brightness .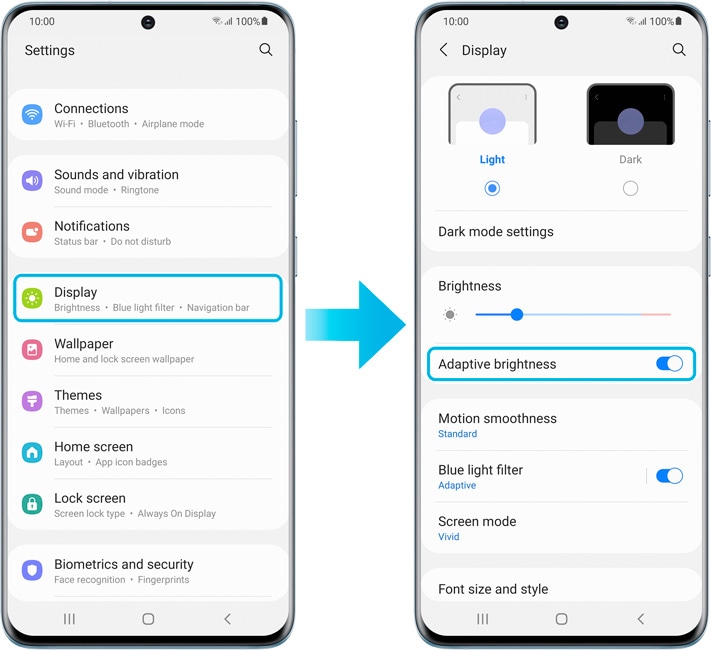 Eye comfort shield
Keep your eyes comfortable and avoid eye strain by limiting blue light and using warmer colors.
How to administer the Eye Comfort Shield
1
Enable the Eye Saver from Settings> Display .
2
Select Customizable to automatically change the display colors based on the time of day, or Custom to choose a time and color temperature that's right for you.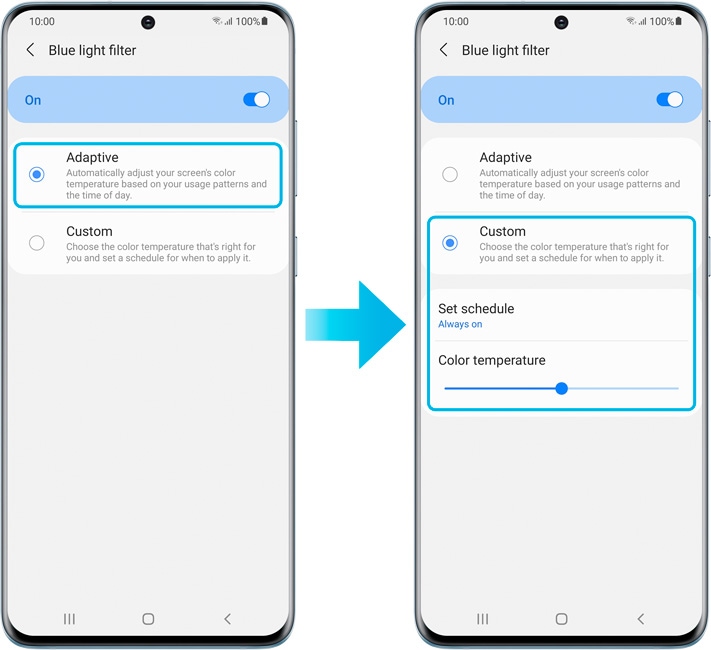 If you are having difficulties with your Samsung mobile device, tablet or wearables, you can send us a question at the Samsung Members app.
This allows us to take a closer look at what is happening. The data is anonymized and is only kept during the investigation. Learn more about submitting a bug report via How to use the Samsung Members app
Please answer all questions.