Phenomena that may occur when using Note20 camera
Last Update date :
Jun 04. 2022
Some pictures taken using Note20 camera zoom function may seem blurry and out of focus. It can be frustrated when highly expected 8K videos are dragged. Screen flickering, black lines showing up, or vibration occurring that may appear in certain conditions happens as if in errors in doubt. However, these issues that may occur with Note20 camera are not malfunctions. Please find out more information about such phenomena below.
Before you try out below recommendations as to your solution, be sure to check if your device's software is updated with latest version. Please check how to update your mobile device's software in following order. 
Step 1. Go to Settings > Software update.
Step 2. Tap on Download and install. 
Step 3. Follow the on-screen instructions.
The following issues that may occur with the Note20 camera are not malfunctions. 
Case 1. If you take a close-up of 8K video with the Note20, it may be blurry.
When taking 8K videos with Note20, a telephoto lens is used, and the telephoto lens has a focal length of 30 cm. When recording 8K video, you should shoot at least 30cm away to obtain stable video quality.
Case 2. If you shoot a close object with the Note20 Ultra at 10x zoom, the focus may be out of focus.
Note20 Ultra uses a telephoto lens when shooting at 10x zoom or higher. The telephoto lens has a focal length of 80 cm. When shooting with 10x zoom, you should shoot at least 80cm away to obtain stable camera quality.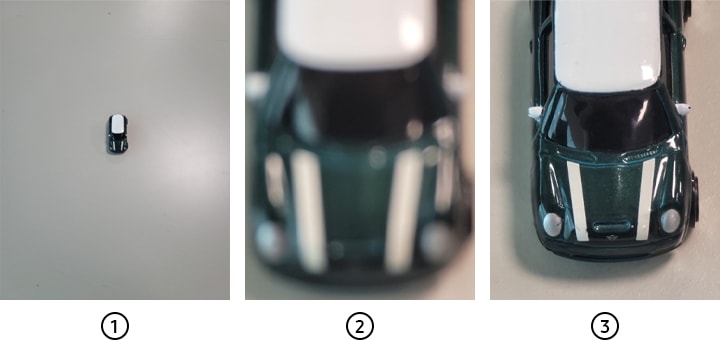 ①    Images taken with 1x zoom
②    Images taken with 10x zoom at 80cm or less
③    Images taken with 10x zoom from 80cm or more
Case 3. The screen may flicker when shooting a video indoors. Black lines may appear when taking a picture indoors.
The fluorescent lamp flashes 60 times per second according to the AC power frequency (60Hz). When taking a picture or video with the camera under a fluorescent light source, a momentary flickering of light that the naked eye cannot feel may be captured, causing the image to flicker or a flicker phenomenon in which black lines appear in the picture. This is a phenomenon according to the characteristics of the lighting, and generally does not appear in 3-wavelength fluorescent lamps, incandescent lamps, and LED lighting.

Case 4. In fast motion, 8K videos may be dragged or afterimages may appear on 8K videos.
8K video is a video specification of the maximum resolution supported by smartphones released to date, allowing you to express details in detail. 8K video is recorded at 24fps, and the video may appear dragged or lagging in fast motion, but this is a natural phenomenon depending on the frame rate. 8K movies are suitable for shooting detailed images with relatively little movement, and 4K or FHD 60fps is recommended for shooting movies with a lot of movement such as sports activities.
Case 5. Vibration occurs when the camera shoot button is pressed while the camera is operating.
Note20/20 Ultra model has a new "touch vibration" function when the camera is operating. When you purchase the product, the initial setting is "ON" and you can change the setting in the camera setting menu.
·         Run the camera app > Settings (top left) > Turn off Touch vibration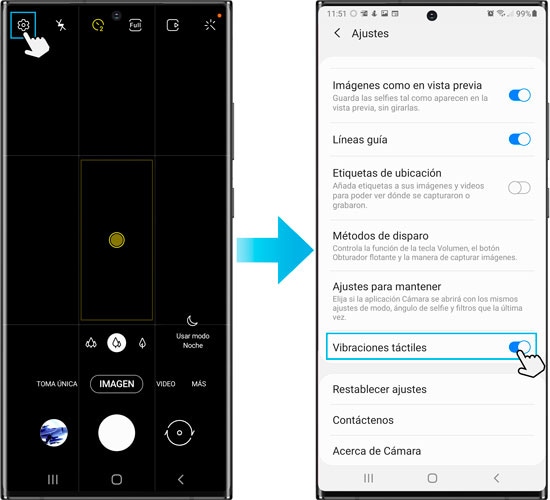 Note: Available settings and screens may vary by wireless service provider, software version, and device.
If you are experiencing unusual behavior on Samsung mobiles, tablets or wearables, you can send us a question in the Samsung Members app.  
This allows us to take a closer look at what is happening. The data is anonymized and only held for the duration of the investigation. Find out more about sending an error report through the 'How to use the Samsung Members app'.
Please answer all questions.