What is a secure folder and how to use it
Last Update date :
Jun 04. 2022
Secure Folder protects your private content and apps, such as photos and contacts, from being accessed by others. You can keep your private content and apps secure even when the device is unlocked.
Before you try out below recommendations as to your solution, be sure to check if your device's software is updated with latest version. Please check how to update your mobile device's software in following order. 
Step 1. Go to Settings > Software update.
Step 2. Tap on Download and install. 
Step 3. Follow the on-screen instructions.
Important: Secure Folder is a separate, secured storage area. The data in Secure Folder cannot be transferred to other devices via unapproved sharing methods, such as USB or Wi-Fi Direct. Attempting to customize the operating system or modifying software will cause Secure Folder to be automatically locked and inaccessible. Before saving data in Secure Folder, make sure you back up a copy of the data in another secure location. 
Note: To use Secure Folder, you must sign into your Samsung account.
Setting up Secure Folder
Step 1. Go to Settings > select Biometrics and security.
Step 2. Tap Secure Folder > agree to the terms and conditions of Secure Folder.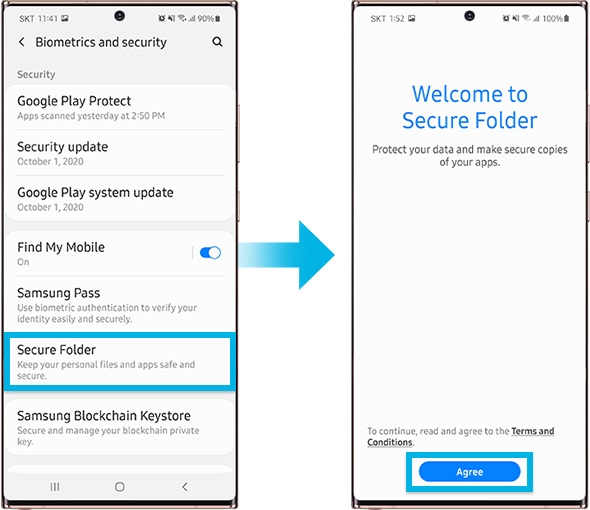 Step 3. Enter your Samsung account ID and password and tap Sign in.
Step 4. Select a lock method to use and follow the on-screen instructions to complete the setup. You can also add your biometrics as another way to unlock Secure Folder for convenience. 
Step 5. The Secure Folder screen will appear, and the Secure Folder app icon will be added to the Apps screen.
Note: When you launch the Secure Folder app, you must unlock the app using your preset lock method.
Note: Available settings and screens may vary by wireless service provider, software version, and device.
If you are experiencing unusual behavior on Samsung mobiles, tablets or wearables, you can send us a question in the Samsung Members app.  
This allows us to take a closer look at what is happening. The data is anonymized and only held for the duration of the investigation. Find out more about sending an error report through the 'How to use the Samsung Members app'.
We would love to hear your opinion to help us improve. Please click submit for feedback.
Please answer all questions.