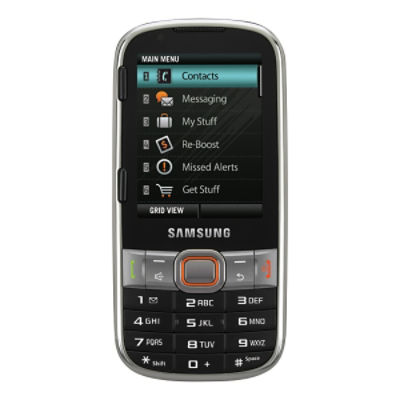 Array 40MB (Boost)
SPH-M390ZKABST
Rated

3.8

out of

5

 by

4

reviewers.
Rated

5

out of

5
 by
chicha
this product is great
This product is great value. ...has great features and is pretty simple to use
May 21, 2014
Rated

4

out of

5
 by
MUCHO
IT IS AN EXCELLENT NO-TOUCH CELLPHONE.
IF YOUR STILL TRYING TO STAY AWAY FROM A TOUCH SCREEN CELLPHONE OR EVEN A CELLPHONE THAT DOESNT TOUCH EVEN PARTIALLY.WITH GOOD QUALITIES,THEN THIS IS SUCH AN EXCELLENT MOBILE PHONE CHOICE,THAT YOU SHOULD MAKE,TO USE,TO HAVE,TO HOLD,TO KEEP.TO STAY INTOUCH WITH YOUR CONTACTS THE OLD WAY.YET IN AT LEAST ONE OR MORE OF THE BEST WAYS ! LOL (smile)
December 26, 2012
Rated

3

out of

5
 by
MusicEdStudent
Pretty Good Phone, but has it's many draw backs
This is a pretty decent phone. I mainly use it for texting and the keyboard buttons do have some resistance to them. The call quality is really good as well as the speakerphone, Just make sure the mic is pointed towards you. Of course, it's not hd but the screen looks very vibrant and it doesn't scratch very easy. I have had it for several months now and it only has one scratch on it. The battery life isn't as good as my old phone, but that phone had much worse problems. I would say the Array does all the basics pretty well. Some of the drawbacks: One of the main drawbacks of the phone is the texting organization. It doesn't have the popular bubble interface like most smart phones and and touch screens phones do and it's very difficult to see the chronological order of texts sent and received. Also, if you consider yourself a texting pack rat this phone might not be for you because it eventually will tell you that there is too much memory on the phone, thus you need to delete old texts. This might be remedied if you buy a micro sd card for it, but I haven't tried that. The lock feature is always on auto so unless you set it to never lock you will always have to slide the phone to unlock it or press two buttons. If you set it to never lock you can't manually lock the phone and you will end up pocket dialing everyone in your contacts. Not a huge deal, but it doesn't have a stop watch which is kind of annoying.
May 4, 2013
Rated

3

out of

5
 by
Darren
Great Phone
Aquired this Nice little phone to make and text. Works well
November 30, 2012