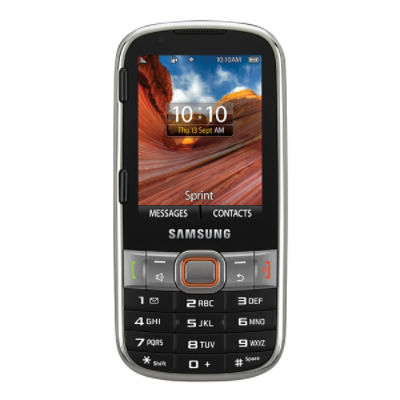 Array 40MB (Sprint)
SPH-M390ZSASPR
Rated

2.8

out of

5

 by

4

reviewers.
Rated

4

out of

5
 by
BMG4ME
OK Phone With Some Limitations
First of all, as another reviewer wrote, there is no way to turn off beeps when you have a missed call with a message. Also although this phone claims to be able to play MIDI, there doesn't appear to be a way to do that - I copied a midi file from my PC but the phone won't play it.
August 19, 2014
Rated

4

out of

5
 by
Sari
Missed Call and/or Text Message Beep Cannot be turned off
I just got this phone and I really like it EXCEPT for one feature that is SOOOO ANNOYING that I am considering returning the phone altogether. When there is a missed call or a text message, the phone will BEEP every 15-20 seconds until you hit the dismiss key. I did not know this until this afternoon when I was sitting in the theater in New York. I had turned off my phone at the beginning of the play. Right at the end, my phone began to beep once every 15-20 seconds. This beep is pretty loud and I did not realize it was my phone at first...but several people (me included) were very annoyed. This feature cannot be turned off...I looked everywhere to try to turn it off. How could Samsung do this????? Now, I have to pull the battery out every time I go to a movie or theater. Thanks a lot...I would NEVER recommend this phone to anyone.
October 24, 2012
Rated

2

out of

5
 by
NancyF94
this product is lacking features.
We consolidated ph plans and decided on Sprint and chose the Samsung Array as our phone. What a mistake! This phone although new does not do what my 3 yr old LG did. I cannot turn off the annoying beep when there is a voicemail or message waiting. I cannot zoom the camera. I cannot repeat appointments with other than daily, weekly, monthly. (I happen to have an unusual 9 day schedule.) I cannot display the time in a 24 hr format, also a personal preference. If anyone from Samsung or Sprint would care to respond to this, you have my email.
December 12, 2012
Rated

1

out of

5
 by
JANELANE04
Not the phone I was hoping for
I was not expecting the annoyances I have with this phone, and I really hope there are software patches in the works. Some of the features leave much to be desired compared to older phones I've owned. The feature that bothers me most is the key lock. When the alarm goes off, the keys stay locked, which I wasn't expecting and doesn't make sense. Entering events into the calendar is another issue. There isn't a way to either leave off a time/set an all day event (such as a birthday or holiday). You can't set the calendar for a Monday-Friday event (such as work). You have to set the event on each day of the week and set it as a recurring weekly event. If you attempt to make a change for a single day (such as not having work for a doctor's appointment, vacation, etc.) it changes the entire event for everything, with no option to change just the one day. If you try to delete one day out of a recurring event, it deletes the entire event. Since this phone has a keyboard, I was surprised when I flip it open it stays on the main screen rather than instantly move to text/email mode as I have seen before. One thing I like is the preloaded ringtones aren't as annoying as they can be in most phones. If you're planning on using the phone for just calls and not much else, it's nice.
November 11, 2012