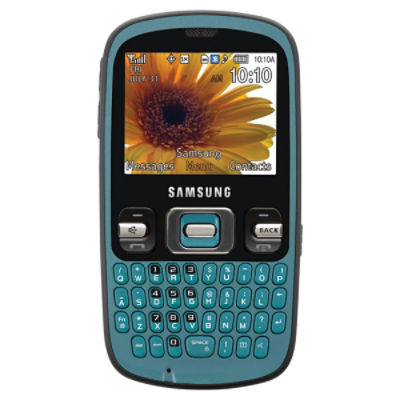 Freeform (Alltel)
SCH-R350ZWAXAR
Rated

3.3

out of

5

 by

15

reviewers.
Rated

5

out of

5
 by
Lyia14
It's and Okay Phone.
I've had this phone for over a year and it's a really good phone. The problem was that if I was on the internet and I suddenly got a text and opened it while the phone was loading, it would shut off and then come back on. Also, sometimes the camera would randomly stop working. Other than that, the phone worked great. I was able to download a lot of things with very little hassle and I enjoyed the QWERTY keyboard. It was a very pretty phone and it lasted through a lot. I had dropped it multiple times but it still worked like a charm.
March 29, 2012
Rated

5

out of

5
 by
LuvFreeform
Love my new phone.
I'm new to texting and I feel like a pro with this phone. The ability to add memory is terrific. The price was great. I'm a very happy camper!
August 18, 2011
Rated

5

out of

5
 by
Lykeable
Great Messenger
I like the price, I like the focus on reliability and usability. The operating system is intuitive and fast. If you cannot afford a smartphone, have other devices for multimedia, and love to text: this phone will work great. I LOVE that I can push vcard contacts over bluetooth. Way too many dumbphones cannot handle it. They don't brag that the R350 has threaded texting. They should! Essential for any texting phone. **I thought the display unit's keyboard was difficult to use, but within a day I think it is the next best thing to a capacitive iPhone-like keyboard. Far far faster than that t9 predictive stuff, and not much more expensive.
July 8, 2011
Rated

5

out of

5
 by
purselady85
A good buy, no money down the potty
So i had a blackberry and the OS went out on it, I took it to the store and they gave me another one as replacement two months later the same thing occured.Thats when i purchased the Samsung freeeform.Phone works great.I have no trouble loading anything, camera works great on it.Only complaint is not being able to change the color themes from that hideous orange.This phone is great on the pocket and is very durable.
January 3, 2011