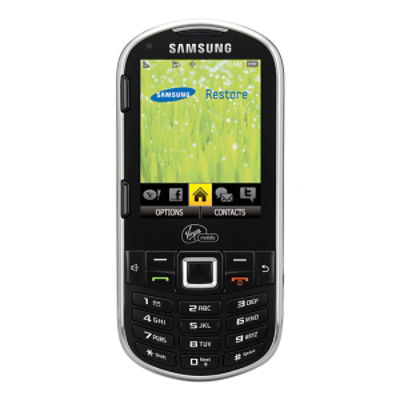 Restore (Virgin Mobile)
SPH-M575ZKBVMU
Rated

3.3

out of

5

 by

3

reviewers.
Rated

4

out of

5
 by
BlueBeader
This phone works!
My Samsung Restore is a replacement for a phone from another company. I'm still getting used to the phone so I still have some glitches when using it. The joystick button is my primary glitch cause, But I suspect it will not be a problem for long. This is my 3rd Samsung phone and I expect it will work as well as my previous ones.
November 5, 2012
Rated

3

out of

5
 by
CliffOnTheRoad
Great Battery but not user friendly
Voicemail – You have new voicemail messages. Press and hold to call your voicemail box. The above is from the user manual. I ask "press and hold WHAT?" It's wording like this in a thick, too tiny type book which frustrates me. Reminds me of my old motorcycle manual which would read "reassemble in reverse order" (ha) or my thick, current car manual which consists of 1/3 pictures, 1/3 warnings, and 1/3 basically saying "no user serviceable items." The human-engineering mentioned is the phone software is just not present. Creating contacts from a missed call is not as easy as another provider I had. A missed call should make my phone re-ring, not make me check the screen for "missed alerts". (alert?) The KeyBoard lock feature deactivates itself sometimes, but I haven't figured out HOW, but I know it isn't always by hitting star-backspace while the phone is in my pocket. And the time the pocket dial of star-9115 got me a return call from the police was unexpected. The phone looks nice, has constantly given 7 days of standby (maybe more now I turned off GPS), while IMO some complaints are due to NOT fully charging or recharging too soon THE FIRST COUPLE OF TIMES. Minor omission of not mentioning a lanyard (string) makes some think there is no hole/slot in the phone case. There IS. As for the index in the manual, better you use the "contents" at the front. Voice quality seems great. I shall leave the NO to the recommended product box, but if you've read this far, I'll say Yea, buy one. Good bang for the buck with a slide out keyboard.
May 18, 2012
Rated

3

out of

5
 by
jamtrip
Firmware upgrade would be cool...
Not the worst, not the best. Very good call quality. In the end that's probably the most important thing. Please see my pros and cons.
February 15, 2012