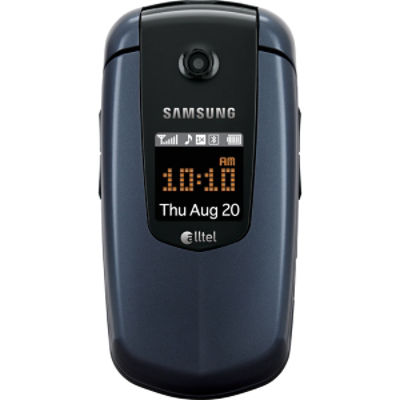 Smooth (Alltel)
SCH-U350ZIAATL
Rated

2

out of

5

 by

4

reviewers.
Rated

4

out of

5
 by
cececpp
my first phone(:
well, this was my first cellphone i got four Christmas about three years ago. i have upgraded to a touch screen samsung phone but i still have this one to give to my younger sister someday because if your older and not into all the touchscreen hype, this is the phone for you. and if your a parent that doesnt want to get your 13 year old a overly expensive android for there first phone, this is the phone for you. it has good sound quality and is very durable
December 3, 2011
Rated

2

out of

5
 by
ElinMiami
Not recommended
I used to own the Samsung Smooth (U350) for Verizon Prepaid. In fact, I owned at least two of them. My first U350 was bought in the Summer of 2009 when I was shopping for prepaid plans and this is the phone that was just released and was receiving decent reviews from the Verizon mobile website. I went on vacation to the beach with a friend and forgot I had the phone in my pocket when I went into the water. That was how my first phone died after a few months of use which is not Samsung's fault. During those few months of use, the phone worked fine as intended though I wish voice clarity was better and the camera could take higher-quality pictures. This is what I get for the value I paid for I guess. Well, I needed an immediate phone replacement so I went and bought another Smooth (U350) because it was the cheapest Verizon prepaid model in retail stores at the time and I was okay with using it. The reason I give this phone two stars was because the phone didn't last long and it wasn't my fault. Less than a year later, my phone started acting weird. It's a clamp shell phone in which you have to lift the lid to dial/receive calls. The trouble was, when I close the lid of the phone, the phone powers off. A workaround I did was to softly shut the lid of the phone, but then it turns off on its own when I put it in my bag or pocket. I rarely use my phone unless it was for an emergency and a lot of times my phone just sits on the top of my desk, untouched. I was disappointed that I have to replace a phone less than a year later and that's when my trust in Samsung products went down a bit, at least for mobile phones.
June 1, 2012
Rated

1

out of

5
 by
camera2shy
unable to shut off camera
No way to shut off camera on this phone, I find that because of this problem my battery needs charging every other day. I have no use for this camera feature! it has becomes a major problem daily.
March 13, 2013