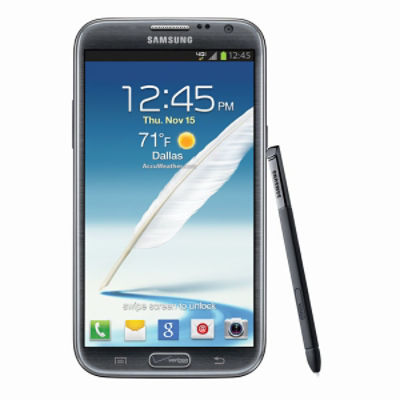 Galaxy Note II 16GB (Verizon)
SCH-I605TSAVZW
Rated

4.8

out of

5

 by

939

reviewers.
Rated

5

out of

5
 by
Otto1
Been a very good phone
I had this for just over 4 years now. Never had a problem with it and it's been the only phone I've not broken. It does everything I could ask for, and way more than I'll ever need. I've got the bug for a Note 7, but I'm having a hard time convincing myself to give this one up.
September 10, 2016
Rated

5

out of

5
 by
parade1
quality by samsung
Qualityas always. The featuresare great and relevan .
July 21, 2016
Rated

4

out of

5
 by
AFemaleProdigy
Got many years of use out of my Note 2!
I loved my Note II! Had it way beyond my 2 year contract period with Verizon. The Note 3 came out, but I kept my Note 2. Had no need to upgrade. Around the time the Note 4 came out, my Note 2 battery started struggling to stay charged. At that time, my grandma needed a phone that would be easier for her to see and type. So, I bought a new battery and charger for my Note 2 and gave it to grandma. I bought the Note 4 for myself. The Note 2 did will for about a year with the new battery, but recently started dying again. As of a few days ago, it will no longer hold a charge. So, I bought the Note 7 and am giving grandma my Note 4. I will say that I am very impressed with the lifespan of the Note 2. The only issues I had with it other than the battery were problems with the screen automatically turning off when I was using the phone and trying to use the keypad. No amount of tech support could resolve that annoyance. Other than that... fantastic phone. Which is why I keep buying Notes.
September 1, 2016
Rated

5

out of

5
 by
Verified Reviewer
This Samsung Galaxy Note 2 very durable
This is my second Samsung Galaxy Note 2 refurbished. If it wasn't for my first Samsung Galaxy Note 2 faling in the toilet I would probably still be using. The note 2 is very durable, I have dropped this phone several times, and just like Time X... it takes a beating and keep on working. Can't wait till the new Samsung Galaxy Note 7 come out. It's been.... what? 4 years since I've had a new phone.
June 30, 2016