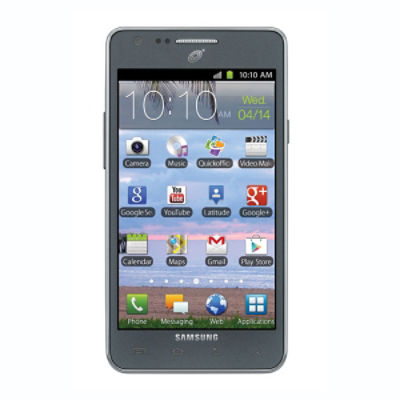 Galaxy S II (Net10 and Straight Talk)
SGH-S959ZKATFN
Rated

4

out of

5

 by

44

reviewers.
Rated

5

out of

5
 by
kristinashley
Purchased November 2012
As of today, June 29, 2015 this thing is still in use. I use it daily for just about everything, Need I write more? I just wish I could upgrade my OS from gingerbread!!!
June 29, 2015
Rated

5

out of

5
 by
Chihuahuamom15
My first Samsung phone
The phone over all is a great phone it can do anything. I can print pictures and anything else. I have every app I need and then some. It can do complete report for work including graphics no problem. I love to read, play solitaire, and take pics of my pup and with this phone I can do all three. It is synced with my home wireless network so uploading books if as easy a plugging in the USB cable. But I really love the multiple wireless connect features. The picture quality impressed me as did the camera and video color. Also the sound quality is great, very clear I thought it was my ear piece ,I am so glad I didn't buy a new one. It is also very easy to use but it has one major negative sucks up battery juice like crazy and I don't do everything it capable of. I have had prepaid service for 11 years and the phones have come along way.
December 27, 2013
Rated

5

out of

5
 by
DepMike851
Very good phone
I am quite happy with this phone, it does everything that i want it to.
September 18, 2013
Rated

5

out of

5
 by
ahanson0825
Great smartphone for Straight talk
I recently got this smartphone because I decided to ditch Verizon, and their over priced commitment plans. Now coming from using a Samsung Galaxy Note 2 for the last couple of months I knew any phone I picked from Straight talk would be a down grade. I wanted the stick with Samsung because the make some of the best smartphones on the market today. I also know Straight talk has the Galaxy SIII, but I couldn't afford it. So I went with the SII instead. I have not been disappointed. Runs all the apps I was using on my Note 2, bluetooth works with my Sony deck in my truck, the camera is still very good, and it even works with my 64gb mico SD card (even though they say it only works with 32gb micro SD cards). Even though the phone itself is outdated by two more modern models, it still can hold it owns in todays world.
September 4, 2013