How Do I Configure & Use Live Wallpapers On My GT-P1010 Galaxy Tablet?
Live wallpapers are essentially wallpapers that may be interacted with or could be simply animated. There are several preloaded live wallpapers that can be chosen from (11 total). The Market may contain additional wallpapers for free or available for a small fee.
Press the Home key  and then press the Menu key .


Tap on Wallpaper.




Tap on Live wallpapers.




Tap the desired live wallpaper to be used.




The Live wallpaper is now being previewed. Tap Set Wallpaper if satisfied. If you wish to make another selection, simply press the Return key  to return to the previous screen.


Obtaining More Live Wallpaper
Press the Home key , and then touch Applications .


Tap on Market.




Once the Android Market opens, Tap on Search.


Type in the search parameter. (example used was "live wallpaper").




Various listings could be shown. Tap on a particular wallpaper of interest, and then tap on Install or Buy.


Follow the instructions for Setting Live Wallpaper in the section above.
Removing Downloaded Wallpaper
If the wallpaper is not shown, try Applications > Market > Downloads > Select Wallpaper > Uninstall.
Press the Home key , and then press the Menu key .
Tap on Settings.




Tap on Applications, and then tap Manage applications.




Tap on the wallpaper destined for deletion. (example used was "Bubble")




Tap on Uninstall to remove.


Thank you for your feedback!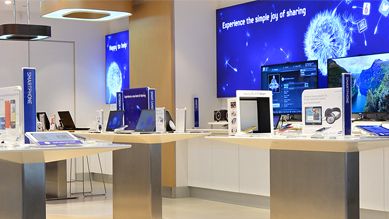 Samsung Customer Service
Need a repair for your Samsung Smartphone or Tablet?
Visit a Customer Service Location for hands-on service and expert advice.