How Do I Synchronize My SCH-I770 (Saga) Phone To My PC Via Bluetooth?
You can synchronize your device via Bluetooth by following the steps below.
Synchronize the Handset via Bluetooth
To synchronize the handset via Bluetooth follow the steps below.
On the PC, ensure that Bluetooth is enabled and that both the PC and the SCH-I770 (Saga) are paired.
On the PC, find which COM port has been assigned for use by the Serial Port Profile service (Refer to the user guide of your Bluetooth software for additional assistance). An example would be COM14. Your system configuration may vary.
Double-click the ActiveSync icon in the system tray to open the ActiveSync window.
Click to pull down the File menu > Connection Settings...
Place a checkmark next to Allow connections to one of the following: and then pulldown the menu below and select the same COM port as was seen in the Bluetooth software's Serial Port settings (in this example COM14).
Click OK to save changes.
On the handset, from the Today screen tap Start.
Tap Programs.
Tap ActiveSync.
Tap Menu > Connect via Bluetooth.
ActiveSync will begin the connection process and prompt you to create a partnership. Follow all of the on-screen prompts to set the desired parameters of the partnership.
Thank you for your feedback!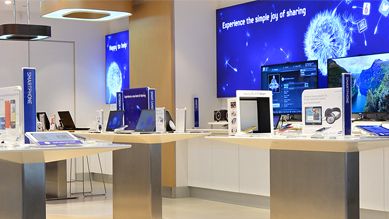 Samsung Customer Service
Need a repair for your Samsung Smartphone or Tablet?
Visit a Customer Service Location for hands-on service and expert advice.