1.6 cu. ft. Over The Range Microwave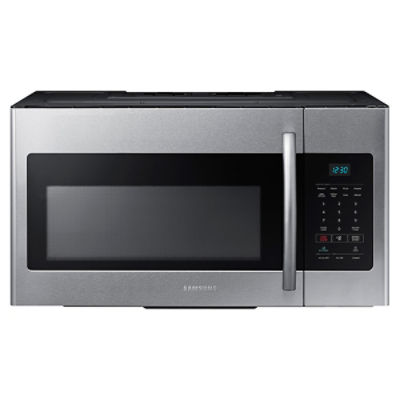 Product Info
Width (in.)

29 7/8

Cutout Depth (in.)

15 5/32

Height (in.)

16 29/32

Capacity (cu.ft.) ?

Dimensions of usable space inside the microwave as measured in cubic feet.

1.6

Heating

Microwave

Cooking Power (Watts)

1000
Full Specifications
Design
Color ?

The color of the microwave's exterior cabinet.

Stainless Steel

Type

Over-The-Range

Display Color ?

Color and type of the control panel's screen. Vacuum fluorescent displays (LED) are bright and durable.

Ice Blue

Ventilation Grill Design

Hidden, Big Door

Weights & Dimensions

Product Weight (lb.)

46.85

Width (in.)

29 7/8

Cutout Depth (in.)

15 5/32

Height (in.)

16 29/32

Capacity (cu.ft.) ?

Dimensions of usable space inside the microwave as measured in cubic feet.

1.6

Cooking Performance

Heating

Microwave

Auto Defrost ?

Feature that enables a microwave to calculate defrost time based on the entered weight of the food.

Yes

Cooking Power (Watts)

1000

# of Power Levels

10

Cooking Presets (Auto Cook)

Yes

Soften / Melt

Yes

Custom Cook

Yes

Features

Vent Power (CFM) ?

Settings that determine the power of the vent fan. Fan will auto-start if cooktop generates too much steam.

300 CFM

Kitchen Timer

Yes

Cavity Interior

White Epoxy

Eco Mode: Standby Power Reduction

Yes

Control Material

Membrane Touch (Flat/Glossy)

Turntable

Yes

Turntable Material

Glass

Turntable Size

11 1/2"

Weight Option

lbs only

Vent Filter ?

Replaceable, porous filter made of activated charcoal that fits inside a vent to absorb smoke and odor.

Charcoal/Grease

Vent Fan Control

On/Off

Vent Fan Speed

2

Cooktop Lighting Settings

Hi/Lo/Off

Cooktop Lighting ?

Bulb on base of microwave that illuminates the range's cooktop below (in full-view or night light setting).

Yes

Interior Light ?

Light located in the freezer that is activated when the door is opened.

Incandescent

Power/Ratings

Power Source

120V/60Hz

Amp Circuit

13.5A

Power Consumption (Microwave)

1580 W

Power Cord Length (in.)

39"

Warranty

1 Year Parts and Labor

1 Year

See More +

Warranty

This SAMSUNG brand product, as supplied and distributed by SAMSUNG and delivered new, in the original carton to the original consumer purchaser, is warranted by SAMSUNG against manufacturing defects in materials and workmanship for a limited warranty period of: All Warranty Info

Manuals & Downloads

Manuals

Installation Guide ver. 1.0 (ENGLISH,0.0 MB)

Jun 15, 2015

User Manual ver. 1.0 (ENGLISH, FRENCH,4.74 MB)

Mar 03, 2015

See More +

Downloads

Download data unavailable

×

Make shopping even easier.

The easiest way to shop Samsung. Fast checkout, quick support, free standard shipping, and more.