M400 (Sprint)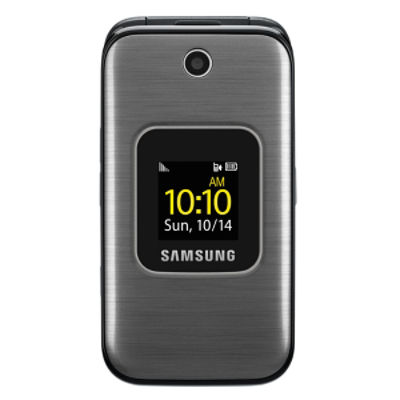 Product Info
Type ?

Provides who the cell phone carrier is for this model of phone.

Sprint

Color ?

Choice of colors (exterior design) that a model is currently available in.

Metallic Silver

Camera resolution (Rear) ?

Number of pixels across and down that are used to capture an image. More pixels, the sharper the photo.

1.3 MP

Main Display Size

2.4"
Full Specifications
Carrier
Type ?

Provides who the cell phone carrier is for this model of phone.

Sprint

Form Factor

Form Factor

Flip Phone

Color

Color ?

Choice of colors (exterior design) that a model is currently available in.

Metallic Silver

Size

Weight

3.65 oz.

Product Dimensions (inches) ?

Height, width and depth of the phone, measured in inches (in.).

3.84" x 1.99" x .72"

Camera

Camera resolution (Rear) ?

Number of pixels across and down that are used to capture an image. More pixels, the sharper the photo.

1.3 MP

Battery

Battery, Standby ?

Up to 10 Days*

Battery, Talk Time ?

Battery power consumption depends on factors such as network configuration, signal strength, operating temperature, features selected, vibrate mode, backlight settings, browser use, frequency of calls and voice, data and other application usage patterns. Smartphone Battery Life Time Test Procedures

Up to 4 Hours*

Battery Type and Size

1000mAh

Network

Frequencies and Data Type

2G: 1900/850/800 MHz CDMA

SAR value - Head (W/kg) ?

SAR stands for Specific Absorption Rate which is the unit of measurement for the amount of RF energy absorbed by the head when using a mobile phone.

SAR Value: Head 0.66 W/kg

SAR value - Body Worn (W/kg) ?

SAR stands for Specific Absorption Rate which is the unit of measurement for the amount of RF energy absorbed by the body when using a mobile phone.

SAR Value: Body 0.64 W/kg

Connectivity

Features

USB 2.0 (HS) / Bluetooth 3.0

Display

Main Display Size

2.4"

Audio

Features

WAC-PCM, WAV-ADPCM, AMR-NB, AMR-WB, AAC, AAC+, eAAC+, WMA, MPEG-1 Audio Layer3, MIDI/QCP

See More +

Warranty

This SAMSUNG brand product, as supplied and distributed by SAMSUNG and delivered new, in the original carton to the original consumer purchaser, is warranted by SAMSUNG against manufacturing defects in materials and workmanship for a limited warranty period of:

All Warranty Info

Manuals & Downloads

Downloads

Download data unavailable