Why does my Samsung Android phone list my phone number as 'Unknown' in its settings?
Last Update Date :
Apr 20. 2018
This error commonly occurs when you transfer the number you were using on your old phone over to your current phone.
Your Samsung phone reads the phone number originally assigned to the SIM card and if you are no longer using that number (such as when you've ported over your old number to use with the new SIM card) your phone will no longer know what number your are using. Your phone in this case will list your current number as 'unknown' rather than incorrectly present the number originally assigned to the SIM card.
This information cannot currently be amended due to how the Android operating system registers a number to the handset upon first use. The issue may be resolved in a future Android software update, but until then rest assured that it has no effect on your device's functionality.
As a workaround you could create a profile in your contacts list that lists your phone's number (check with your network operator if you don't know your number). To do so follow these steps:
1. From the Home screen touch
Apps.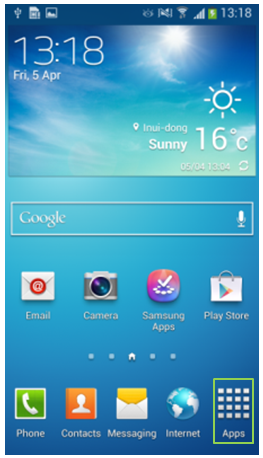 2. Touch Contacts (you may need to swipe left or right to locate it first).
3. Touch the ME entry (you may need to scroll down to locate it first). If this entry is blank you'll need to touch and hold on it instead and then select Edit.
4. Touch the pencil icon in the top-right corner of the screen.
5. Touch the drop-down box below Phone and select 'Mobile'.
6. Enter your phone's number in the empty field next to it.
7. Touch Save in the top-right corner of the screen.
Now you'll have a record of your phone's number within easy reach despite it not being listed in the settings.
Not finding what you're looking for? We're here to help.
Phone
East Africa
Kenya 0800 545 545
Tanzania 0800 780089
Sudan 1969
Uganda 0800 300 300
DRC 499 999
Rwanda 9999
West Africa
Nigeria 0800 726 7864
Ghana 0800 100077
Senegal 80000-0077
Ivory Coast 8000-0077
Cameroon 67095 0077
South Africa
South Africa 0860 726 7864
Mozambique 847267864
Zambia 0211 350 370 / 3434
Namibia 08 197 267 864
Mauritius 800 2550
Reunion 02625088 80
Zimbabwe 0808 0204
* For any printer related enquiries please visit the HP website .
Contact Us