Capturing the Beauty
in Your Everyday
5 photography tips to help you find the hidden beauty in daily life
Many amateur photographers mistakenly believe that if you want a great photo, you have to go out into the world to find it – whether that's travelling to a distant city to capture its skyline, or photographing wildlife in its natural habitat. But great photographers know that beauty can be found in any place – all you have to do is take the time to look for it.

To help you get started, here are 5 tips and tricks that can turn ordinary scenes into extraordinary photos.

Seeing household objects in a new light
The best place to start your search for everyday beauty is, of course, your own home. Objects like vases, house plants, and even dishes can make great subjects for still photography; you just need to look at them like a photographer, with an eye for light, depth and contrast. Start by picking a subject and finding a location with a good amount of natural light, like a table in front of the window. You'll find different effects at different times of day, but many photographers favour the golden-hour – the last hour of daylight before the sun sets – as it guarantees soft, aesthetic light and long, dramatic shadows.
Photographing live subjects
Of course, the best photos are often more than just a striking image. To capture something truly powerful, you often need a living subject, like someone from your family, a friend, or even a pet. That said, you don't necessarily want them to pose for it, as staged photos tend to come across stiff and a bit awkward. So, rather than photographing them head on, try to snap candid, documentary style shots of them while they're paying attention to something else. With the new Galaxy Z Flip3 5G, you can capture photos instantly, even when it's closed, using Quick Shot – so you can grab multiple shots before your subject has even realised they're in frame. Or you can flip it open to snap photos in Flex Mode, as Galaxy Z Flip3 5G stands on its own – no tripod required.

Finding art in motion
Beyond the confines of our homes, there's even more everyday beauty to find and capture, from the hustle and bustle of our daily commutes to the wildlife in your local park. These moments give us an excellent opportunity to add a bit of movement to an otherwise flat composition. Even something as simple as your children playing in the sun, or your dog playing fetch in the park can become beautiful when you film it in 8K. And with the new Galaxy S21 Ultra, you can transform those same moments into dazzling slow-motion shots by increasing the frame rate to an impressive 120 frames per second, giving you more shots to work with as you stretch your footage out.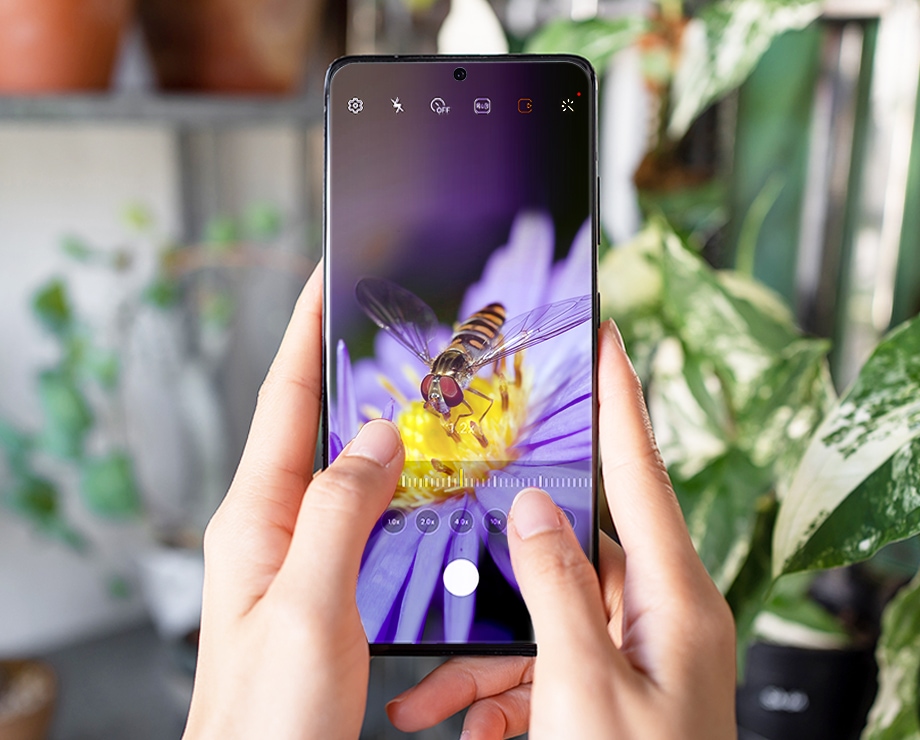 Observing from afar
When it comes to outdoor photography, you may need to look a little further afield than what lies directly in front of you, as the best subjects and scenes might be harder to spot than those at home. The key is to be observant. As soon as you open your mind to the possibilities around you, there are no limits to what you could capture: wildlife, insects, branches, flowers, birds, sunsets, trees, clouds – the list is endless. And with the powerful 100x Space Zoom on the Galaxy S21 Ultra, you don't have to be anywhere near your subject.
Bringing textures to life
As any artist will tell you, textures and patterns are one of the fundamental ways you can add depth to a picture – and a brilliant way to include more colour and contrast, without making it overly busy. Start by scouting out locations or objects that have a distinctive texture, find a good focal-centre (something that can act as an anchor for the eyes) and play around with your angles and camera settings until you find a perfect fit. Adjusting the ISO in Pro-mode – available on all the latest Galaxy smartphones – will allow you to vary the brightness and shadows to accentuate rough surfaces and expose scratches, while shifting to a black and white filter or adding a colder tint can make them look more stark. The key is to experiment, as different effects will have different impacts on your final image.
Discover everyday
beauty with Galaxy
Start your search in style with the latest Galaxy smartphones and foldables.