How to Create Professional
Self-portraits with your Phone
in Five Easy Steps
Easy ways to take a polished headshot
In an era where we upload over 100 million photos to Instagram every single day, it's safe to say that many of us are comfortable with snapping spontaneous photos of ourselves. However, when it comes to elevating your own personal brand, your favourite vacay pic probably won't cut it.

If you want to take a polished photo for your email signature, personal portfolio or LinkedIn profile, the front-facing camera of today's best phones is a force to be reckoned with. With a few simple tricks and tips, you can create a stunning self-portrait easily with your phone.
Step one: understand the difference between a selfie and a headshot
Headshots are invaluable for demonstrating competence and generating likeability. Whether you want to grab the attention of an employer or add a personal touch to help sell your side hustle, a refined snap can help support all kinds of career goals. While casual selfies are fun, they can work against you in a professional setting. Photos taken in bad lighting, badly cropped images and group shots don't create the ultimate first impression. Self-portraits are growing in popularity, and are far from stuffy and serious – there are subtle ways to convey personality while keeping the picture professional.
Step two: set the scene
Deciding what message you want to convey is one of the most important factors in taking a professional self-portrait. If you work in a creative industry, for example, you might like to consider a more animated facial expression where you are laughing, smiling or something in between, as this may better reflect the nature of your job. A more serious or analytical role, on the other hand, could benefit from a more thoughtful countenance. As well as your facial expression, your background should also complement your overall message. Taking a self-portrait in front of a light, plain background is a good rule of thumb, but if you work in a field job that takes you outdoors regularly, you might want to switch your setting to al fresco. Whatever backdrop you choose, the Samsung Photo Editor will help bring out your best.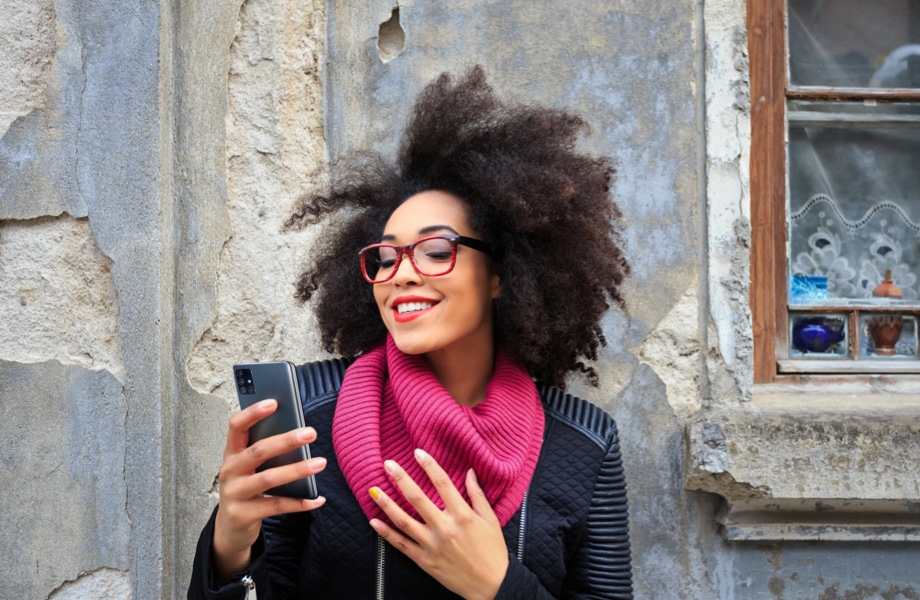 Step three: prepare for your photoshoot
Before you take your headshot, think carefully about the tone you want to convey with your self-portrait. When it comes to clothing, plain colours are best, as patterns or prints can distract or date your photo. Mid-tone shades such as blue, green and purple are universally flattering, and you can always add interest with different textures or a unique piece of jewellery. Again, your aesthetic should align with the message you want to convey. Someone who works in sales might want to be suited and booted, but a graphic could consider wearing something more casual. You can bend these rules of course, as the most important thing is that you are comfortable and that your clothing fits you well. Wear your glasses for the photo if this is typical for you.
Step four: warm up and experiment with angles and filters
Give yourself time to warm up and move around. Taking your own professional self-portrait with your camera on timer mode is a great way to get more comfortable with having your photo taken. Even if you only need one image, be sure to take a wide variety of photos in different poses and facial expressions on your solo photoshoot – you never know which picture will turn out best. Creating angles with your body can also make the shot feel more natural than standing with your arms by your sides. Try turning your body and positioning your shoulder geometrically. While they might not seem like an important aspect of a portrait, shoulders can set the tone for an image as they're the widest part of you. If you accidentally capture more of yourself than you intended, you can always crop the photo later. You can even experiment with the filters on your camera, as they can add unique lighting or effects to make your picture really stand out.
Step five: master the basics of editing
Once your photoshoot is over, it's time to choose your most flattering picture and edit it to look polished and professional. Samsung devices such as the Galaxy Note20 come with the Gallery photo editor software pre-installed, meaning you can tweak them to your preference in mere moments. Simply open your image and tap on the pencil icon to edit it. Auto adjust via the magic wand icon is the easiest way to balance the contrast, saturation and brightness. If you want to experiment further, the intuitive photo editing functions let you crop, rotate, make tone adjustments, apply filters and even draw on your image with the S Pen – great for personalisation, or signing autographs!
Ready to take your own self-portrait?
Here's everything you need.
Galaxy Note 20 | 20 Ultra 5G