Six Secrets to Creating Killer
Video Content
You're the director. Share your vision.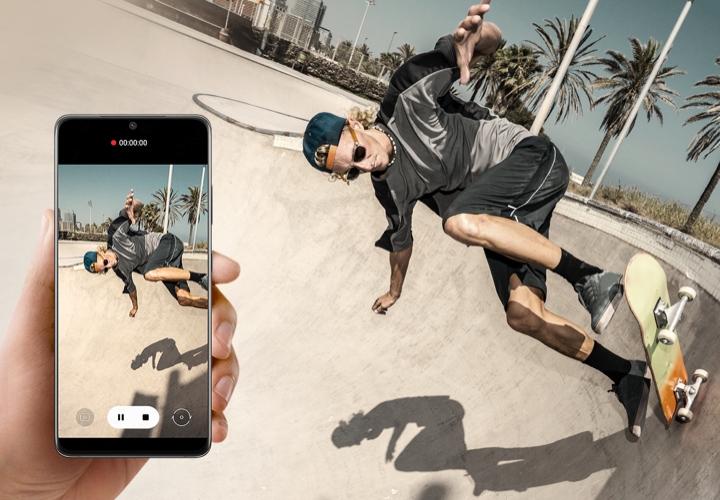 If a picture is worth a thousand words, it's safe to say that in 2021, video footage must be priceless. As we've all been spending more time at home, video content has become an incredible source of comfort and entertainment, as well as an outlet for stifled creativity. When shared, videos help us stay connected, whether for a brief and brilliant moment or a shared feature-length movie. Case in point: the endless stream of collaborative Duets to sea shanties posted on TikTok. It's amazing to think that several seconds of unfiltered joy can have such a domino effect, and in 2021, the video trend will be bigger and better than ever.

In an age where we're all obsessed with capturing incredible Instagram Reels, hypnotic TikTok dance routines, interactive Twitch streams and spectacular YouTube productions, unleashing our inner director has never been so easy. However, there's a fine art to crafting great video content. As most of us didn't go to film school, we could benefit from a few tips on how to create killer videos. Whether you want to create bite-size audio-visuals for your socials or add smart transitions to a vertical film, these six secrets will help you shoot a mini masterpiece.
Make your story as engaging as possible
The work you put in before the camera starts rolling is just as important as the video itself. Crystallising your story or message is one of the key things that separates the great videos from the good. From brainstorming ideas to sketching out scenes, bursts of creativity can come at unexpected moments. Use the Galaxy S21 to take planning up a level and jot down ideas to wow your audience, or sketch out storyboards with a swish of the S Pen on the Galaxy S21 Ultra – it's like putting pen to paper but better. Ultimately, decide what you want your audience to do, think and feel after watching your video.

Of course, how you plan your content will depend on its purpose and where you're posting. For example, you'll want to have at least a vague idea of what you want to say before hitting the 'record' button for a YouTube video. You generally only have the first 15 seconds of a video to grab viewers' attention, so it's worth mapping out those initial moments at the very least, and making sure your video flows quickly from point to point.

Aim high when it comes to quality
Video technology has come on leaps and bounds over the last few years. We're now way beyond the halcyon days of grainy vlogs, and tools such as AI, machine learning and AR and VR help us reach new levels of quality when we shoot films. Apps and software naturally make a difference – not least through the filters we use to customise our content – but none of this would be possible without the technological advancements of hardware. The quality of your video content largely depends on the device you are filming on – and subpar quality is something no filter can hide.

With real 8K video shot at movie-standard 24fps, the new Galaxy S21 series can deliver shots worthy of a Hollywood blockbuster – but with the added benefit of fitting into your pocket. These cutting-edge phones produce footage so detailed and crisp, you can cast it onto an 85" QLED 8K without any loss of detail or definition.

Clearer, sharper, and a whole lot smoother – even in low light – the Super Smooth 60fps Video on the Galaxy S21 series is truly transformative, automatically optimising frame rate to external factors like light levels. You can capture mesmerising slow-motion action of anything your heart desires, turning everything from dance choreography to walks with the dog into visually stunning masterpieces.
Set the scene
When creating videos and films, the result will only be as good as the environment that you choose to shoot in. To amplify your production value and make your videos looks as professional as possible, make two simple but important factors a priority: lighting and background. Lighting makes a massive difference to the overall quality of a video. The Galaxy S21 produces top-quality footage even in low light, but using properly placed artificial light or shooting in natural daylight will give your footage added flair.

Similarly, be deliberate about the background you choose for filming. A messy or distracting space can ruin even the best video. Try using a solid coloured backdrop when filming for your social channels, or if that's not possible, give your set a quick tidy. A monochrome wall is your best option, and many top influencers elect to deploy a green screen behind them to create a uniform and customisable background. Whatever you choose, just be sure your subject is a few feet away from the backdrop to prevent casting any unflattering shadows.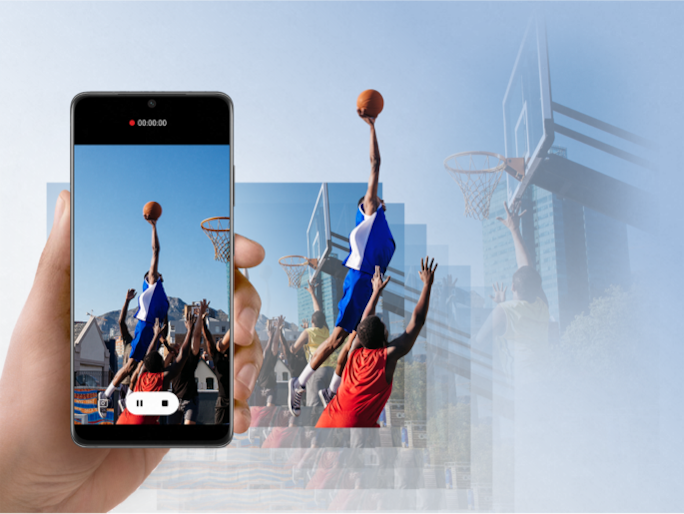 Capture amazing moments from all angles
Capturing the action is important, but your reaction behind the camera is often just as interesting. Galaxy S21 is the first ever smartphone to enable the use of both the rear-facing and front-facing cameras simultaneously with Vlogger Mode – allowing you to film everything in front of you – plus every emotion on your face in real time too. With the Galaxy S21 Ultra's mega-detailed 40 megapixel front-facing camera, your followers won't miss a single expression. This is a great feature for those who are experienced with videography and want to challenge themselves to create content with multiple angles and layers.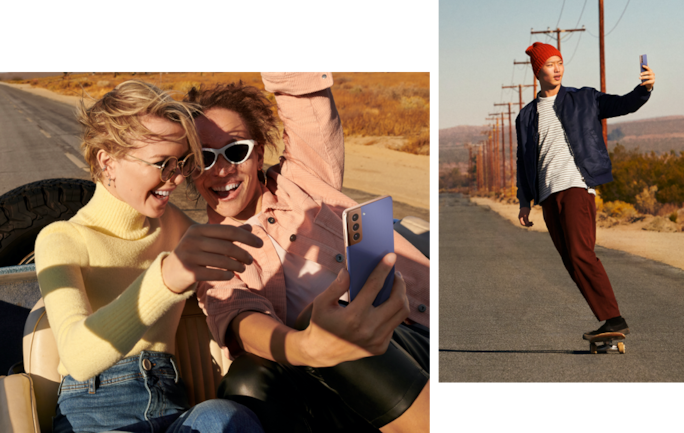 Don't forget the action shots
While planning your video content is wise, there's also a case for capturing spontaneous moments on camera. From the improvised scenes in Fight Club to the real-life reactions in The Blair Witch Project, many great cinematic moments come from leaving the action up to fate. Taking amazing live action footage can really help your videos standout, and with the Galaxy S21 it's easier than ever before to capture life's most beautiful, hilarious and surprising moments – just as they happen.

Ever wondered how professional filmmakers get those super smooth moving shots that follow the action without skipping a beat? The answer has typically been lots of heavy and very expensive equipment, but fortunately that's no longer the case. With the Galaxy S21's advanced frame rate settings and super steady AI technology, you can achieve the same effect with nothing more than your smartphone. Whether you're shooting a skate video, filming a live concert or trying to capture your road trip from the passenger seat, the Galaxy S21 phones use AI to compensate for every bump and shake, smoothing out the footage as if you shot the whole thing on a professional film crew's dolly.
Develop a signature editing style
The most shared video collages, lip-syncs and skits that channel the hive mind of the internet all rely on one thing: clever editing. In 2020, editing became practically as important as the content itself, especially on TikTok and Instagram Reels. When making a video for TikTok, note what filters, effects and songs are trending but don't be afraid to experiment too – editing is where you have space to be creative, have fun, and show off your own personal brand.

If you want to create a more polished video or vertical film, the unique Director's View across the Galaxy S21 series does for video what Pro Mode did for photography. It offers an endlessly customisable range of settings, views, and features that can take your footage from home video to pro video without leaving your camera app. Multi-camera Standby unlocks a world of options, enabling you to seamlessly switch between Ultra Wide, Wide and Tele views. Imagine opening on a Wide shot, then directing the audience focus to a close-up shot using the Telephoto lens. Or you might try the opposite – shooting in Tele view to pique viewers' curiosity, then withdraw to Ultra Wide to reveal the object's surprising full context.
Ready to take your videos to the next level?
Here's everything you need