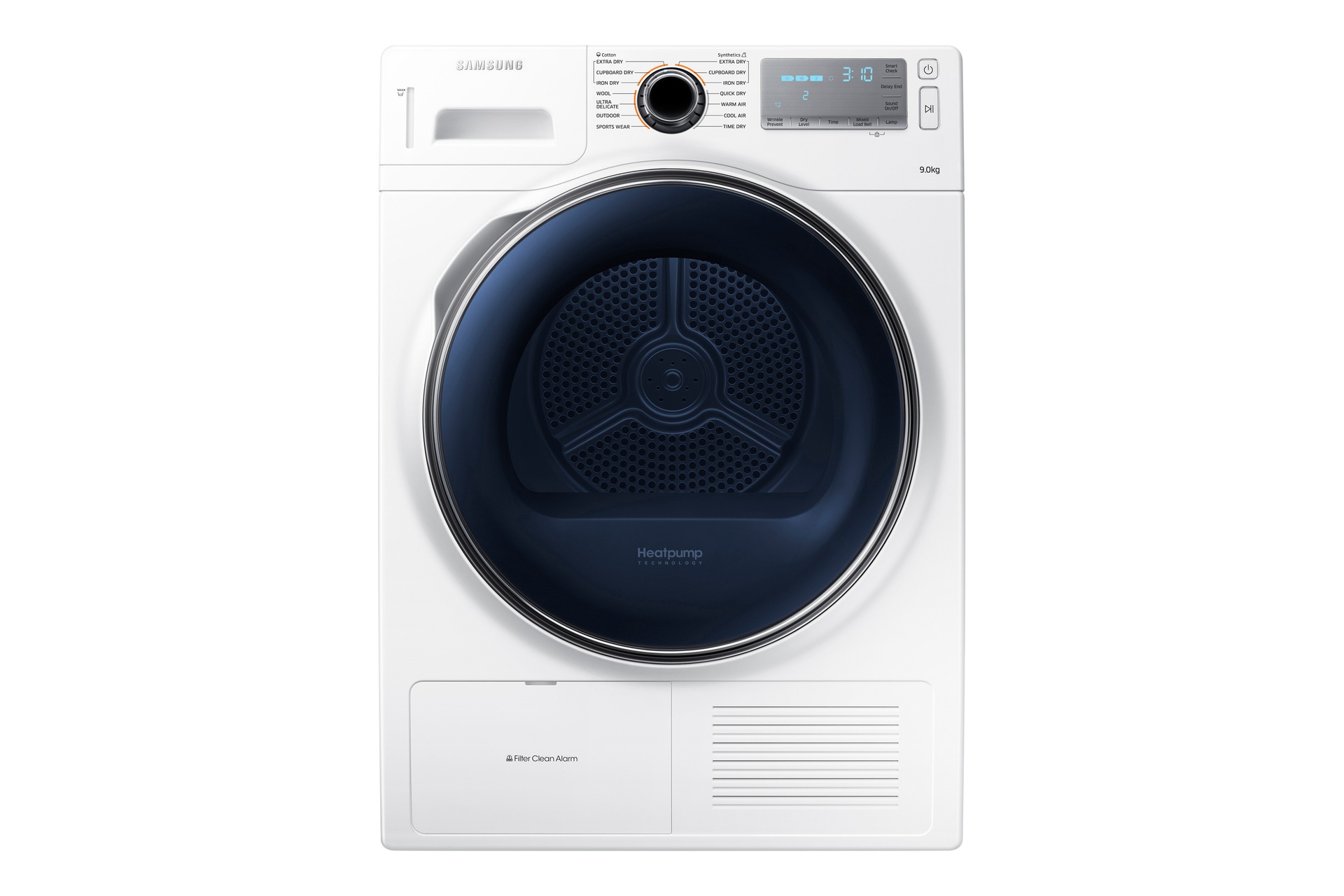 DV8000 Tumble Dryer with Heat Pump Technology, 9 kg
DV90H8000HW/EU
DV8000 Tumble Dryer with Heat Pump Technology, 9 kg
is rated out of
5
by
4
.
9 kg
Drying Capacity (kg)
A++
Energy Efficiency Class
598 x 850 x 645 mm
Net Dimension (WxHxD)
A++ energy efficiency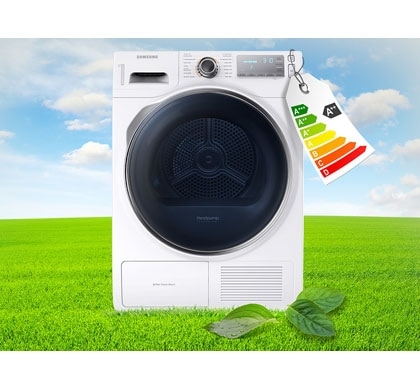 Innovative Heat Pump technology means that Samsung's tumble dryers offer fantastic energy efficiency as well as superb drying performance. With an A++ energy rating, it uses 'refrigerant' instead of electricity to heat the air. So it consumes significantly less power than conventional condensing dryers and also improves overall performance by recycling air to avoid wasting energy.
Crystal Blue Door
A dryer that features an extra-large door, with a Metal Double Hinge that opens wider, so it's significantly easier to load and unload clothes. Its minimal frame allows it to fit perfectly within a modern style living space, whilst its translucent Crystal Blue door refracts light to create a beautiful spectrum of colours. It also matches brilliantly with WW7000, WW8000 and WW9000 washing machines.
Big capacity. Less laundry time
Extra large capacity lets you take care of more clothes in one load. Drying up to 9 kg in one load saves you time by not having to dry as many loads each week.
Helpful reminder for filter cleaning
The condenser filter in clothes dryer needs regular cleaning, so it's easy to forget. But the Filter Clean Alarm provides a helpful reminder when it's time, so your dryer maintains optimal performance. And then it simply sets the counter to zero – but only after a sensor on the cap has checked to make sure the condenser really has been cleaned.
Instant water level check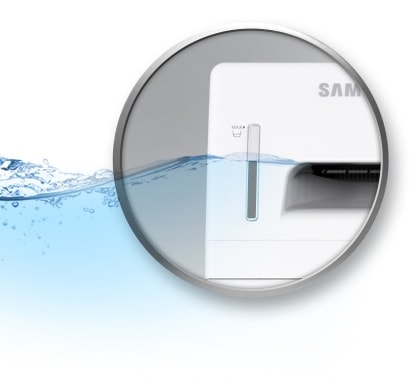 The Samsung Heatpump clothes dryer features a Water Tank Indicator on its front to show how much condensed water has been extracted from your clothes. This simple gauge measures the level of water collected in the tank, so you can quickly see if it needs emptying before you start another load – ensuring that the dryer won't stop unexpectedly if the tank gets full.
Easy troubleshooting
The Samsung Heatpump clothes dryer includes Smart Check, an automatic error-monitoring system. It detects and diagnoses problems at an early stage and provides quick and easy troubleshooting solutions using a smartphone App*. It even lets you control your machine remotely and sends you notifications when your laundry is finished! So it saves you time – and potentially expensive repair bills. * Available on Android and iPhone devices.
9 kg

Drying Capacity (kg)

A++

Energy Efficiency Class

52 kg

Net Weight

598 x 850 x 645 mm

Net Dimension (WxHxD)
Rated

1

out of

5
by
jeng
from
If I could put a zero rating I would
This machine is not fit for purpose. The only thing that it will sometimes dry fully is towels. I've had an engineer out to review and "fix" the machine but it is still not drying clothes or sheets fully at all. Upon the second call out he advised that even if we exchange our machine for another it will likely do the same thing given the nature of a heat pump dryer and given the previous reviews I have now read, I can see he is most likely accurate in his statement. Considering this is a very expensive machine, I am extremely disappointed that this is even on the market as a tumble dryer
Date published: 2019-03-06
Rated

1

out of

5
by
Olgeir
from
not a durable machine
The design of the heat exchanger is very poor. With the machine comes a small brush to clean the heat exchanger. This is a poor solution and most other brands give you the chance to take out the exchanger and run water through it to wash out the fluff
Date published: 2020-06-25
Rated

1

out of

5
by
Shahid
from
Not a durable machine
Spent extra thinking I will be getting a better machine. Poor quality, condenser hinge broke with 12 months. Water pump gone now, parts not easily available. Not worth the money.
Date published: 2020-06-11
Rated

1

out of

5
by
Lezahb
from
Rubbish
My dryer is less than 3 years old & engineer has been out to reset once already. It is now going to the dump & I've spent 179 on a beko which is so much better. I paid 799 for the Samsung it is the most frustrating thing I've ever had.
Date published: 2020-06-10
How It Stacks Up
Drying Capacity (kg)

9 kg

Energy Efficiency Class

A++

Net Weight

52 kg

Net Dimension (WxHxD)

598 x 850 x 645 mm
Eco Bubble™ technology

Washing Capacity (kg)

8 kg

Energy Efficiency Class

A+++

Bubble technology

Yes