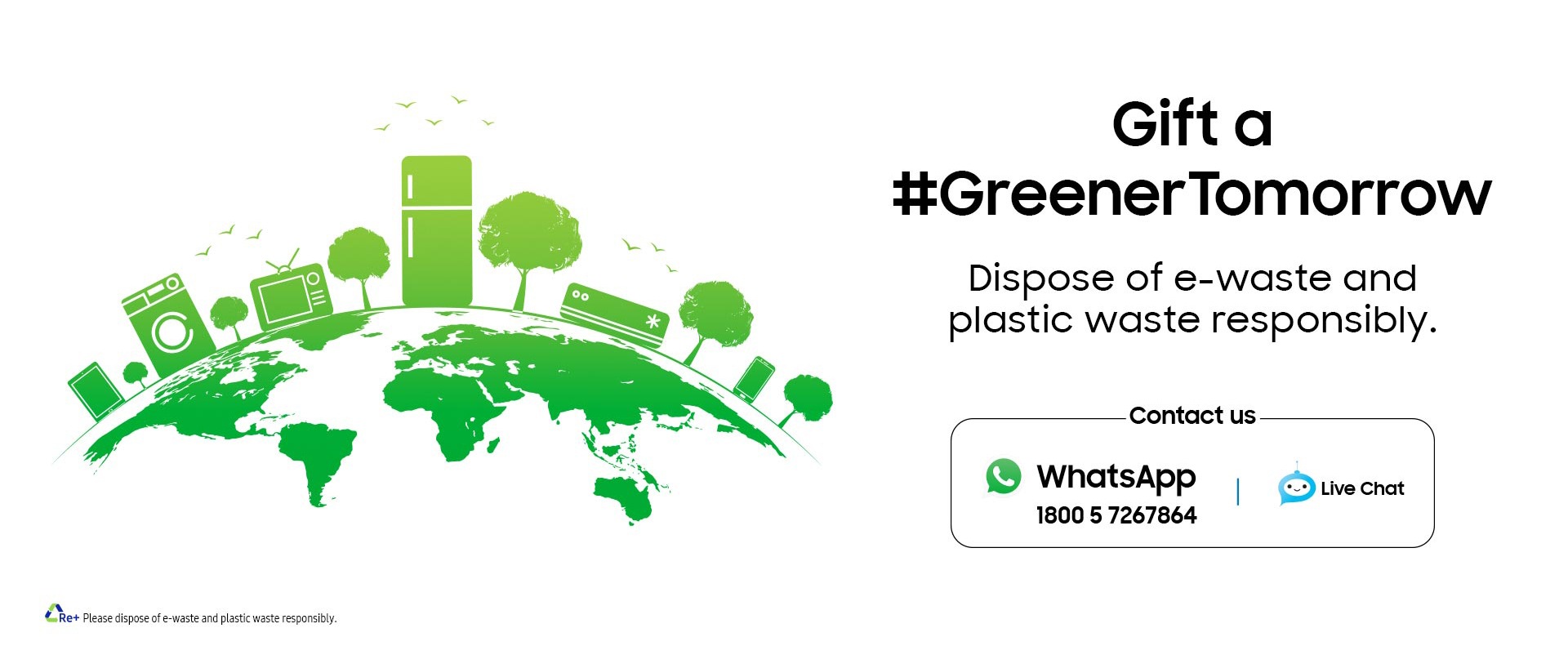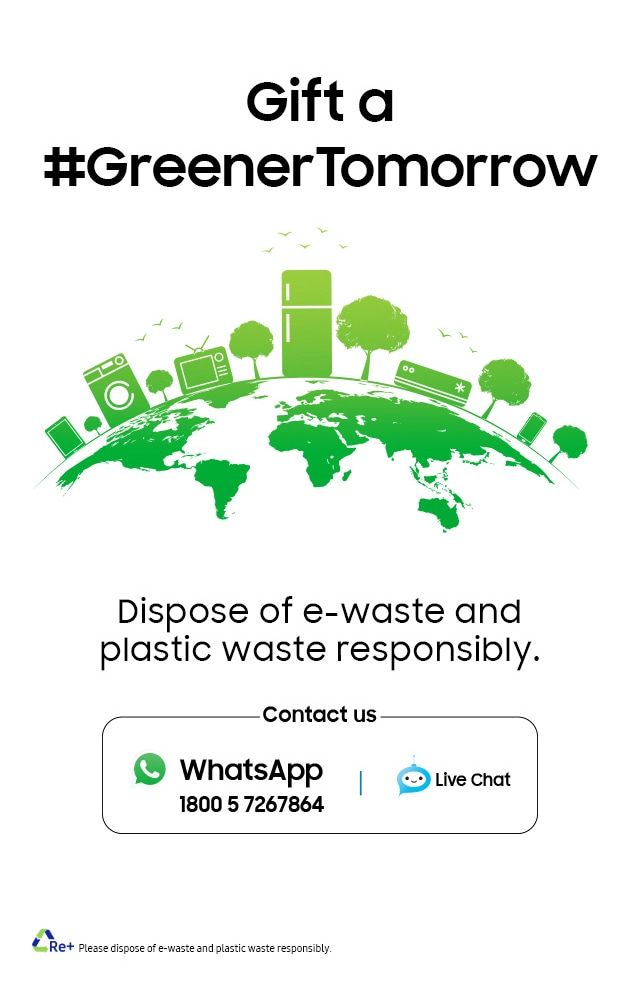 About the Program
Striving for a clean and green tomorrow
It is our endeavour at Samsung Electronics to build a greener ecosystem through our eco-friendly products, solutions and technologies that benefit customers, respect our planet and deliver a better tomorrow for the coming generations.
In continuation of this effort for a clean and green tomorrow, we have introduced Samsung Care for Clean India program to spread awareness for responsible disposal of e-waste and plastic waste.
E-waste Management
Any electronic product such as television, air conditioner, refrigerator, mobile phone, etc. when reaches its end-of-life, becomes an e-waste. Through Samsung Care for Clean India program, we collect e-waste and ensure that it is disposed of in the most responsible way.
e-waste collection center information
Please select the 'State' and click on 'Search' button.
India has formulated and notified its strategy to tackle e-waste through the e-waste (Management) Rules, 2016. The global e-waste policy of Samsung Electronics supports recycling and remains committed to comply with India's e-waste (Management) Rules 2016.
Why recycle
Conserves Resources
Creation of new products requires raw resources. By recycling old products we not only reduce the extraction of fresh raw resources, but also conserve the environment.
Saves Energy
Recycling a product requires lesser energy than producing a new one from the scratch. Skipping the usual process of extraction of raw material, its transportation, refining, etc. saves energy.
Prevents Pollution
By recycling responsibly, we cut down air, water and land pollution, thus contributing towards a clean and green environment.
Plastic Waste Management
Plastic has made modern life easy and convenient. But, today, this valued invention has become nature's biggest nightmare. Usually, plastic can take up to 500 years to biodegrade. Therefore, it's necessary to reduce plastic usage. As an environmentally conscious company, we are committed to reduce the use of plastic, or substitute it with other eco-friendly materials, in product and packaging.
To know more about responsible disposal of plastic waste, please read FAQs below.
India has formulated and notified its strategy to tackle plastic packaging waste management in line with Plastic Waste Management (Amendment) Rules, 2018.
FAQs
Responsible disposal of e-waste
1. What is Samsung Care for Clean India program?
Samsung Care for Clean India program is a comprehensive commitment towards environment in adherence to the global recycling laws, to raise awareness about responsible disposal of e-waste, reduce e-waste generation and encourage recycling of e-waste.
2. What makes this program unique?
Samsung has signed contracts directly with the government authorized recycling companies who have committed to no incineration, land filling, or exporting of hazardous waste to developing countries. This program provides pick-up facility for all electronics products. All the customer needs to do is to dial a number.
3. How does Samsung Care for Clean India program work?
Samsung provides a simple way for consumers to get involved in Care for Clean India efforts. Anyone can avail e-waste pick-up services for any brand of televisions, refrigerators, washing machines, etc. Simply WhatsApp us at 1800 5 7267864. No fee is charged from the consumer for giving the e-waste for recycling.
4. Which consumer electronics are accepted by Samsung for recycling under E-waste (Management) Rules, 2016?
As per e-waste(Management) Rules, 2016 , Samsung accepts products ranging from mobile phones, laptops, tablets, television, computer monitors, washing machines, air conditioner and refrigerators, for recycling.
5. How does Samsung ensure safe recycling of consumer electronics products and its components?
It is ensured by selecting Govt. authorized recyclers who process the e-waste in a responsible manner and do not incinerate, do not send e-waste to solid landfill or do not export toxic waste. (Defined in a manner consistent with the definitions of hazardous waste)
6. Do consumers have to pay for getting their electronic products recycled?
Consumers do not have to pay any fee for recycling of any electronic products in India.
7. Is there any monetary benefit/discount linked to Samsung Care for Clean India program?
There is no monetary benefit/discount linked to this program. The main benefit of this program is to contribute towards cleaner, safer and greener environment.
8. What are the negative effects of improper recycling and dismantling of old electrical & electronic items?
(i) If the material is not disposed of in a proper manner, then it may cause health risks and damage to the environment
(ii) Presence of heavy metals such as cadmium, lead, etc. and other toxic substances may pose risk to health and the environment.
(iii) Hazardous substance like mercury in cold cathode fluorescent lamp (CCFL) in LCD TV, lead in CRT, etc. can cause serious harm to the environment if directly exposed to the atmosphere.
(iv) Batteries contain hazardous elements which may affect health & the environment, if not disposed of properly.
9. How to safely handle the product while disposing of?
(i) Old defective product should be kept separately from other products.
(ii) Product should not be dropped in garbage bins containing municipal waste.
(iii) It should be handed over only to manufacturer or an authorized recycler for responsible recycling.
(iv) Product should not be handed over to any recycler who does not have proper recycling facilities or authorization from the government.
10. What are the health hazards and effects on the environment if the product is dismantled by the consumer themselves?
All electronic products are safe to use, but if consumer dismantles or breaks them, they might be exposed to health hazards due to the chemical substances present in the products, which further can pollute the environment.
11. How does Samsung ensure a sanitized pick up of e-waste from customers?
Samsung is taking all precautionary measures to be followed by the pick-up personnel while collecting e-waste from customers' premises. Which includes-
• Maintaining social distance
• Wearing face mask and hand gloves
• Frequent hand sanitizing or hand wash with soap
• Regular thermal screening
12. What can customers' do to ensure social distancing and safety?
• Customers may leave the e-waste outside their door or society gate as may be appropriate, and inform the pick-up personnel
• E-waste pick-up personnel will share an acknowledgement with the customer after collection by sending an e-mail

Responsible disposal of plastic waste
1. What is plastic waste?
Plastic waste is improperly disposing of plastic objects (bottles, bags, packaging material including thermocol etc.) in the environment which adversely affects flora and fauna.
2. What are the harmful effects of plastic waste?
Plastic can take up to 500 years to bio-degrade, which means that it can impact the environment adversely if not recycled responsibly. The environment is impacted in the following manner:
(i) Burning of plastic waste emits toxic gases
(ii) Plastic waste thrown on land makes the land infertile and pollutes groundwater
(iii) Plastic waste flows into oceans and adversely impacts marine life
(iv)Littered plastic waste gives unaesthetic look and choke drains during the monsoon season
3. How to dispose of plastic waste responsibly?
As eco-friendly citizens, we must ensure safe disposal of plastic waste. When disposed of in the right manner, the plastic waste gets recycled responsibly and does not cause harm to the environment. Please follow these Do's and Don'ts for safe plastic waste disposal:
(i) Plastic waste can be recycled appropriately only if it is absolutely dry. Please gather and dispose of dry plastic waste separately. Further, please do not mix it with wet waste or with other dry waste like paper/cardboards, etc.
(ii) Please do not throw plastic waste in open areas or rivers or other water channels.
(iii) Wherever segregated bins are available, ensure plastic waste is disposed of in the appropriate bin.
(iv) You may contact the authorized plastic waste collector of your area to collect plastic waste from your homes.
4. What happens when plastic waste is disposed of responsibly?
Safe disposal of plastic waste ensures that it does not harm the environment. Plastic comes in two forms i.e. recyclable plastic and non-recyclable plastic and both are disposed of through separate methods.
Recyclable plastic is used to create:
(i) Plastic furniture (tables, chairs, stools)
(ii) Different types of bags (shopping bags, school bags, travel bags, etc.)
(iii) Household items (buckets, mugs, jars, etc.)
(iv) Stationary items and parts of electronic appliances
Non-recyclable plastic is used in:
(i) Construction of roads
(ii) Manufacturing of cement
5. Is thermocol plastic? How to dispose of thermocol?
Yes, thermocol is also a type of plastic and needs to be disposed of following the same method of plastic disposal. Please ensure that the thermocol left behind after unboxing any electronic product is disposed of in a safe manner. For disposal, you may contact the authorized plastic waste collector of your area.
6. What about other packaging material like cardboard or paper?
Waste cardboard and paper are not considered as plastic waste. They may be disposed of either in segregated bins marked as "paper & cardboard" or through the normal daily dry garbage collection process followed in your area.