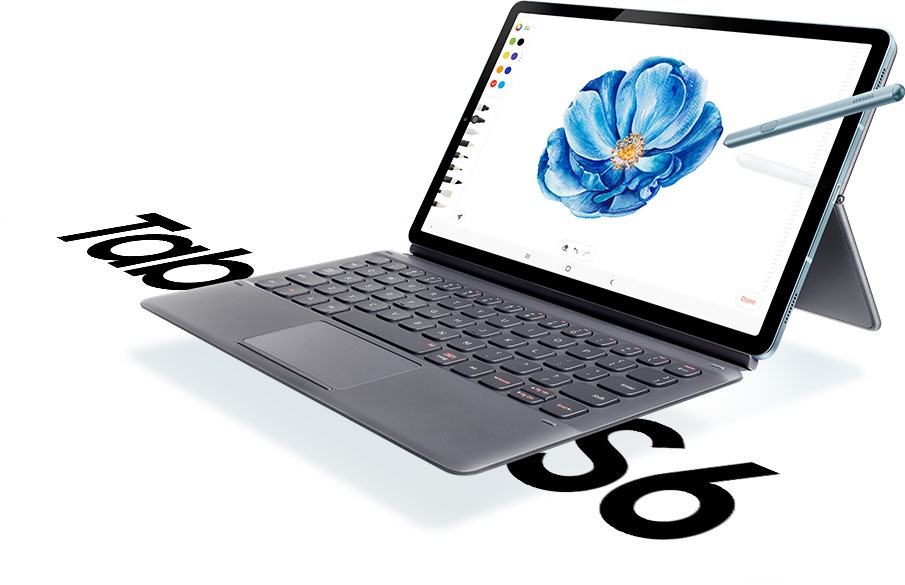 *Image simulated. Keyboard sold separately.
Create. Work. Anywhere.
Take your creativity anywhere with the Galaxy Tab S6. A do-it-all tablet that goes beyond
boundaries with whole new levels of S Pen integration for both work and play. Maximize your
potential and turn challenges into opportunities with a tablet that prepares you for
whatever life throws your way.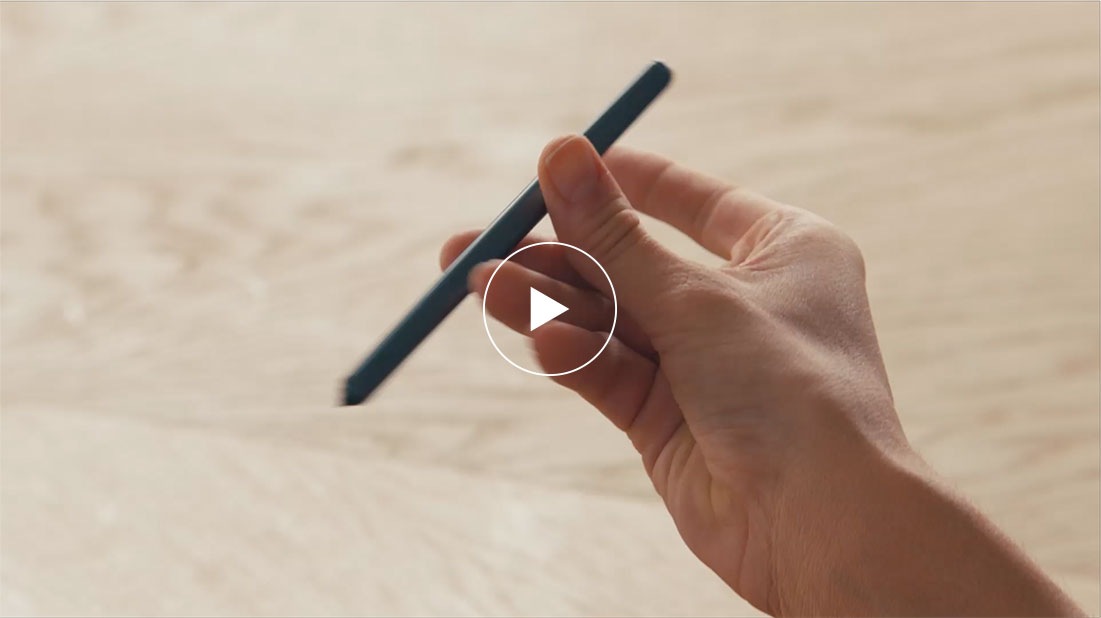 Productivity
Stays attached so you don't forget
Now the S Pen always stays with you. A subtle indent on the back magnetically attaches it to the device
so you are ready to jot down your ideas whenever inspiration strikes. Also, it automatically starts charging the moment you attach it.

*Please attach S Pen to the charging area on the rear of the device to wirelessly charge it before first use.
**S Pen battery life when fully charged lasts up to 10 hours on standby. Actual battery life may vary depending on network environment, usage patterns and other factors.
Write It
With the S Pen in your hand, it's time to let your ideas take flight. Pull up Samsung Notes while running a video to write down your thoughts in the moment. Adjust the window transparency to take notes without stopping playback.
Control it
Bluetooth connectivity gives you the freedom to remotely control your device with a press of the S Pen button. Plus the newly added S Pen Air Actions let you intuitively control your tablet with hand gestures. Change slides, control video playback and more without needing to reach for the tablet.
Sketch it
Draw and sketch for hours with precision and control, with 4,096 different levels of pressure sensitivity for lively compositions and brush strokes and a comfortable grip for less fatigue. Express yourself when the moment strikes with a pen that's always at hand.
A desktop experience one shortcut away
Get the PC-like experience of Samsung Dex at the touch of a button. The Galaxy Tab S6's portable BookCover Keyboard* uses a dedicated key for quick DeX access, plus a touchpad to complete your workspace. Connect to an additional display with an HDMI cable for even more space to get things done.
*Visit the official Samsung DeX page to view the large and growing list of supported apps and get more information on Samsung DeX.
**Galaxy Tab S6 BookCover Keyboard sold separately.
Multiply the things you do
Work in split view on the Galaxy Tab S6 in multi window mode. Split the view with just a click to use apps like Gallery, Email and Samsung Notes simultaneously.
*Apps that support split view are: Gallery, Calculator, Message, Samsung Notes, and Video. Certain other 3rd party apps may also support split view.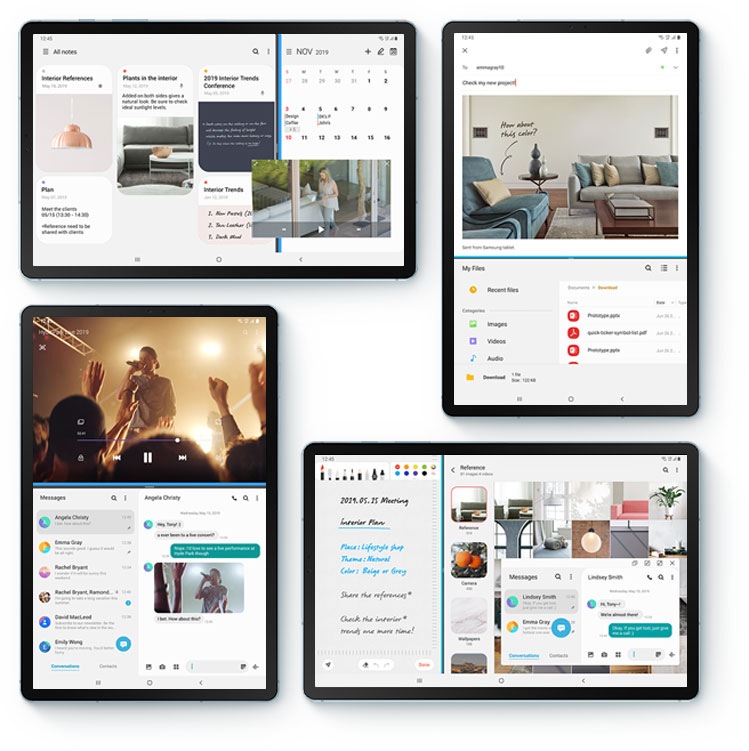 Performance
Next-generation neural processing power
With next generation processing power, the Galaxy Tab S6 brings you best in class specs for lag free gaming. Accelerated neural network processing accelerates the efficiency of AI applications while Bixby vision adds improved deep learning to features like scene recognition.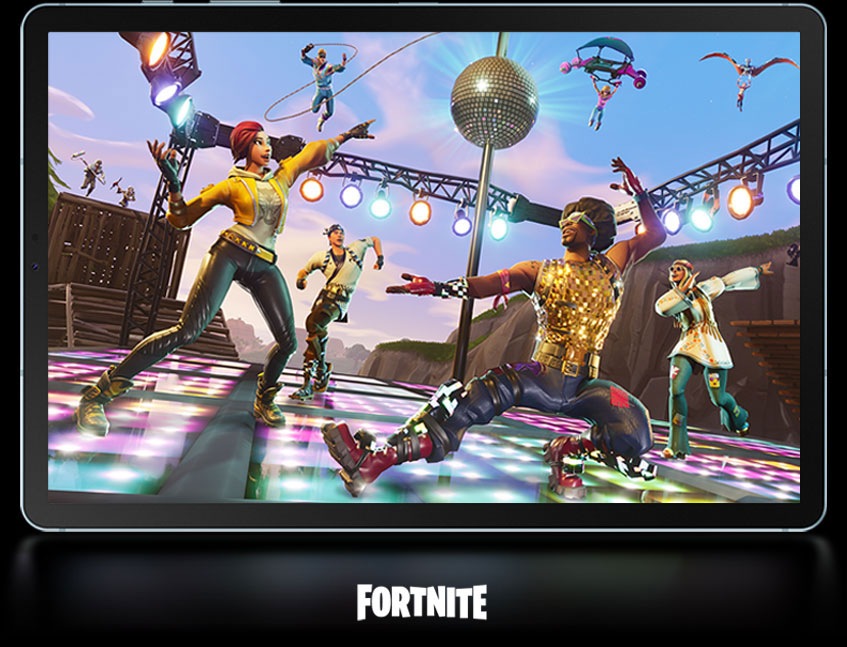 © 2018 Epic Games, Inc. Epic Games, Fortnite, and their logos are trademarks or registered trademarks of Epic Games in the USA (Reg. U.S. Pat & Tm. Off.) and elsewhere. All rights reserved.
Finally a reason to put down your phone
Stay in touch even when your phone is out of reach. The Galaxy Tab S6 seamlessly syncs with your Galaxy
Smartphone, so you never miss a call. It also allows you to reply to urgent
text messages, so you're never out of the loop.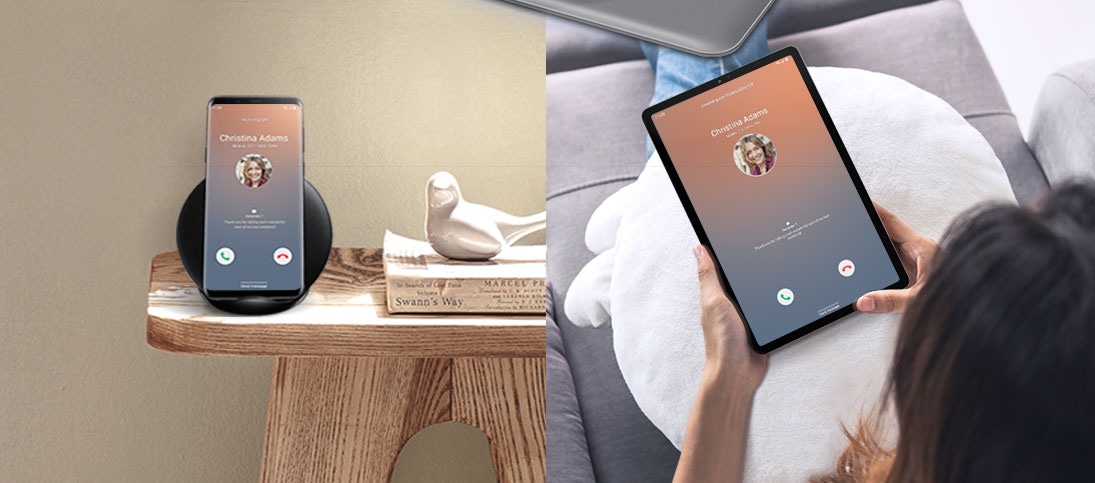 *Call & text on other devices feature is supported between Samsung devices running Android P and with 3GB RAM and above. Service function rollout date may vary by region, carrier and device.
Tap the screen to instantly unlock
The Galaxy Tab S6 incorporates an on-screen optical fingerprint scanner for maximum convenience and security. Just touch your finger to the screen and unlock your tab, without having to remember any passwords.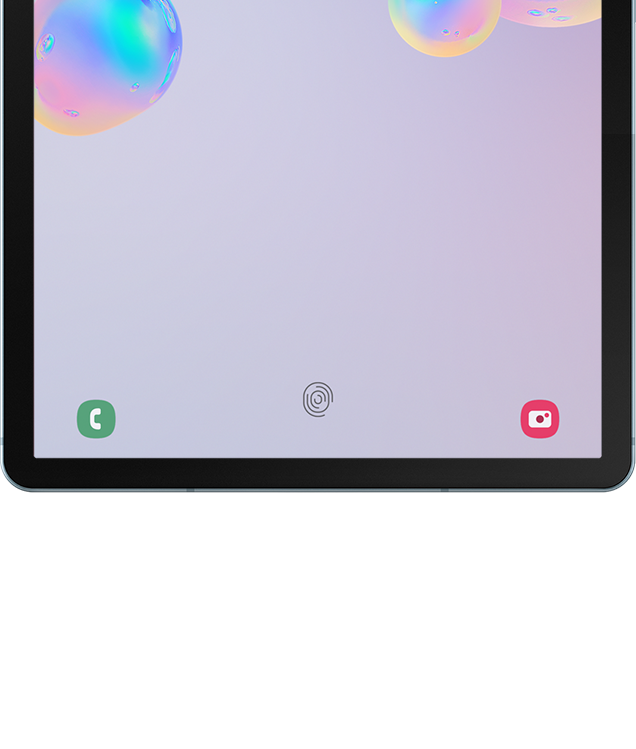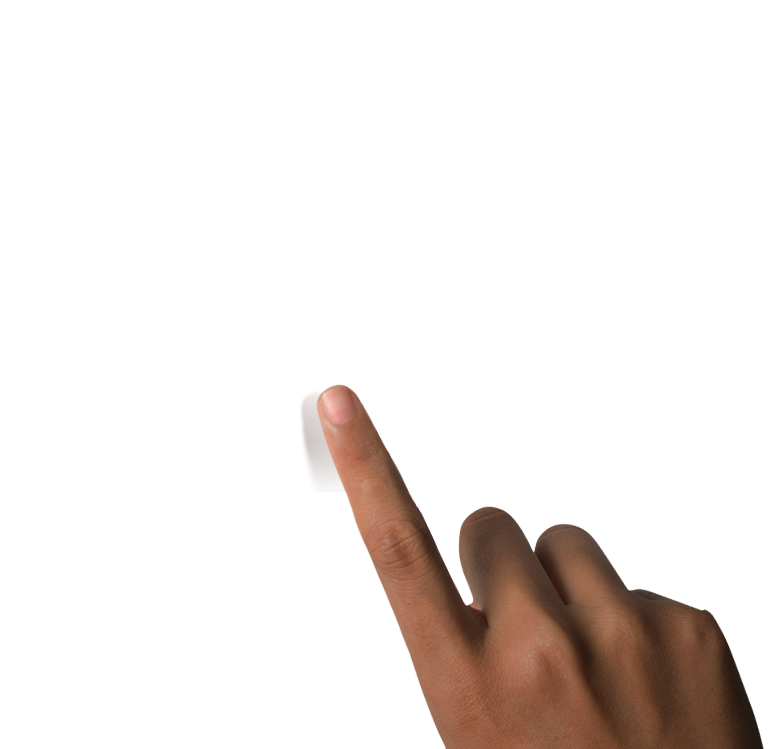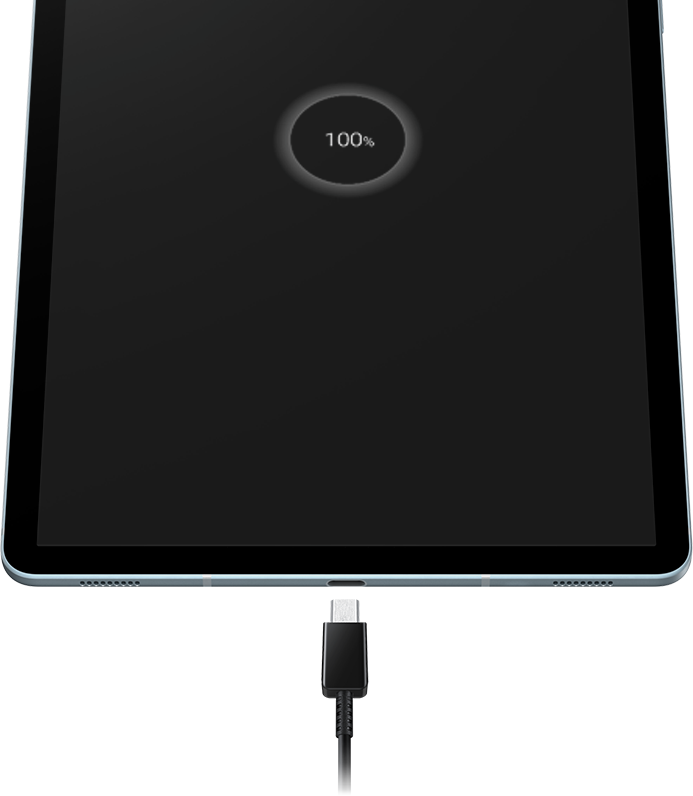 Power up
and keep going
The Galaxy Tab S6's powerful 7,040mAh (typical)* battery lasts for a full 15 hours of video playback**, giving you the freedom to leave its charger behind, day after day. Use fast USB type C charging to charge quickly, or opt for the POGO Charging Dock*** for another way to charge.
Battery7,040mAh
Video PlaybackUp to 15 hours
*Typical value tested under third-party laboratory condition. Typical value is the estimated average value considering the deviation in battery capacity among the battery samples tested under IEC 61960 standard. Rated (minimum) capacity is 6,840mAh(Rated battery capacity). Actual battery life may vary depending on network environment, usage patterns and other factors.
**Video playback testing designed and conducted to account for carrier and network environments of regions in which device is available for purchase. Tests conducted using development stage prototype and software. Battery capacity in relation to time calculated by measuring current consumption after playing video file (720p) on the device. Video playback may differ from actual time used depending on network connection status, function setup, signal strength, noise, video file type and other factors. ***POGO Charging Docks
Kick back with stunning visuals and sound
The nearly bezel-less sAMOLED display provides 26.67 cm of 2560x1600 WQXGA screen at 287ppi
and a 16:10 screen ratio that's ideal for hours of viewing and reading. Now get the perfect immersive viewing experience with Dolby Atmos quad speakers.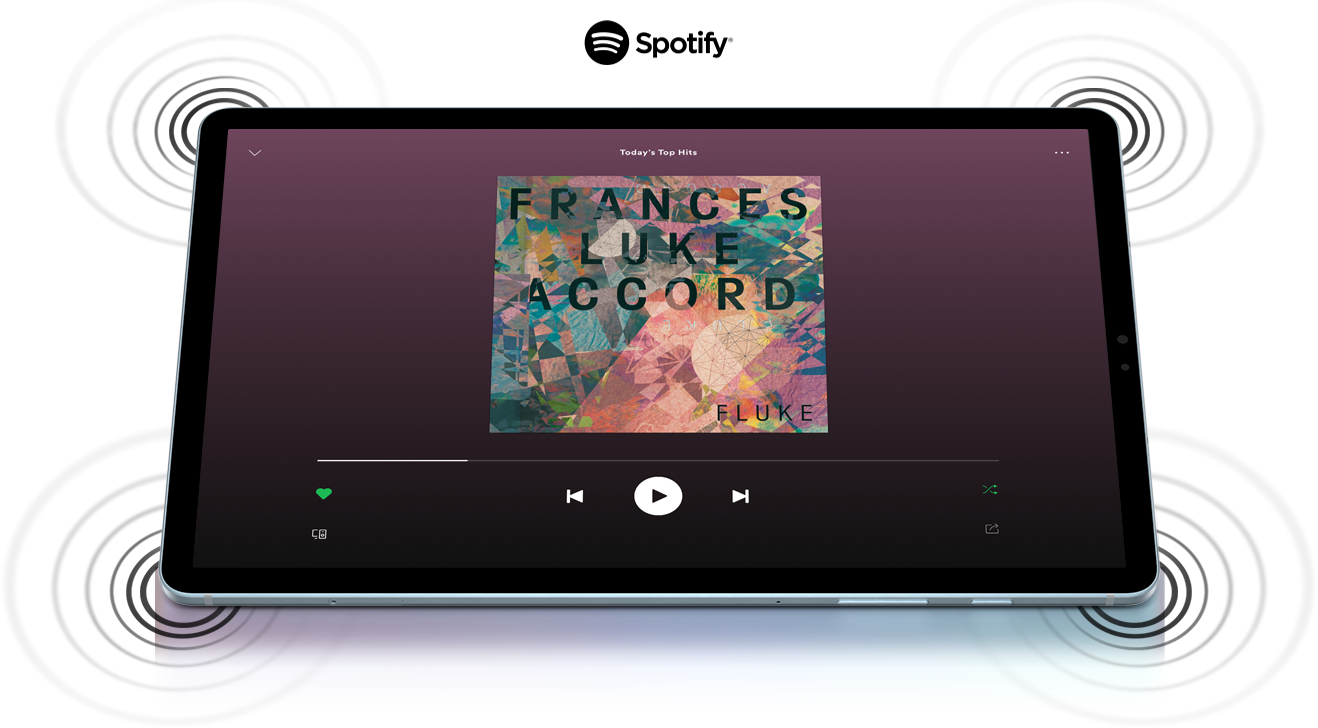 *Spotify is only for users new to Premium who have an existing Samsung account and receive notice of this offer directly from Samsung.
**The Spotify app is only available in Spotify-supported countries, and if you travel abroad it may not be available.
***Screen measured diagonally as a full rectangle without accounting for the rounded corners.
Design
Pick up your best match
Imagine being able to express your full self through a device that's just 0.42 cm thick and weights just 420 gms. Galaxy Tab S6 packs all this into a device this light so your potential isn't weighed down. Choose from two vibrant colours: Cloud Blue and Mountain gray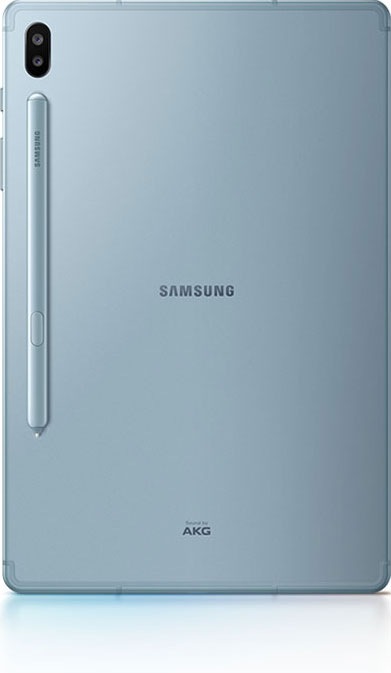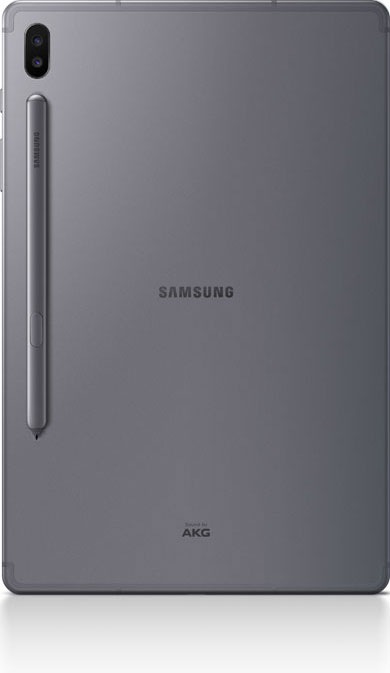 *Product colors availability may vary depending on country, region and carrier.
Specifications
OS
Android 9
(Pie)
Display
26.67 cm with
16:10 display
Camera
Ultra Wide Camera (F2.2)
Wide Camera (F2.0)
Front Camera (F2.0)
AP
SM8150
Memory
RAM (6GB, 8GB)
Internal storage (128GB, 256GB)
Battery
7040mAh