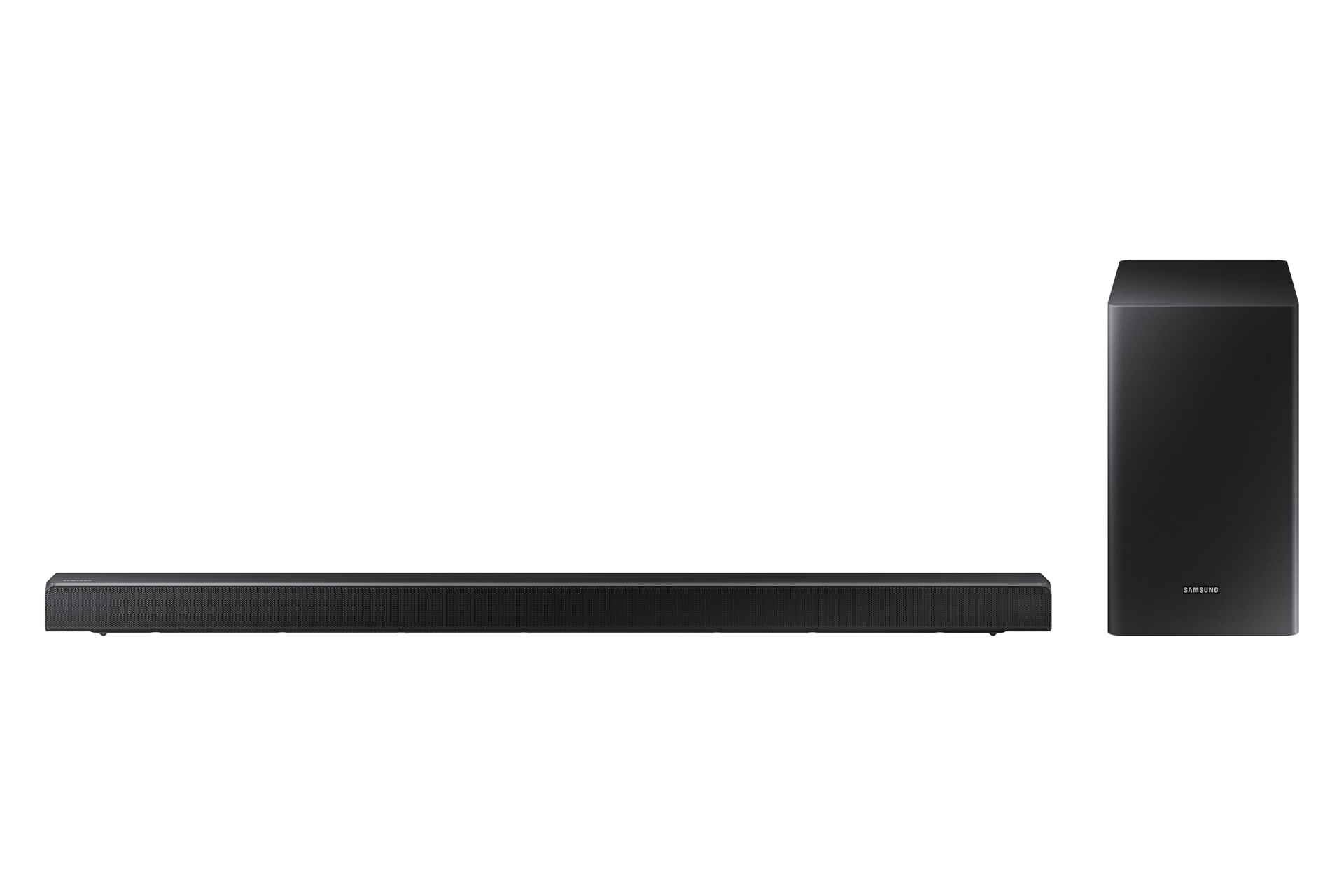 R650 Soundbar
is rated out of
5
by
20
.
Elevate your TV sound with Built-in centre speaker.
Powerful bass where you need it
Don't let wires get in the way of your bass. Set the soundbar with wireless subwoofer anywhere in your space and surround yourself with powerful, deep bass.
Surround sound expansion
Samsung surround sound expansion expands the listening area both sideways and up to emanate sound. Now you can enjoy great sound with truly immersive surround effects.
Wireless connection with TV
Connect the Soundbar to your Samsung TV* with ease and without the clutter of wires via Bluetooth or Wi-Fi. You'll be able to enjoy all your content instantly with clearer, more impactful sound.
* Compatible with selected Samsung TVs supporting Wi-Fi or Bluetooth.
Control with One Remote
You don't need several remotes. For power, volume, and even the sound effects, you can control key Soundbar functions with a Samsung TV remote through the TV's menu .
*Actual product may vary by TV model and region.** Compatible with selected Samsung TVs. Please check in-store for more details.
*Actual product may vary by TV model and region.** Compatible with selected Samsung TVs. Please check in-store for more details.
Wireless music streaming
Samsung Soundbar uses Bluetooth for easy wireless connections to other devices. Enjoy music from your mobile in top audio quality anywhere, no strings attached.
Optimised sound for various content
The soundbar automatically analyses your sound sources to optimise the audio track for your specific content. Whether it's a loud sports match or a drama with quiet dialogue, you can count on this soundbar to provide clear sounds for optimised TV viewing.
Wireless surround sound ready
The Wireless Surround Kit* lets you expand your Soundbar to a surround sound system easily without the mess of wires**.Together with your Soundbar, you can create a channel system for a true surround sound experience.
* Samsung Wireless Rear Speaker Kit is available for separate purchase (Accessory model: SWA-8500S).** The wireless module requires a power cable. Rear speakers are connected to the module by cable.
Samsung Audio Remote app
Control your Soundbar with the Samsung Audio Remote app on your smartphone or tablet running on Android™. Simply connect using Bluetooth™ to control all your key Soundbar functions and play your favorite song lists on your mobile device through one single app.
* Android is a registered trademark of Google Inc. Bluetooth is a registered trademark of Bluetooth SIG Inc.
* Android is a registered trademark of Google Inc. Bluetooth is a registered trademark of Bluetooth SIG Inc.
Optimised gaming sound. Now on tap.
Plug in your console and get the amazing sound effects you expect, right away. The auto settings optimise your sound to the game you're playing while cross-talk cancellation technology removes distracting sounds so you hear clear audio from the right direction to help you gain the advantage.
* This feature is supported only when the game console is connected to select 2019 Samsung TVs via HDMI (all QLED TVs, RU7400 series, and above). Game consoles supported include PlayStation 4 and Xbox. Compatible TVs and game consoles may change.** Game console purchase separately.
Rated

2

out of

5
by
MLB in FL
from
Sounds great but keeps powering off by itself!
We just bought a new Samsung 65" smart TV and Soundbar, thinking they would be compatible. We love the TV and the sound produced by the soundbar, but like so many others, we have an issue with the soundbar randomly turning itself off. We had the two devices connected optically and have also tried a Bluetooth connection. We followed Samsung's suggestions to "Unsatisfied Georgian" but pressing those buttons on the soundbar's remote do not work for us. This is causing more frustration in our household and we are wishing we had done more research on the product before buying it.
Date published: 2019-07-06
Rated

1

out of

5
by
Shearer347
from
Good price, poor subwoofer
I purchased this just before Christmas hoping to get a good soundbar and subwoofer. While the soundbar works good, the subwoofer is a waste of time. Samsung will tell you that it is only supposed to reproduce low frequency, etc. I have a samsung cell phone that produces as much bass as the subwoofer that came with the soundbar. Even after multiple resets, bluetooth repairing, etc the subwoofer leaves a lot to be desired even on its highest volume setting. I've owned other soundbar and subwoofer in the past and this one is by far just not good for anything bass related.
Date published: 2020-03-14
Rated

5

out of

5
by
James
from
Beautifully crafted and engineered
Bought this sound-bar / sub to go along with our new purchase of our Samsung 65" TV. We had a Sony sound bar and sub...however, after initially connecting the Sony, it wouldn't work after the initial setup. (we found out manufactures are now going proprietary with components). So, we went out and bought the HW-R650 after thoroughly reviewing it online. There were several bad reviews concerning the subwoofer stating things such as, "where's the bass", "sub is horrible", etc. I didn't take much stock in those comments being that most were probably from people not understanding the true purpose of a sub when used in the home environment. I feel most of the bad reviews came from individuals wanting a "booming" system to match something in a car stereo contest. :/ The sub and sound-bar do exactly what it supposed to do..."create a beautiful audio experience in a way that is subtle, yet appealing to the ears". We love ours and would highly recommend it!! It was very easy to install.
Date published: 2020-02-09
Rated

2

out of

5
by
Disappointed
from
Good soundbar with underperforming subwoofer.
HW-R650 Soundbar. Good soundbar with underperforming subwoofer.
Date published: 2019-12-25
Rated

5

out of

5
by
Rdokieloud
from
People need to be a little more patient
I bought this soundbar as an upgrade from my HW-M360 series which I had the 8500 series rear speakers connected to which gave me 4.1 surround sound. I wanted 5.1 so I bought the R-650 in order to do so. This soundbar is great you just need to set it up properly and sometimes that takes a little time and patience. This new soundbar, I was upset at first too but then when I figured out how to set the settings and such it is great now. The bass is fine just needs adjustments. I just played some music and the bass was bumping as it does here and there when watching movies and shows.
Date published: 2019-08-02
Rated

5

out of

5
by
bml2k2
from
Best for balanced sound
I tried the r550 first and returned it for this model. The r550 has too much bass and the voices sound muffled often. The bass is much more balanced with this model and the center channel speakers make it so that you can hear the voices in movies clearly. I do wish there was an app for iOS and I'm unclear if the surround mode is just for if you've added rear speakers.
Date published: 2019-06-24
Rated

3

out of

5
by
Charles3112
from
Nice midrange but where is the BASS???
Ok I know I can't match my 7.2.2 home theater with this little thing, but with the bass all the way up and the treble dropped all the way the bass is really underwhelming. Thought I would try to update the firmware but the method on the website doesn't do anything that I can see. Wife says lets send it back, but I hate to do that without living with it for at least a few days, but it does not look good. I have to say that the bar itself is made of metal and is strong enough to use for self defense, but the bass unit with all its size is just weak.
Date published: 2019-08-31
Rated

5

out of

5
by
geoff78
from
Great all-round soundbar
This is my first soundbar and bought it to pair with a Samsung RU8000 15" TV. Our lounge room is average size so we didn't want to get blown off our chairs with excessive bass, but wanted clear well defined mid-range for dialogue. I picked right! This soundbar is perfect with rich full bodied sound and crystal clear mids thanks to the centre channel. The bass is just right for us with the two bottom end frequencies bumped up a couple of points but there are other options for tweaking bass, treble etc within the system. Overall very happy with the purchase and has made watching TV a much more pleasurable experience, particularly now that we can hear what people are saying without touching the volume control. Dead easy to set up and the HDMI (ARC) connection makes life very straight forward.
Date published: 2019-08-06
User manual & Downloads
Live Chat
* Key feature may different from Key Spec