SAMSUNG TRADE IN
Trade in your old devices for a brand new Galaxy
Looking for the best trade-in deal on your next device? We've made it easier than ever to trade in eligible devices and get credit towards a new one. Instant savings on your next purchase with Samsung Trade In.

Step 1
Back up
Back up the data from your eligible old device and remove all locks and passwords (including iCloud or Google Account).
Step 2
Download the app
Download the Samsung Trade-In app on the device that you wish to trade in and follow the prompts to get your unique Trade In ID. You can download the Samsung Trade-in app↗ or scan the QR code


Step 3
Redeem your trade-in amount
Once the app has run a diagnostic on the eligible device you wish to trade in, you will receive a unique trade ID and your trade-in value. Enter your trade-in ID upon checkout to get the instant discount.
Step 4
Return old device
Send your old device as per the instructions you will receive in your order confirmation email.
Actual trade-in values may vary and are subject to the condition and model of the device being traded in.
Trade-in up to two eligible devices
That's right, you can trade in up to two eligible devices at the same time. Add your eligible smartphones and tablets into the bundle and send them our way. It's an easy way to grab a greater trade-in value for the new Galaxy smartphones or tablet of your choice.*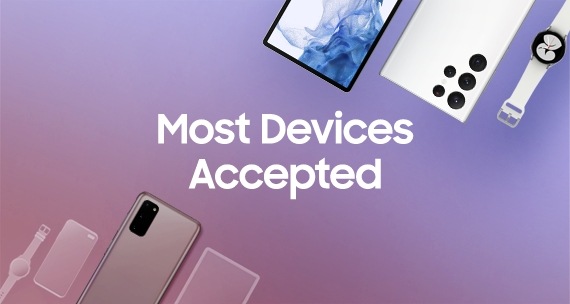 Only pay
the difference
Samsung delivers sensational trade-in value for your current device. It's an offer you can't afford to pass up. Plus, it's your chance to save big on your next device.
Free delivery New Zealand wide
Get a free delivery New Zealand wide when you order on samsung.com on your new phone.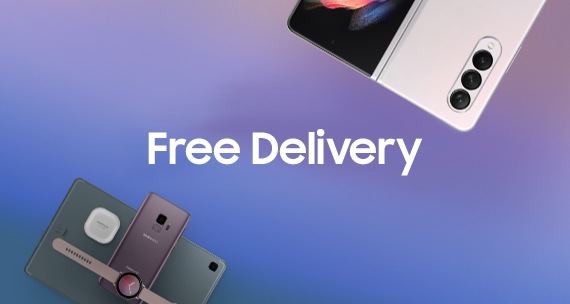 Only takes around: 7-10 mins
Buy the latest Galaxy device at a great price with a discount when you trade-in your old phone. Why wait?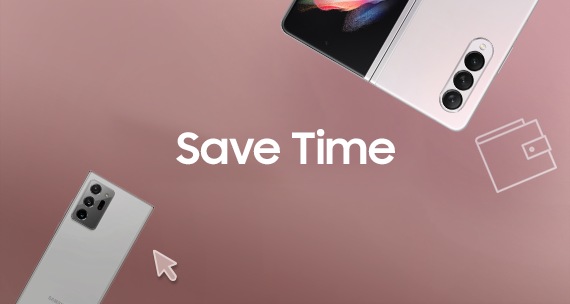 * By trading in your eligible device(s), you agree to the customer terms and conditions [Samsung Online] or the terms and conditions for the program (as applicable) and to use your trade-in value to purchase an eligible new Samsung product at the same time as trading in your device(s). Please ensure you save and then delete all files and data from your trade-in device(s) before you trade them in. You may be able to trade-in up to two eligible devices (including Low Value Devices) in a single transaction towards the purchase of an eligible new Samsung product. For trade-ins at Samsung Stores: if you wish to use the full trade-in value amount, you must do so in the same transaction, otherwise any excess credit will be forfeited. For trade-ins at Samsung Online: the total trade-in value cannot exceed the purchase price of your new product, the purchase price needs to be at least $1 (after any other discounts have been applied). Trade-in values (including excess credits for trade-ins at Samsung Stores), are not exchangeable, redeemable for cash or able to be used in subsequent transactions. You must pay any outstanding amounts for the purchase of accessories and/or other products not covered by the trade-in value and/or any other discounts that may be applied.
1. Bonus Credit Offer: You are entering into these Bonus Credit Offer terms and conditions with Samsung Electronics New Zealand Limited ("Samsung"). For a limited time, when you trade-in your existing eligible device, you will receive an additional bonus credit dependent on your device that you can use towards the purchase of an eligible Samsung device. Bonus credit is in addition to any trade-in credit. Your existing device must be listed here http://xchangemobile.com/NZ/SamsungOnline /. This bonus Credit Offer is only available at the Samsung Online Store, and is only available while stock lasts and is subject to limited availability. Eligible devices and pricing are subject to change. Excludes Samsung's Family Program, SMB and Student's deals portal. Offer is not available in conjunction with any other offer unless otherwise advised. Discounts are not transferable, exchangeable or redeemable for cash. The Samsung Trade-in Program is operated by Ceva Logistics (New Zealand) Limited ("Ceva") . Bonus Credit Offer ends 02.09.2022.