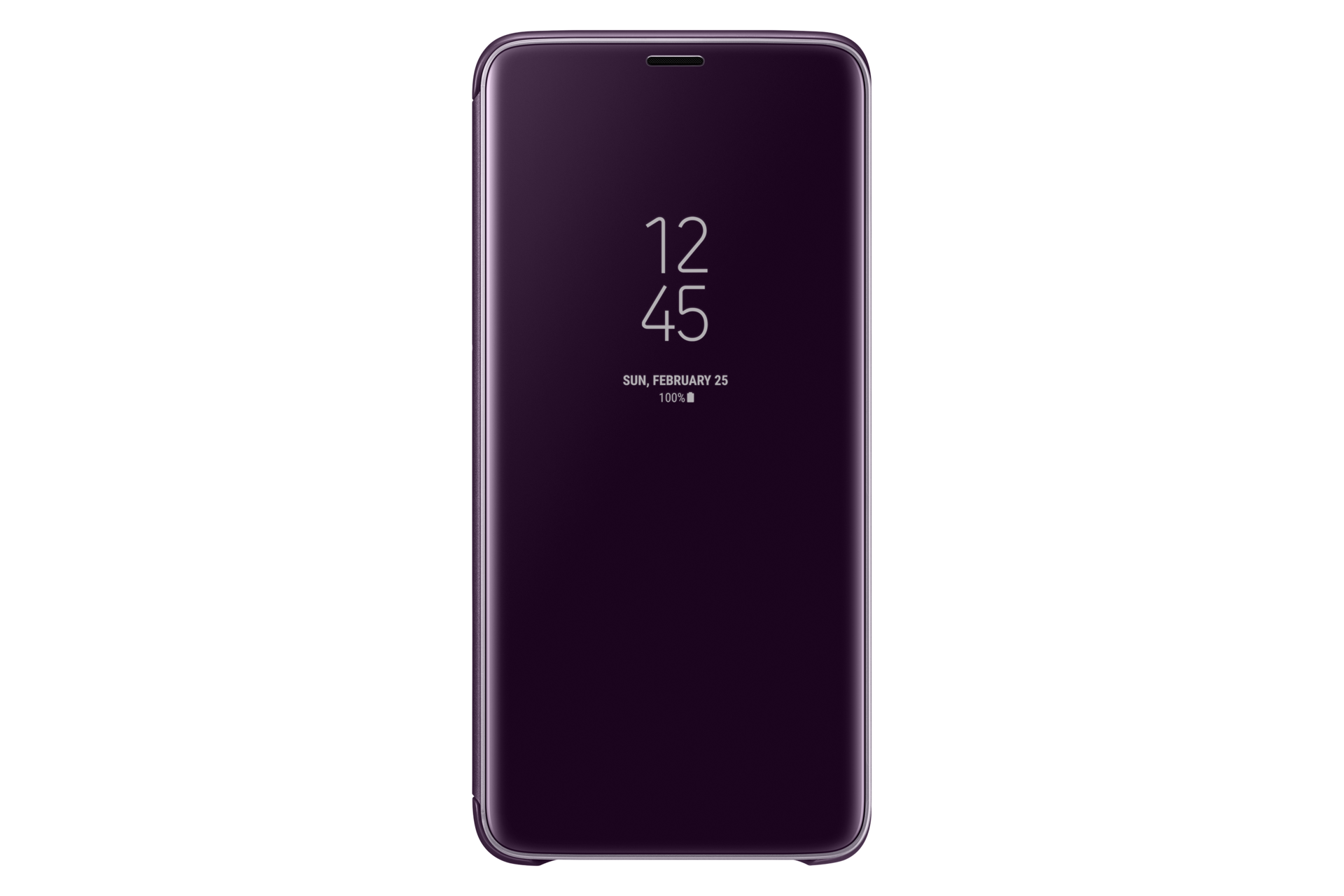 S9+ Clear View Standing Case
EF-ZG965CVEGWW
S9+ Clear View Standing Case
is rated out of
5
by
8
.
Made for media
Enjoy the full view of the Infinity Display with your Galaxy S9+ in the Clear View Standing Cover. If you want to go hands-free during a movie, simply fold the cover back to prop up your phone into an optimised landscape viewing angle.
Control with ease
It's simple to answer calls, control your music, and more—all without opening the cover. The user experience lets you tap and swipe as needed, it even shows you important information like time, date, and battery level.
Designed to protect
The Clear View Standing Case securely holds your phone to guard the back, while the attached flap covers the front to help prevent the screen from scratching in your bag or pocket.
Rated

5

out of

5
by
LoyalSamsungFan
from
In love with this case
I bought this case the day I got my S9+ and a year later my phone has no damage. Just upgraded to the S10+ and upset Samsung didnt keep the same material and design for the latest models.
Date published: 2019-03-10
Rated

1

out of

5
by
Steelerfan500
from
Nice looking cover-scratches easily
I wanted to like this case but after a couple months of use I have scratches all over the front cover and have a chip off of the corner from dropping it. I should have purchased an Otterbox instead.
Date published: 2018-10-07
Rated

4

out of

5
by
Brandino
from
Great but Scratches
This is my favorite case ever for any phone that i have had. Great design and very light not bulky at all. My only quarell with this case is the the front screen scratches very easily. I have had this case since the 9 came out and the front is very much scratched up. Wish maybe they hadn't used plastic. But still a very great product other than that.
Date published: 2018-05-04
Rated

1

out of

5
by
Monjod
from
I had high hopes!
I have used other view covers from Samsung in the past on my s7 and s5 and liked them very much. They had a window and soft feel cover. This case has a stiff cover that curves around corners of the screen. This makes for a VERY uncomfortable feel in your hand when using the cover open and folded back . The cover is prone to scratching. I have a scuff on the cover after one day of use and I have no idea how it happened. As with the previous models the case does not stay closed with a magnet or latch. The case flops open when dropped. My s5 had a broken screen while using a Samsung flip case. So in drops you may no more well off than a case with an open face. Once cover is open and folded back you have no access to the camera or fingerprint sensor. This would not be an issue if the iris sensor worked more consistently (dark room, glasses....). I was aware of these issues when I ordered the case and was willing to take photos with the case flopping open and the unlocking issue was remedied by removing the Lock feature. But with the uncomfortable feel in your hand it is deal breaker. After a day of use the case has been retired to the drawer of unused electronics. So sad.
Date published: 2018-04-03
Rated

1

out of

5
by
Mstew
from
Terrible
I dropped my phone and it fell screen first on pavement and my screen cracked. The front cover of screen fell open and gave no protection whatsoever. Started peeling at sides soon after receiving also. Just terrible.
Date published: 2019-05-10
Rated

2

out of

5
by
Actvbaby
from
Beautiful case but...
I bought this a while ago and although it's a beautiful case, it just isn't for me. My phone's battery didn't last while in the case. I'm usually over 60% battery life by the end of my shift, but with the case I was at 30% within 2 hours i had to put it in super saving mode to last through the night. It also caused my phone to get very hot. Maybe it kept my phone on the whole time or maybe I got a defective one, I'm not sure but I had to go back to my old case.
Date published: 2018-09-18
Rated

1

out of

5
by
Waw3452
from
Fingerprint doesn't work!!
Such a rip off high price and blocks a special phone spec :(
Date published: 2018-07-30
Rated

1

out of

5
by
cynicat
from
Annoying
the cover doesn't even close all the way down over the phone. it just kinda stays flapped up a little bit, which makes the view of the screen blurry. it also does some weird thing where it keeps the phone awake, so the security features never actually activate. you flip the cover open and your phone just automatically wakes up for anyone to mess with. The kickstand feature is nice... but I have seen other covers with better kickstand features, so it absolutely doesn't make up for the flaws. only had this cover for a day and can't stand it. returning it immediately.
Date published: 2018-07-29
User manual & Downloads
Live Chat
* Key feature may different from Key Spec