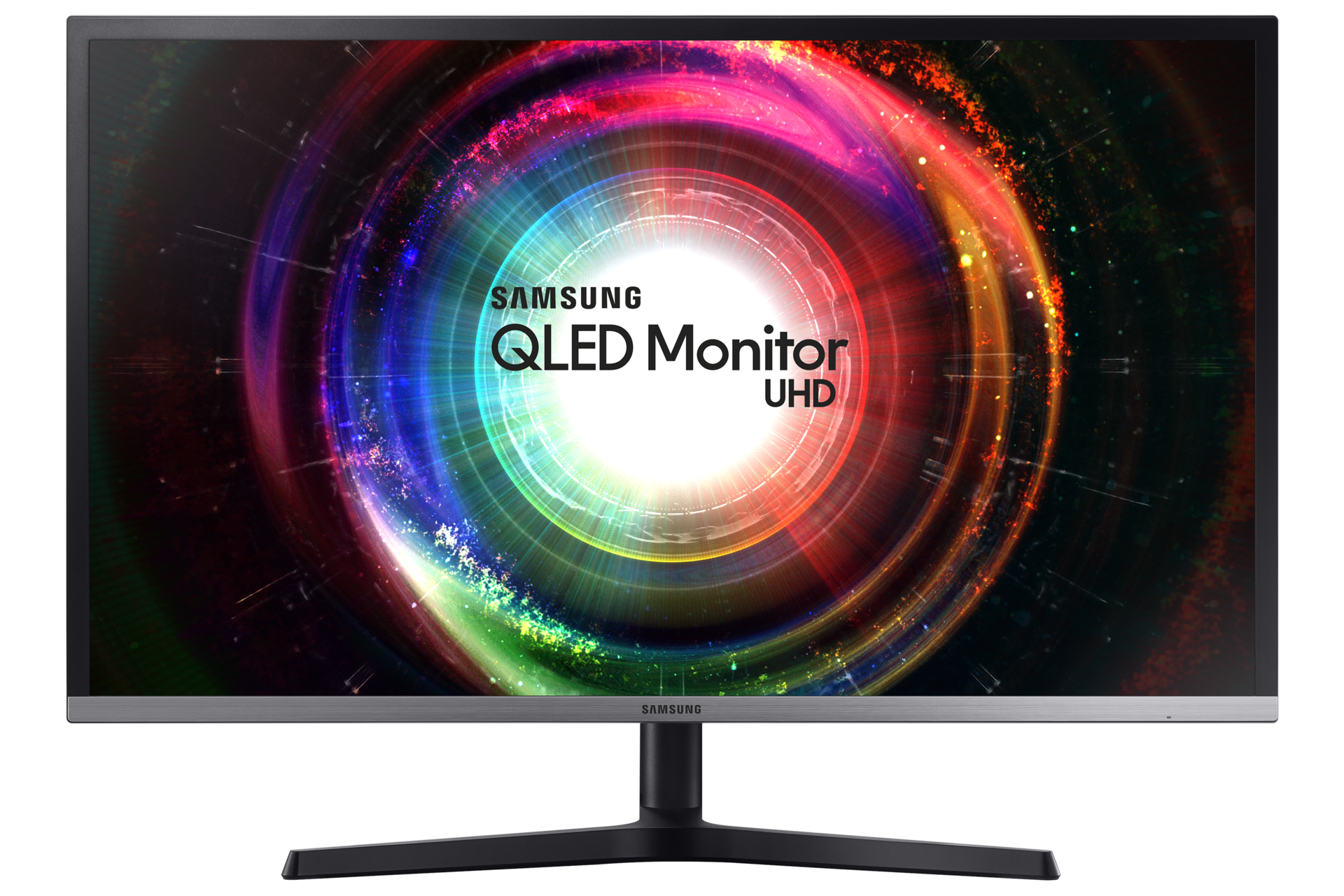 32" UHD monitor U32H850UME with Quantum dot colours
LU32H850UMEXXY
32" UHD monitor U32H850UME with Quantum dot colours
is rated out of
5
by
5
.
BUNDLE
Colourfully expressive
PBP Dual-Screen Function
PIP Sub-Screen Display
Hail the detail
UH85 has a resolution 4 times higher than Full HD. Its wider workspace allows you to view more webpages, images and texts with less scrolling and zooming. Also, see your 4K content the way it was meant to be seen, with a new level of life-like detail that makes you feel like you're really there.
Colourfully expressive
The UH85's infinitesimal quantum dots in 1 billion hues create images in vivid and wide-ranging colours. Coming with refreshingly enriched greens and reds in particular, it simply better meets your professional needs especially in photo editing and graphic design.
Built to fit your business space
It swivels, tilts, pivots, and is height-adjustable, ready to meet the needs of any usage scenario. VESA - supported, it can be installed on a wall or separate arms with ease. Its sleek yet sturdy build, coupled with clean back design, blends in perfectly with any office or personal space.
Ultra HD performance in beauty
Slim-bodied with narrow bezels and its back in matte black, coming complete with a graceful yet steadfast height-adjustable stand, the UH85 is a blend of performance and beauty that's built to cater to your business demands. Its urbane, modern appeal will seamlessly match any office interior.
Transmit faster, recharge quicker
With its four USB 3.0 ports, you can transmit data between devices about 10 times faster than you could with USB 2.0 ports. Two of these ports also enable you to recharge your tablet PCs, smartphones and other mobile devices in super-quick time—3 times faster than USB 2.0 ports.
PBP Dual-Screen Function
It swivels, tilts, pivots, and is height-adjustable, ready to meet the needs of any usage scenario. VESA - supported, it can be installed on a wall or separate arms with ease. Its sleek yet sturdy build, coupled with clean back design, blends in perfectly with any office or personal space.
PIP Sub-Screen Display
The Picture-in-Picture feature allows you to do away with the need for a second monitor even when you are multitasking. You can resize the second image up to 25% of the screen and position it anywhere you wish.
16:9

Aspect Ratio

250 cd/m²

Brightness (Typical)

3,000:1(Typ.)

Contrast Ratio Static

3,840 x 2,160

Resolution

4(GTG)

Response Time

178°(H) / 178°(V)

Viewing Angle (H/V)
Rated

5

out of

5
by
RGM33
from
3D Game Artists and casual gamers, this is for you
Fantastic monitor. I need crisp, clean image quality with good colour range and and resolution when working in substance painter or UE4 and this monitor delivers and then some. I have tried many brands over the past month and none of them have came close to the quality this monitor provides. I can't recommend it enough in that regard. It doesn't seem to be advertised but this monitor does come with FreeSync which is also great for gaming during your down times :)
Date published: 2018-04-17
Rated

4

out of

5
by
Anonymous
from
Amazing color and details, nor so good for gaming.
I've been using this nice and huge monitor for about a week now and I can easily say that it has very vibrant colors and image details due to its UHD resolution. QLED made a remarkable difference in the image quality. Everything is fine except the vertical thin blurry lines on the both left and right edges. The light and the colors there are not as the rest of the screen. I wish there were no problems with this beautiful monitor. No dead pixels for me. I recommend this product that are more inclined to image quality than the gaming experience. There are medium level ghosting on the fast scenes while gaming. Gaming mode does not help for this. As a final verdict, I can clearly say that I have what I asked for, but it could have been done better for a few ways.
Date published: 2018-12-22
Rated

5

out of

5
by
projxit
from
Excellent monitor,,,
I purchased this with the intention of using it alongside my 28" 4K monitor, but I discovered this screen on its own was enough - 32" really is the perfect size for a 4K screen, the screen has excellent clarify even on a computers smallest scaling option (giving maximum desktop real estate). I use it for both my Mac and my Windows Gaming PC. The fact it also has USB onboard was the clincher for me. It's not much more expensive that a 28" screen, but an extra 5" makes all the difference. The side-by-side picture is the best I've seen on any monitor, it allows you to have 2 devices with a 1980x2160 - So you get to use the full screen - unlike my old ASUS screen, which did some weird scaling and only used 2/3 of the screen space. To address some complaints I've seen some people make elsewhere: USB - The built-in USB hub works very well, I've used on both on Windows and MacOS. Its works flawless every time. If you do have problems, try using a different USB cable (I needed an extra long one, so have never used the one supplied, but could easily see this causing issues) Config Management - Everything is configured by a simple joystick on the back of the monitor, I've seen some people complain about this and I cannot figure out why - it's incredibly well thought out and intuitive to use. It definitely beats having 8-10 buttons on the back of the monitor and you can't identify which is which! In general, I would highly recommend this monitor..
Date published: 2018-12-24
Rated

2

out of

5
by
Schithsification
from
This monitor has issues
This monitor has lots of issues. Basically it failed almost every test in online Eizo monitor test where my cheap 25 inch Acer did not. In addition it has a white vignetting effect around the edges, whitish semi transparent rectangle appearing from top to bottom about 10 cm from left side, noticeable colour banding, clouding, back-light bleeding, colour uniformity issues where grey split into reddish and greenish tones and others I don't even know how to explain. I sent the first one I had back under warranty but the new one has almost the same issues. I think it is good for gaming as colours are vibrant but inaccurate.
Date published: 2018-11-07
Rated

4

out of

5
by
yorkiepud73
from
Excellent monitor
It was hard not to give the monitor the full 5*, but I feel a few bits were missing that a mid-range product might have had, but I guess that is in the differentiation. The big miss for me is there is no HDR support. Samsung have the software so its easy to include although I'm not sure of licencing fees. I have a powerful Hp EliteDesk but its business targeted so only has integaretd graphics albeit the best one you can get (Intel 630). I ensured support for 4k@60fps - there were a few doubts around but most were positive - intel advertise it so come on. Anyway I can confirm there is absolutely nothing to worry on that front - 4k@60fps play smoothly and beautifully on the monitor due to the QLED which for the price relative newness of the tech is excellent for the price - but we don't get QLED with HDR which is madness. When watchign youtube ensure the film is @60fps - you can right click in the bottom of the video screen and enable "nerd mode" and it will give you some details. I had to know down the zoom factor in my Windows Display Settings (right-click desktop) back to 100% to get a full 4k dimension. I decided to use the supplied Display 1.2 cable (must be min 1.2). I noticed in the monitor settings and youtube nerd that the Hz was reporting on 30Hz when I was expecting 60Hz. There were two things I had to fix this: 1. Go into the monitor settings using the easy to use toggle and OSD menu > System > DisplayPort Ver. and ensure 1.2+ is selected. The default for me was 1.1 2. My intel 630 also needed extra config - enter display settings from right-click desktop > Advanced display settings > Display adaptor properties for Display 1 > List all modes > and select 3840x2160 @ 60Hz (see screen shot) I also had tome fiddling with power options as it was not turning on when the PC came out of hibernation. Big question can it play games? Its got a 4ms refresh and 60Hz, so games that play well @ 60Hz will be fine, but you can always drop the resolution of the screen down and get more fps. The bigger question is how is your graphics card? To handle 4k at this size you will need a beast to get the resolutions you require. It is sold as a gaming monitor. The picture in picture has been useful for me whilst I transferred files between by old and new rig - I as able to see both OS on screen at once. Very easy set up. Plenty of connectivity options including acting as a USB 3.0 hub (PC cable supplied). HEIGHT ADJUSTABLE BIG HOORAY! Highly recommended.
Date published: 2019-06-30
User manual & Downloads
Live Chat
* Key feature may different from Key Spec