Cleaning and maintaining dishwasher model DW60H9970US
Last Update date :
Jul 21. 2022
* Please note, this section is designed to give you basic product troubleshooting information, also refer to your user manual for more information.
Keeping your dishwasher clean improves its performance, reduces unnecessary repairs, and prolongs its life.
CLEANING THE EXTERIOR

It's best to clean spills on the exterior of your dishwasher as they occur.
Use a soft, damp piece of cloth to gently wipe away spills and dust from the control panel. 
Caution:
 
Do not use benzene, wax, thinner, chlorine bleach, or alcohol. These chemicals may discolour the inner walls of the dishwasher and cause stains.
Do not clean the dishwasher by sprinkling water over it. In particular, protect the electrical components from coming into contact with water. 
Note:
 
If your dishwasher has a stainless steel door panel, it can be cleaned with a stainless steel cleaner for Home Appliances or similar product using a clean, soft cloth. 
CLEANING THE WASH CABINET
 
If there are limescale or grease deposits in the cabinet, remove these by damp cloth or run a programme which has highest rinsing temperature without any loading items after filling detergent dispenser with dishwasher detergent.
Caution:
 
Do not remove the front seal on the container. Removing the seal can cause the dishwasher to leak or malfunction.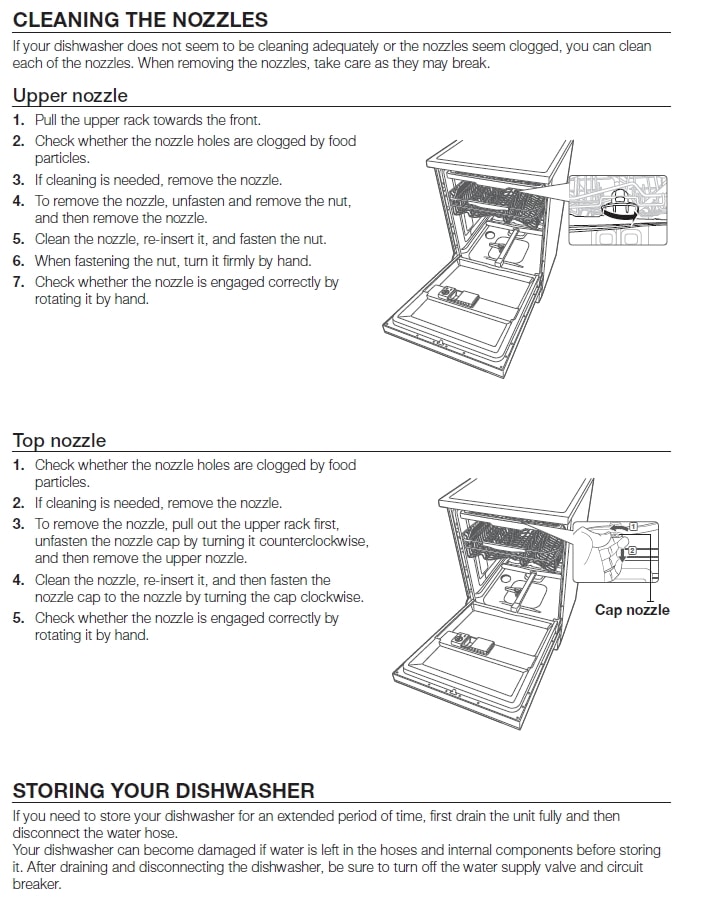 Please click the submit button below to share your feedback with us. Thank you for your participation.
Please answer all questions.