Galaxy Tab 10.1 2015/16: Language and Input settings guide
Last Update date :
Nov 23. 2020
* Please note, this section is designed to give you basic product troubleshooting information, also refer to your user manual for more information.
Below is a quick guide of Language and Input Settings on Galaxy Note 10.1:
Step 1: From the Home screen, tap on the Apps icon.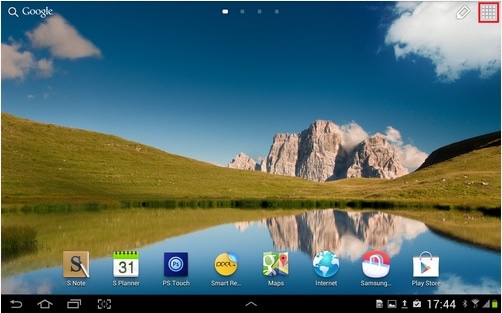 Step 2: On the Apps page, tap on the Settings icon.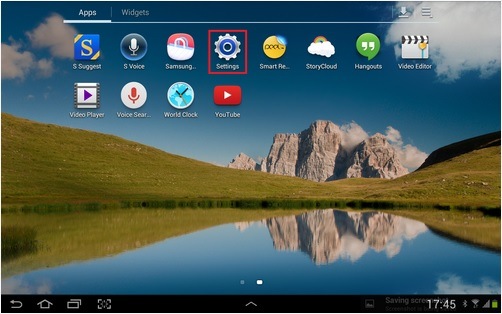 Step 3: On the Settings menu, tap on Language and input.
The Language and input settings menu will then be displayed.
■ Language
Select a display language for all menus and applications.
■ Default
Select a default keyboard type for text input.
■ Google voice typing
Activate the Google voice input feature to enter text by voice. To change the voice input settings, tap settings icon.
Choose input languages: Select input languages for Google voice recognition.
Block offensive words: Set to prevent the device from recognising offensive words in voice inputs.
Offline speech recognition: Manage downloaded languages.

■ Samsung keyboard
Change the Samsung keyboard settings:

Input languages: Select input languages to use with the keypad.
Predictive text: Activate XT9 mode to predict words based on the input and show word suggestions..
Continuous input: Enter text by swiping on the keypad.
Pen detection: Change to Handwriting recognition mode when pen is detected.
Handwriting: Change the settings for Handwriting mode, such as recognition time, pen thickness, or pen colour.
Advanced: Change additional settings
Auto capitalisation: Set to capitalise the first letter of a sentence automatically.
Auto-punctuate: Set the device to insert a full stop when you double-tap the space bar.
Character preview: Set the device to show a preview image of each letter you tap.
Key-tap vibration: Set the device to vibrate when you tap a key.
Key-tap sound: Set the device to sound when you tap a key.
Tutorial: View the tutorial for using the Samsung keypad.
Reset settings: Reset the Samsung keypad settings to the factory defaults.

■ Speech
Voice Recogniser

■ Voice search
The following options are available for Google voice recognition:

Language: Select a language for Google voice recognition.
Speech output
Block offensive words: Set to hide offensive words from voice search results.
Offline speech recognition: Manage downloaded languages
Bluetooth headset: Records audio through a Bluetooth headset if available.

■ Text-to-speech output

Preferred TTS engine: Select a speech synthesis engine. To change the settings for speech synthesis engines, select .
Speech rate: Select a speed for the TTS feature.
Listen to an example: Allows you to listen to the spoken text for an example.
Driving mode: Activates Driving mode to provide audible notifications for incoming calls, messages, or event details.

■ Mouse/Trackpad

Pointer speed: This allows you to adjust the pointer speed for the mouse or trackpad connected to the device.
** "To aid us in creating better support content for you, kindly complete the survey below if your query was resolved. Your rating and comments should only be based on the above content.

For all other queries or further technical assistance, please call Samsung Customer Care on 0800 726 786 or Live Chat with our Technical Team online, services are open 24 hours, 7 days." 
Please click the submit button below to share your feedback with us. Thank you for your participation.
Please answer all questions.