How to troubleshoot when the Samsung phone display is unexpectedly grayscale
Last Update date :
Nov 09. 2021
If the color on your phone's screen suddenly looks all black and white, some features of your phone may have been activated. Features such as Bedtime, Dark mode, or Visibility enhancements mode may have been accidentally turned on or automatically activated. Follow the guide below to adjust these features.
Before you try the recommendations below, be sure to check if your device's software and related apps are updated to the latest version. To update your mobile device's software, follow these steps:
Step 1. Go to Settings > Software update.
Step 2. Tap on Download and install.
Step 3. Follow the on-screen instructions.
Check 1. Deactivate the Bedtime mode feature
If Bedtime mode is enabled, all colors on the screen will be displayed in grayscale. Bedtime mode lets you get ready for bed by turning your screen black and white and muting calls, notifications and other sounds. You can activate Bedtime mode to reduce eye strain and prevent sleep disturbances before going to sleep. If Bedtime mode is enabled, follow the steps below to turn it off.
Step 1. Launch the Settings app, and then select Digital Wellbeing and parental controls.
Step 2. Scroll down and tap Bedtime mode.
Step 3. To disable the Bedtime mode, tap the switch next to Turn on as scheduled so that it's off.
Note:
This feature operates according to a schedule and is automatically deactivated after a scheduled time.
Bedtime mode may not be supported depending on the device, and the menu name may be Wind Down.
Check 2. Deactivate the Dark mode feature
Dark mode allows you to reduce eye strain when using the device at night or in a dark place. You can also set a schedule for applying Dark mode. If Dark mode is enabled, follow the steps below to turn it off.
Step 1. Launch the Settings app, and then select Display.
Step 2. Check if the Dark mode is enabled, and then tap the Light mode.
Alternatively, swipe down from the top of the screen to open the Quick panel, and then tap the Dark mode icon to turn off this feature.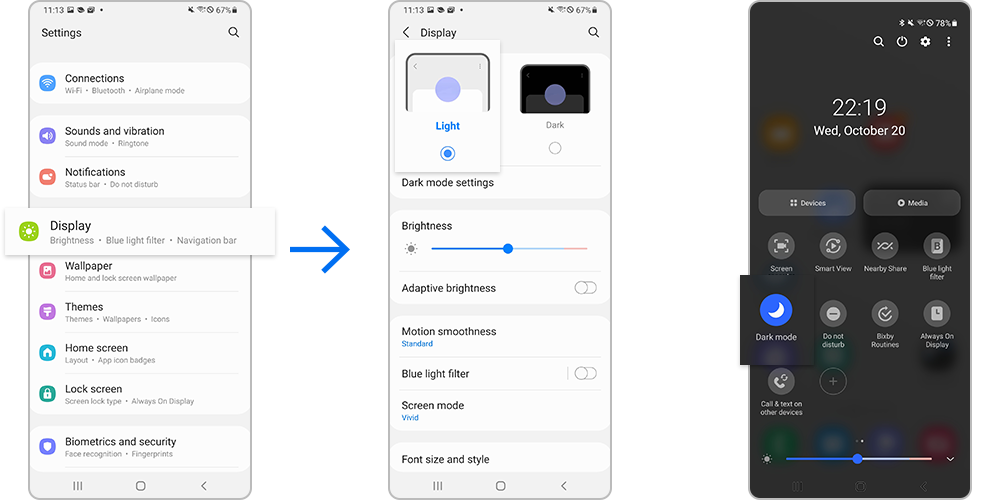 Set a schedule for Dark mode
You can set Dark Mode to turn on or off automatically. Follow the steps below to automatically turn on Dark mode at sunset or at a specific time. Even if you set a scheduled time for Dark mode, you can still turn it on or off manually whenever you want.
Note: 
Dark mode may not work if you're using a downloaded theme, a high contrast font, or certain third-party apps.
Depending on the model and version, Dark mode may be called Night mode.
The Dark theme may not be applied in some apps.
Check 4. Disable Power saving mode
If your phone's screen looks darker or grayscale, you may have Power saving mode enabled. Power saving mode conserves battery power by reducing screen brightness, changing grayscale, limiting CPU performance, and turning off vibration feedback. Follow the steps below to disable the Power saving mode.
Note: Device screenshots and menu may vary depending on the device model and software version.
Please answer all questions.