How to reset my 2016 Samsung TV?
Last Update date :
Nov 26. 2021
Please note, this section is designed to give you basic product troubleshooting information, also refer to your user manual for more information.
When you perform a Factory Reset, all settings will revert to factory default. These settings include picture and sound settings, channel menu settings (including memorised channels), clock and timer settings, and other settings that you may have changed. In addition, if you had your TV professionally calibrated, you may lose the calibration settings if the calibration was not done through the service menu. 
If you simply want to reset one of the settings on your TV (i.e. picture or sound), please refer to your User Manual for steps on how to reset the individual settings on your TV. Factory reset however will not affect your Network Settings. Network settings can only be changed manually. 
See Menu Path for the 2016 (K series) is below,  alternatively scroll down to view detailed steps by model code:
Menu path for 2016 (K Series): Home > Settings > Support > Self Diagnosis > Reset
Note: Depending on the model of your TV, the Menu screen may look different from the images below, but the steps for resetting it are almost the same. 
1
Power On the TV, and then press the Home button on the TV remote control. Select Settings from the main menu to continue.
2
Select Support and then press Enter. The selection bar will move from the left side of the menu to the right side of the screen.
3
Select Self Diagnosis and then press Enter on your remote control. The Main Menu will disappear and the Self Diagnosis Menu will open.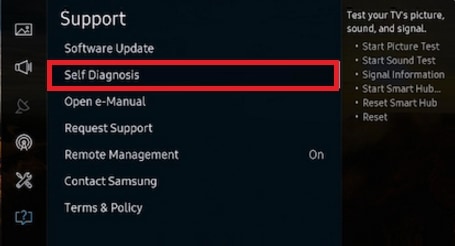 4
Navigate through the options and select Reset , and then press Enter on your remote control.
5
The TV will ask for a Security PIN, enter the number using the TV remote, if you have not changed the PIN the default code will be 0000.
Please note: If you have reset your password and couldn't remember it, it is not possible to continue further. Please contact Samsung Customer Care to help you reset your password using one of the options at the bottom of this page.
6
The Factory reset screen will appear displaying a warning message. Select Yes using the navigation buttons on the remote, and then press Enter.
 Please note: All your settings will revert to their factory defaults except for any previously used network information.
You can download the user manual from our Manuals & Downloads page. For all other queries or further technical assistance, please call Samsung Customer Care on 0800 726 786 or Live Chat with our Technical Team online, services are open 24 hours, 7 days.
Please click the submit button below to share your feedback with us. Thank you for your participation.
Please answer all questions.