Galaxy Mobile Accessibility

Assistant Menu
Assistant menu is designed for individuals with motor control or other physical impairments. By using Assistant menu, you can access hardware buttons and all parts of the screen by simply tapping or swiping.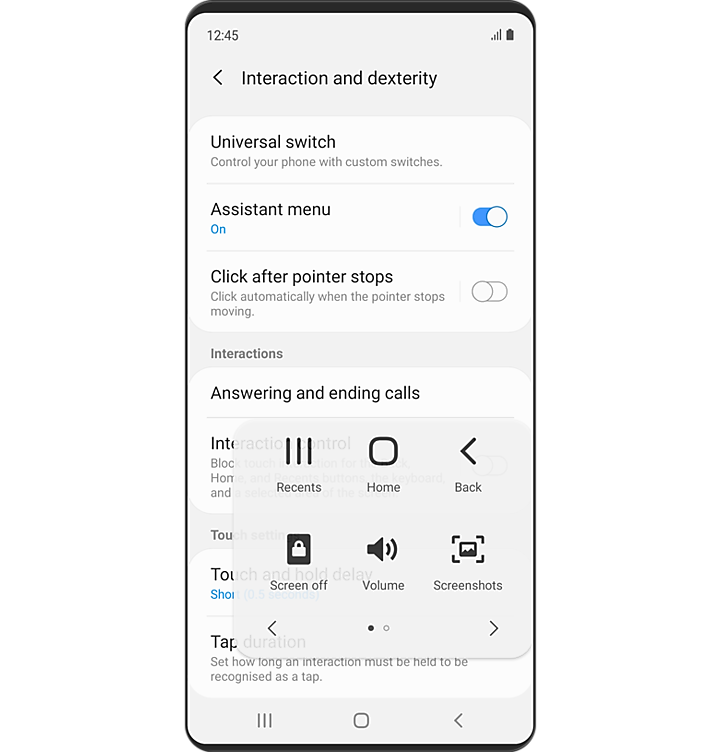 Pressing hardware keys and buttons
Assistant menu lets you do the following tasks without using hardware keys or on-screen buttons:
· Recent apps
show recent apps

· Home screen
go to the Home screen

· Back
go to the previous screen

· Volume
change volume and access other audio controls

· Lock
lock your phone

· Screenshots
take a screenshot

· Phone options
power off, restart, and emergency mode

· Bixby
go to Bixby Home (tap) or call Bixby (touch and hold)

Accessing all parts of the screen easily
Easily access items anywhere on the screen.
· Notification panel
open or close notification panel

· Cursor
use a small touchpad and a cursor to access any part of the screen

· Screen control
use a circle touchpad to scroll up and down lists or navigate pages

· Volume
increase or decrease volume

· Pinch zoom
zoom in or zoom out with a single tap

· Menu settings
go to Assistant menu settings

· Brightness
change screen brightness

· Screen rotation
change your screen orientation options

· Magnifier window
open a magnifier window controlled by a touchpad
* Device images simulated for illustrative purposes.