Latest News
Flip into a new Galaxy: Here's how Samsung is making it easier for you to switch
Still undecided if you're flipping over to one of the most buzzed smartphones in the market? Samsung has introduced three programmes to make it easier for consumers to make the switch.
Oct 11. 2021


The Galaxy Free Trial programme returns, this time with the Galaxy Z Flip3 5G! For consumers who are interested to try out the new foldable device and see how it can fit into their daily lifestyle needs, the programme allows users to sign up for a 7-day trial at no charge.
How does the Galaxy Free Trial works?
1. Book the Galaxy Free Trial here, choose your appointment date and the Samsung Experience Store or selected telco store to collect the device
2. Collect your device on the selected appointment date
3. Enjoy your 7-day trial. And if you have questions along the way, you can reach out for 24/7 live support via the Samsung Members app
4. Return your device after the end of the trial at the Samsung Experience Store or participating telco store.
Users who are interested to purchase the Galaxy Z Flip3 5G after the trial can also enjoy up to $100 off when they purchase the device from any Samsung Experience Store1.
You can learn more about the programme here.
2. Making it easy to transfer your WhatsApp chat history with Smart Switch

Your WhatsApp chat history does not need to disappear when you switch from an iPhone2 to a Galaxy smartphone.
Samsung has recently announced that users can transfer their chat histories and photos from iPhone2 to a Samsung Galaxy device3, so that they can continue their conversations from where they left off.
With Smart Switch on Samsung Galaxy devices, including the Galaxy Z Flip3 5G, users can simply port content and moments such as photos, videos, contacts, calendar events, notes and more via a wired connection connecting your iPhone2 and your new Galaxy smartphone.
This takes under 7 minutes for 8GB worth of content, and is easy and secure as users do not need to log in to their cloud drive to enable this migration.
Here's how to do so:
Connect your new Galaxy phone to your old device with a compatible Lightning to USB-C cable.
To transfer data, confirm your new Galaxy smartphone as a trusted device. When the "Trust this Computer?" alert appears on your iPhone, tap "Trust".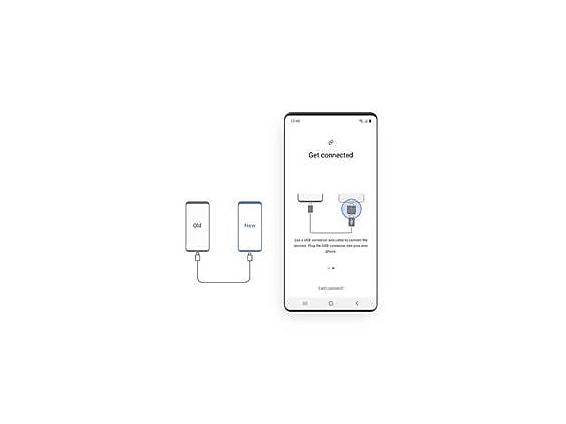 Choose the data you want to bring over from your old device, and then tap "Import".
Specific to copying your WhatsApp content
- Select the app you want to download on Google Play Store (make sure it includes WhatsApp), and tap Install
- When prompted, scan the QR code with your old device to open WhatsApp.
- Tap Start on your old device, and wait for the process to complete.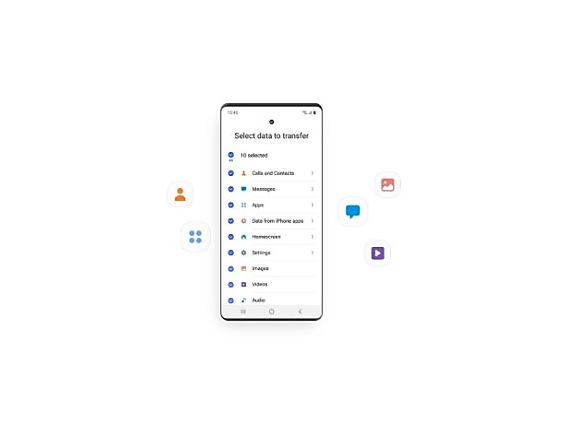 Let Smart Switch import your data to your new Galaxy smartphone
Additionally, if you have additional files to bring from iCloud, you can also choose "Get your iCloud data" on the Smart Switch app.
Choose the content you want to transfer and tap "Import".

Before you start:
Ensure both smartphones are switched on and are sufficiently charged
Use the same phone number on your Galaxy smartphone as the old device
Your Galaxy smartphone must be factory new or reset to factory settings before you start
More details here.
3. Trade Up: Easy Trade-in with Great Value
The Samsung Trade Up Programme4 makes it easier for consumers to own the Galaxy Z Flip3 5G.
Consumers who purchase the Galaxy Z Flip3 5G or any eligible Samsung Galaxy devices can trade-in their old eligible device5 at Samsung Experience Stores and online to receive an additional $100 trade-in value6 on top of the regular trade-in amount. This could be up to $1,2707 when a consumer trades in an iPhone 12 Pro Max (512GB).
Those who choose to purchase a new Samsung Galaxy Z Flip3 5G via the Samsung Online Store can immediately enjoy the offer at check out, as the trade-in value is seamlessly offset against final purchase price.
To learn more about the programme, visit Samsung - Trade Up.
The Samsung Galaxy Z Flip has brought the clamshell form factor back in trend, showing how a modern and powerful smartphone can be fashionable, fun and still functional all at once. And it's easier to flip with the abovementioned programmes!

To learn more about the Galaxy Z Flip3 5G:
Please feel free to reach out to the IN.FOM team for Samsung Singapore should you have any questions, or if you're interested to trial the Galaxy Z Flip3 5G!
1 Promotion is valid for seven calendar days, commencing from the date the loaned device is returned. While stocks last. Terms and conditions apply
2 Other company and product names mentioned herein are trademarks of their respective companies. Mention of third-party products is for informational purposes only and constitutes neither an endorsement nor a recommendation. Samsung assumes no responsibility with regard to the performance or use of these products.
3 Requires the latest Smart Switch on Galaxy phones (3.7.22.1 or greater) and the latest WhatsApp version on iOS devices (2.21.160.17 or greater). Available for devices running iOS 10.0 or above, and Android 10 or above. WhatsApp can only be migrated before sign in on the new device. If someone signs into WhatsApp before migration or before SmartSwitch is done transferring data, the migration will not be possible.
4 Provided by PC Dreams Pte Ltd and CompAsia Pte Ltd (Samsung Online Store) as independent third parties. Terms and conditions apply.
5 See www.samsung.com/sg/tradeup for the full list of eligible trade-in devices and their respective trade-in values. Trade-in value may vary, depending on the device condition. Samsung reserves the right to amend the list of eligible trade-in devices and their trade-in values at any time without prior notice.
6 Selected trade-in models only. Terms & conditions apply; see www.samsung.com/sg/tradeup.
7 Value is inclusive of the additional $100 trade-in value. Terms and conditions apply.