More ways to
make your own TV


Enjoy The Frame as a 4K QLED TV or as an innovative display of your favourite works of art. Its refined design makes it an even more elegantly crafted visual masterpiece. And it just got even better with additional styles, colour, artwork and add-on options to completely personalise and enhance your spaces and everyday experiences.

Discover how The Frame gives you more ways to make this lifestyle TV your very own.

Are you into design?
The Frame makes the perfect
finishing touch to your home interior.
Do you love art?
The Frame turns your space into
an endless gallery of masterpieces.
Art Store subscription required to access full selection. Fees apply to subscription service. Art pieces in the Art Store are subject to change without prior notice.

Want a TV that works smarter,
so you don't have to?
The Frame turns your TV into your own personal assistant
and makes it easier to stay productive from home.
Use of Smart TV requires internet connection.
A valid Samsung account may be required to access some or all of Smart TV services.

Looking for the best
in picture and
sound quality?
Breakthrough QLED picture and sound technologies
make The Frame the ultimate home entertainment
experience.

"looks amazing just sitting on the wall off. When the art is on it looks extremely real."
65" Class The Frame ArtMode QLED 4K HDR Smart TV (2020), Samsung.com
Images are for illustrative purposes only.
Water Lilies, By Claude Monet

Painting for Mary(2015), By Sandy dooley

Botanical #1 (2019), By Christine Flynn
Discover the ideal size for your space
The Frame 43"
(2021)
43LS03A

The Frame 50"
(2021)
50LS03A
The Frame 55"
(2021)
55LS03A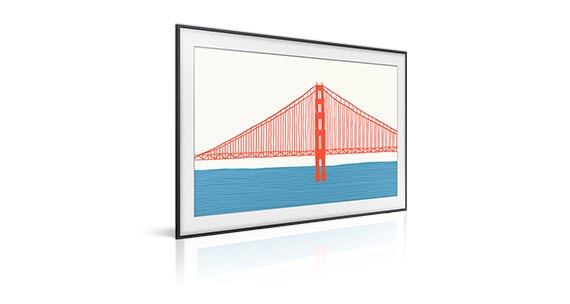 The Frame 65"
(2021)
65LS03A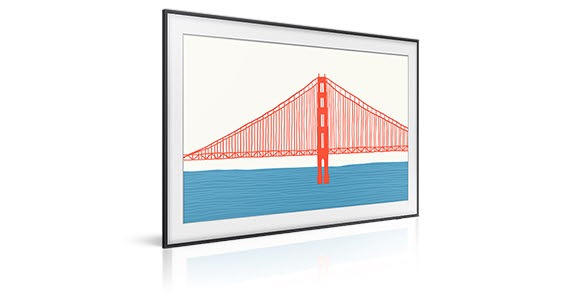 The Frame 75"
(2021)
75LS03A
Customisable frame bezel and other accessories sold separately.        
Images are simulated for illustration purposes only. Appearance, design, and GUI (Graphic User Interface) specifications not affecting product performance are subject to change without notice.
Actual products including remote control may differ from image shown. Please see our product gallery.