Find your ideal Washing Machine
Explore our washing machines
Our most intelligent collection yet.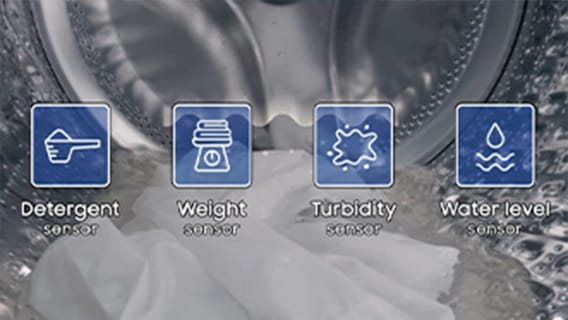 Optimised cleaning with 4 smart sensors

AI Wash detects detergent, weight, soil and water level using 4 smart sensors. It then adjusts the wash cycle so it is optimised for best washing results1 with less waste and effort2.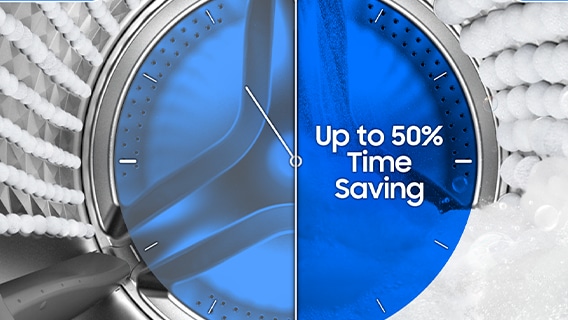 Cleaner clothes in half the time

QuickDrive™ cuts wash times by up to 50% and energy use by 20% without compromising performance3 so less time is spent on washing while being eco-friendly.

Fights stains, protects fabric
Ecobubble™ dissolves detergent better even at low temperatures4 , quickly penetrating fabric and removing dirt easily, while saving energy and protecting its color and texture5 .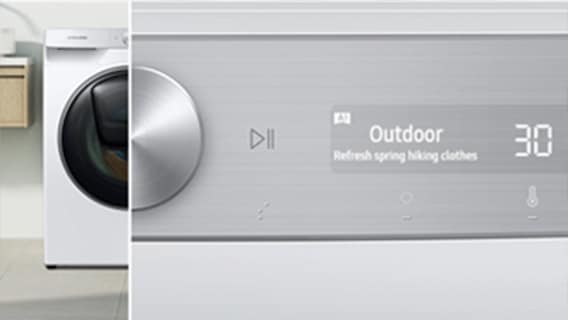 Personalised washing experience for you

AI Control quickly learns your habits6, to suggest cycles and monitor each wash.
Clothing care routine elevated with the Bespoke AirDresser

Refresh and sanitise your clothes, hard-to-wash and bulky laundry from the comfort of home.
Choose from a variety of clothing care options with this innovative laundry solution.


Sanitise items between washes
Sanitise clothes and hard to wash items like soft toys, bags, cushions and bedding with the help of JetSteam. High temperature eliminates 99.9% of bacteria, viruses, and kills 100% of house dust mites7.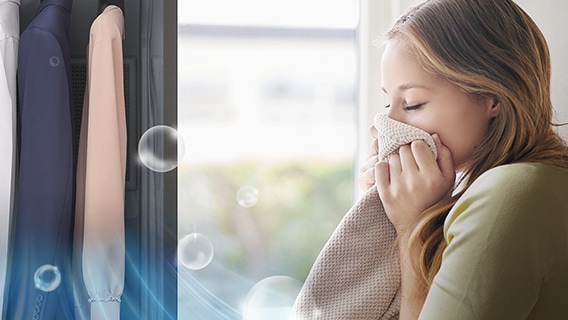 Deodorise and keep clothes fresh

Pop your clothes into the Bespoke AirDresser and keep them looking and feeling fresh at any time of the day. JetAir and the built-in deodorising filter removes dust and eliminates 99% of odours such as from food, smoke, and sweat8.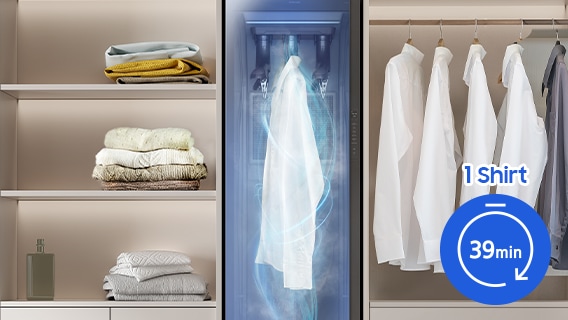 Gentle and optimised drying

Protect clothes with Heatpump Technology's gentle, low-heat drying. An innovative humidity sensor also reduces drying duration accordingly by continuously sensing your clothing's moisture level.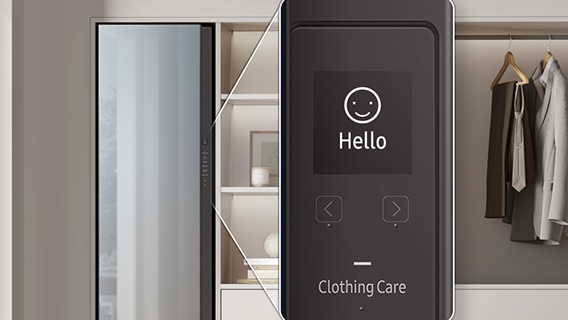 A smart way to care for your clothes

Clean clothes easily and effectively with a powerful AI Control for personalised recommendation cycles based on your habits9 and suggestion of the most common courses and settings.
Compare and choose
the best laundry product

Specifications are accurate as at time of publication.
*Offer ends 31 Dec 2023. While stocks last, T&Cs apply.
1 Actual results may vary depending on individual use.

2 AI Wash holds detergent for up to 1 month's washing, based on the average of 4 loads per week. May vary depending on the washing load and settings.

3 Tested on WW8000T compared with Samsung WW6500K. Saves 50% time and saves 20% energy on Cotton (40℃, half load) cycle with washing performance within ±5%. Based on Intertek data.

4 Tested in accordance with IEC 60456-2010 / 4kg Wash Load / Super Eco Wash cold (WF80F5E5U4W) vs. Cotton 40°C without Eco Bubble (WF0702WKU). Individual results may vary.

5 Based on the Performance Lab Test report by Springboard Engineering on EMPA strips, comparing a normal detergent solution and bubble technology without mechanical action.

6 Server-based big data analysis is not available in CIS, China and in markets where the server is not available.

7 Based on testing by Intertek. 1) Eliminates 99.9% of viruses, including Influenza B, Norovirus, Rhinovirus, Hepatitis A, Rotavirus and enterovirus. 2) Eliminates 99.9% of bacteria such as Staphylococcus aureus, E. coli, MRSA, Streptococcus pneumoniae, Legionella pneumophilia, Pseudomonas aeruginosa, klebsiella pneumoniae, Corynebacterium diphtheriae, and Enterococcus faecalis. 3) kills 100% of house dust mites.

8 Based on testing by Intertek. Eliminates 99% of Iso-Valeric acid: sweat, 4-Ethenyl pyridine: tobacco, Valeraldehyde: roasting meat, and Tetrachloroethylene: dry cleaning. Testing for Iso-Valeric acid and 4-Ethenyl pyridine based on KS K0891 Standard. Results may vary depending on the actual usage conditions.
9 Stores user data, preferences and usage patterns to suggest the most useful options.