The new QuickDrive™
The new QuickDrive™
Powerful Clean. Intelligent Wash
Powerful Clean. Intelligent Wash
Best-in-class energy efficiency, personalised experience
With our advanced QuickDrive™ technology, you can wash clothes more effectively with less energy, time and effort*. This intelligent washer does all the thinking for you while the easy-to-use control panel remembers your laundry habits and suggests your favourite wash cycles. The SmartThings app** lets you schedule your wash from anywhere.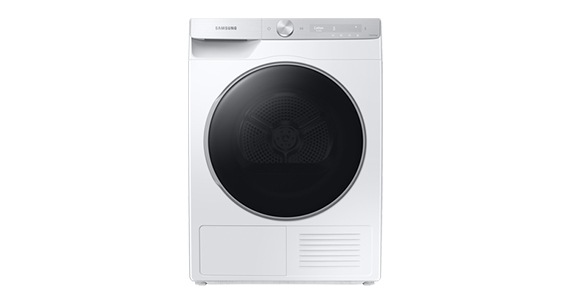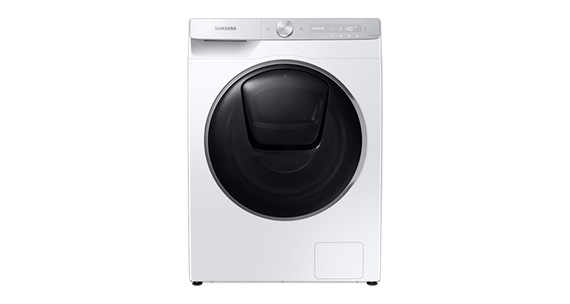 * Tested on WW7000T compared with Samsung WW6500K. Saves 50% time on Cotton (40℃, half load) cycle with washing performance within ±5%. Based on Intertek data.
** Requires installation of SmartThings App on compatible Android or iOS device, with Android 6.0 and higher or iOS 10.0 and higher, and Wi-Fi® connectivity to the mobile device.
Full clean in 39 minutes*
QuickDrive™
Let QuickDrive™ take the load and get a full clean in 39 minutes*. The technology also cuts wash times by up to 50% and energy use by 20%** without compromising the cleaning performance. Its 'Q-Drum™' has a 'main drum' and 'backplate' that rotate independently to wash your clothes quickly and efficiently, everytime. Spend less time washing and more time wearing.


* Based on using Super Speed at the default settings with a 5kg load.
** Tested on WW8000T compared with Samsung WW6500K. Saves 50% time and saves 20% energy on Cotton (40℃, half load) cycle with washing performance within ±5%. Based on Intertek data. 
Intelligent Cleaning
AI Wash*
Every laundry load is unique. AI Wash knows what to do with your laundry even when you don't. Its 4 built-in sensors work together to determine the optimal amount of water, detergent and rinses your load needs based on soil level and weight of your clothes.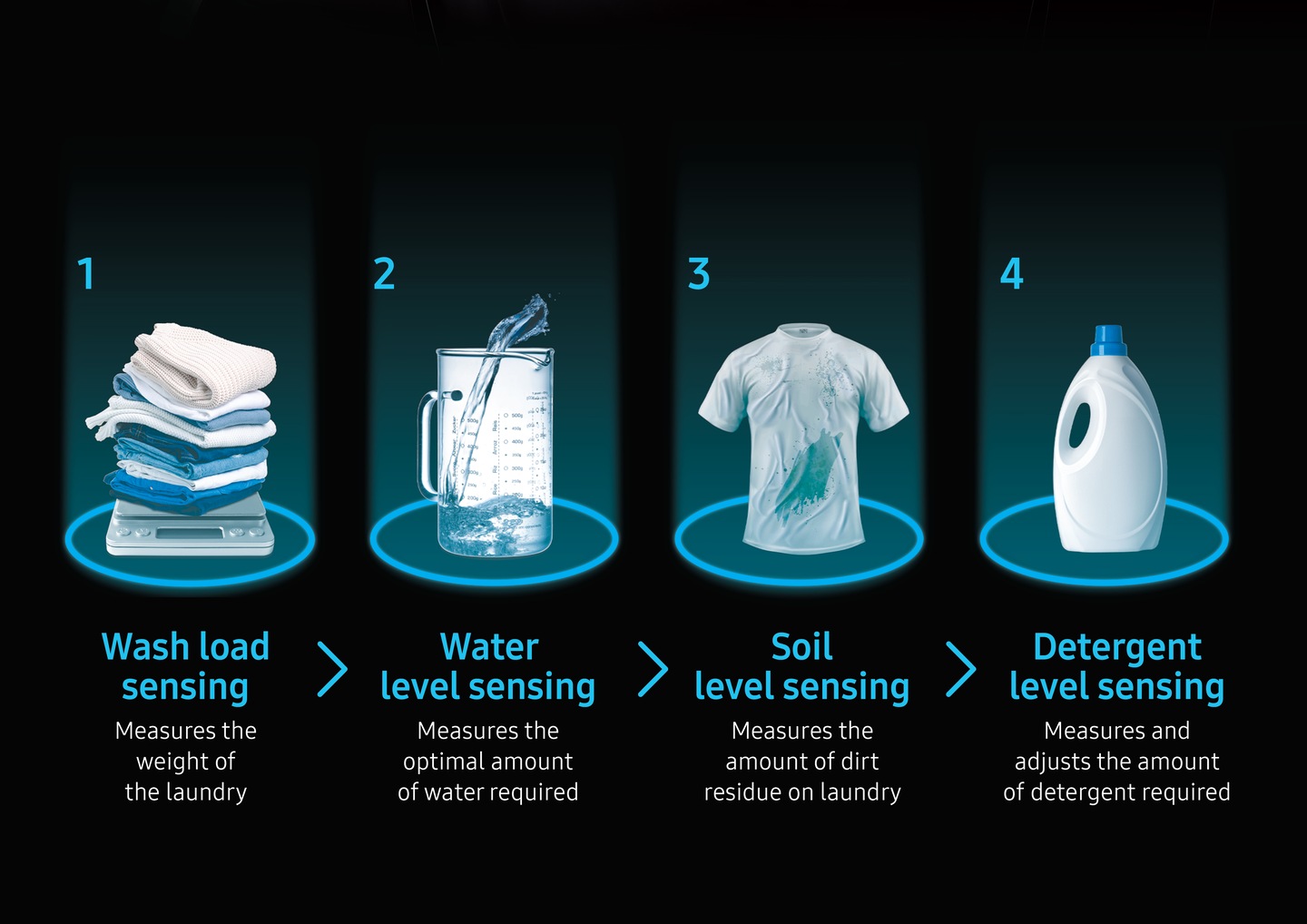 * Actual results may vary depending on individual use.
Simplified and personalised laundry experience
AI Control
Your laundry now figures itself out. The AI Control personalises washing by learning your laundry habits, displays your most frequently used wash cycles and custom settings upfront. A SmartThings App* offers advice on cycles, planning and troubleshooting.

Intuitive display
Helps you find your favourite cycle simply and quickly.
Personalised cycles
Remembers your laundry habits and suggests your favourite cycles first.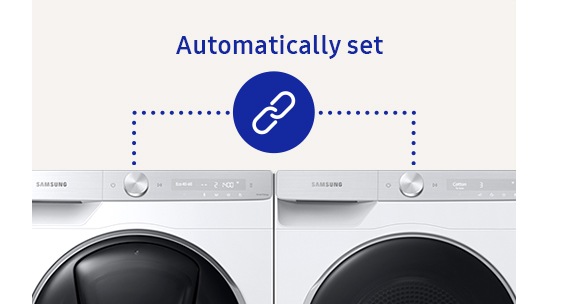 Auto Cycle Link
Automatically selects the drying course based on the wash cycle**. Now that's smart.
* Available on Android and iOS devices. A Wi-Fi connection and a Samsung account are required.
** Auto Cycle Link is only available when both the washer and dryer have AI Control and WiFi connected.
Sanitise your clothes for greater peace of mind
Hygiene Steam
Give clothes a deep, hygienic clean with steam that improves the cleaning quality of your wash without pre-treatments. It releases steam from the bottom of the drum, so every item is thoroughly saturated. This removes ingrained grime and 99.9%* of bacteria and reduces allergens.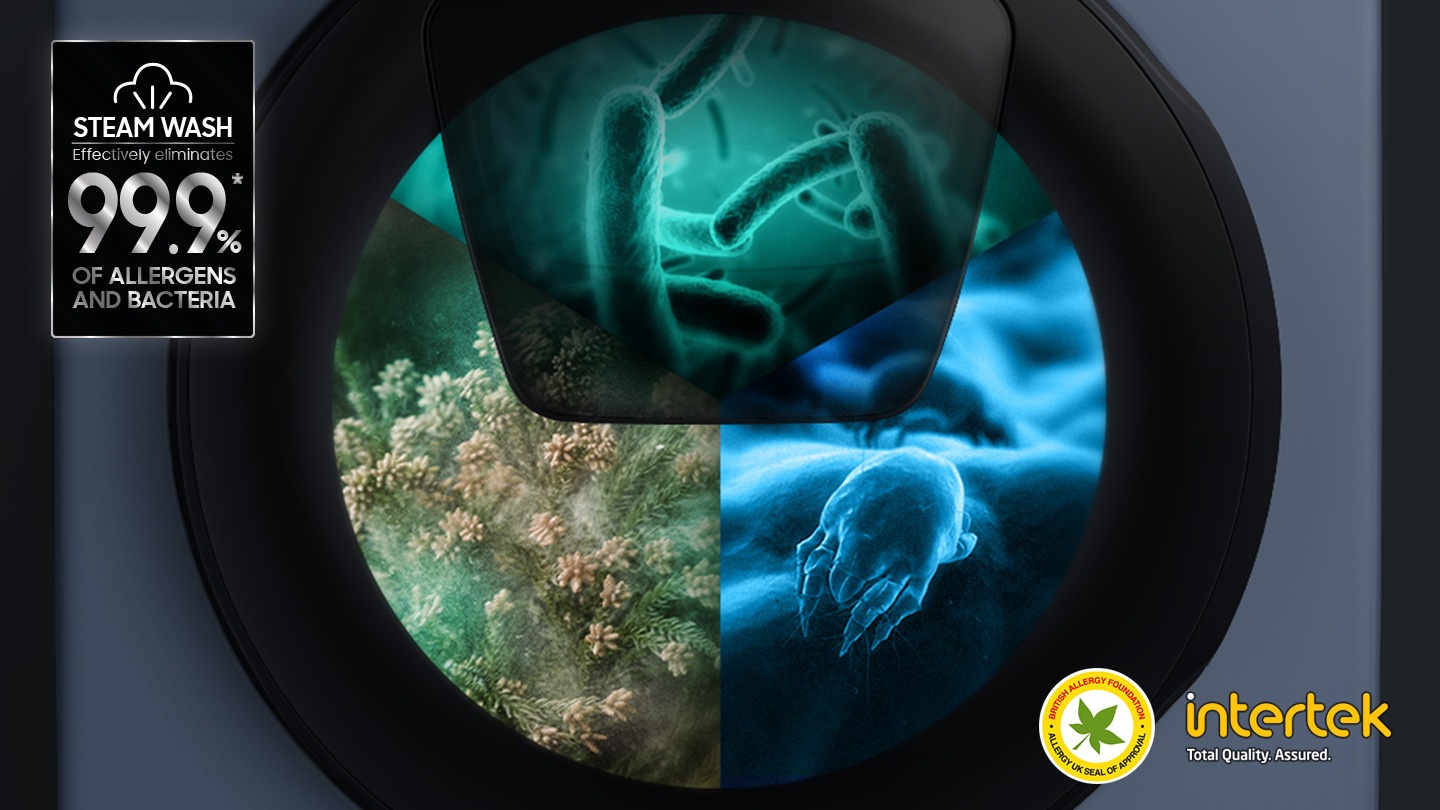 * Based on the Intertek test report for the Hygiene steam course. Removes 99.9% of certain bacteria, including Staphylococcus aureus and Escherichia coli. Individual results may vary. Based on The British Allergy Foundation (BAF) test report for the Hygiene Steam course. Removes allergens derived from house dust mites.
Add items any time
AddWash™ Door
Relax when you're doing the laundry. Forgot a sock, or just need to catch the rinse and spin cycle for hand-washed items? The AddWash™ door lets you add them in even after your wash cycle has started. You can also add extra detergent if necessary.
The Add Wash door only opens when the drum temperature is below 50°C. Only fabric items, clothing, detergent and softener can be added.
Auto Dispense
Gets it right, every time
Save time, effort and money. Load up to 1 month's worth of detergent and softener*, and the machine automatically dispenses the appropriate amount for each wash cycle to minimise wastage. You'll get a notification once it's time to refill.
*Based on Normal concentration. No. of cycles will increase to 16~20 times when softener of 2X / 3X is used. Auto Dispense holds detergent for up to 1 month's washing based on the average of 4 loads per week. May vary depending on the washing load and settings.