The Z Factor: Fashion Meets Fun & Function with the New Galaxy Z Flip3 5G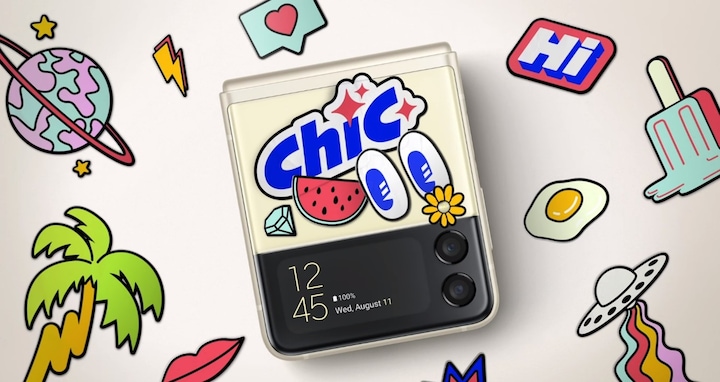 The Samsung Galaxy Z Flip has brought the clamshell form factor back in trend, showing how a modern and powerful smartphone can be fashionable, fun and still functional all at once.

The new Galaxy Z Flip3 5G has taken the clamshell smartphone – that has since amassed legions of fans across the world – to the next level. As Samsung's most stylish phone yet, the Galaxy Z Flip3 5G boasts an improved seamless design, characterised by a new 1.9-inch Cover Screen.

It is also available in seven refreshing and chic colours¹, including Cream, Green, Lavender, Phantom Black, as well as online exclusive colours, Gray, Pink and White! Coupled with numerous accessories² , such as a Silicone Cover with Ring or Strap, a Clear Cover with Ring, a Leather Cover or an Aramid Cover, the Galaxy Z Flip3 5G takes personalisation to the next level, empowering fans to fully express their bold and unique lifestyles.

Over the years, Galaxy Z Flip users have creatively come up with ways to make the most out of the phone's unique design. From being a personal pocket dressing buddy to a handy companion for creating social media content, read on to find out how you can experience the next level in the Flip revolution with the Galaxy Z Flip3 5G.
¹Gray, white, pink available exclusively online
²Accessories sold separately.
1. Your pocket dressing buddy
It's a common occurrence for most of us – you're at the door, all dressed up and ready to go, but just need the final assurance that your look is flawless.

Sure, you can hold up your smartphone and rely on the selfie camera – but that leaves one awkward hand to do all the touching up.

The Galaxy Z Flip3 has you covered. Place it down on any surface opened at an angle and click on the Camera app. The intuitive Flex Mode on³ the Galaxy Z Flip3 5G will show your image on the top half of the screen like a compact and enable you to do a quick fix on the spot without leaning the phone against another surface for support.
³Flex mode supported at angles between 75° and 115°. For your convenience, it may be difficult to maintain Flex mode while moving due to shaking or other movement. It is recommended to keep the phone stationary while in Flex mode.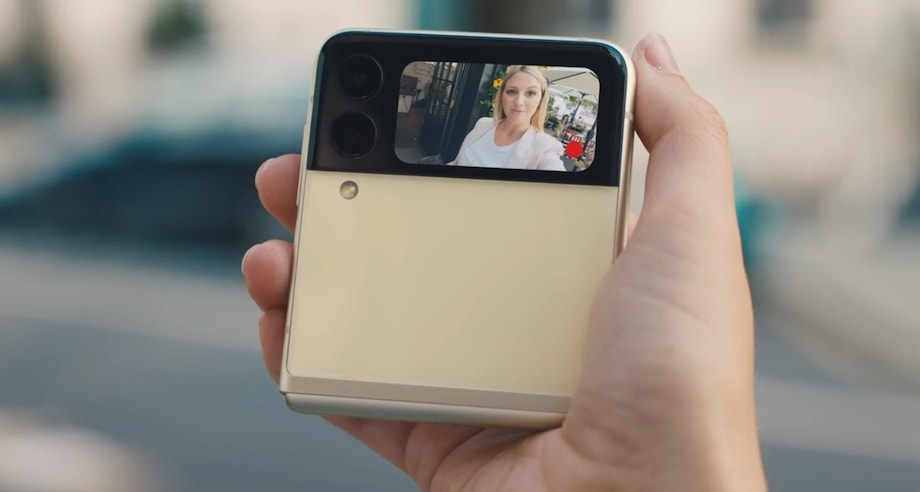 If you ever need a quick and discreet touch-up when you're out and about, simply press the lock button twice to activate the selfie camera on the Cover Screen without even opening the Flip.
2. Your entertainment buddy
If you're looking to catch a break in between daily tasks, you can use the Galaxy Z Flip3 5G to watch videos at your favourite angles. In addition, the 120Hz refresh rate on the Main Screen allows you to scroll through social media feeds or play your favourite mobile games with little lag. Featuring a sturdy Hideaway Hinge that lets the Flip stay open and in place at various angles⁴, the Galaxy Z Flip3 5G also packs upgraded Stereo Speakers and Dolby Atmos® for an immersive sound with clarity, depth and spatial effects, so you can listen to your favourite music and enjoy blockbuster movies in full cinematic sound.
With enhanced Sweeper technology that protects your device from dust and other particles to maintain device durability, the Galaxy Z Flip3 5G also features an IPX8 water resistance⁵, so you can now bring the Flip3 along for pool and beach days too!
⁴Flex mode supported at angles between 75° and 115°.
⁵IPX8 is based on test conditions for submersion in up to 1.5 metres of freshwater for up to 30 minutes. Not advised for beach or pool use. Not dust-resistant.
3. Your 'mini' laptop
When you need to be productive, the folded design of the Galaxy Z Flip3 5G instinctively lends itself to multi-tasking with different apps on the top and bottom screen when the device is folded. With Multi-Active Window⁶, you can now multi-task like a pro.
⁶Multi-Active Window works with select applications; compatible apps growing through third party developers.

4. Your instant tripod
Enjoy the convenience and flexibility of taking hands-free selfies and videos to create even more content with the Galaxy Z Flip3 5G. Whether you're going live on Instagram with a mukbang video, filming the latest TikTok dance trend or just taking a group picture with friends, the Galaxy Z Flip3 5G has got you covered as it can stand on its own without additional props. Just click record!
5. Your discreet assistant
The compact and pocketable design of the folded Galaxy Z Flip3 5G fits snugly in your hand, the back pocket of your jeans, and even in small purses – making it the perfect companion for quick errands without ever getting in the way.

Plus, the new Cover Screen, now larger⁷ at 1.9-inches with support for new widgets, Always On Display and message scrolling, lets you discreetly view notifications, switch music, make payments⁸ and even take selfies without ever needing to flip open the device.
⁷Compared to Galaxy Z Flip.
⁸Payments via Samsung Pay; availability varies across countries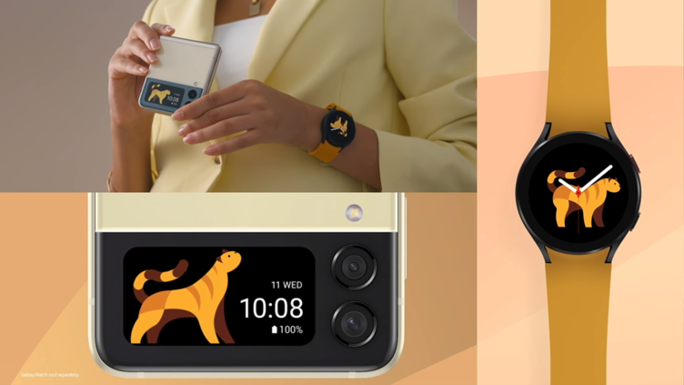 6. Your matching fashion accessory
Besides being small and sleek, the Galaxy Z Flip3 5G can also double up as an accessory for those looking to make a fashion statement. Customise the Cover Screen wallpaper to blend naturally with the watch face of the Galaxy Watch4 for a completely coordinated feel or choose from the variety of colours and Galaxy Z Flip3 5G accessories available to complement your look.