Inspiring Youths To Solve For Tomorrow
"Even though Kai Lin and I come from a business background, our passion for the environment led us to come up with our own methods of producing our leather through biomaterials engineering," said Sokwei Wong, team representative of team SUSKIN.
"I think the competition was a great platform for us as youths to do our part and come up with solutions to solve important issues. We hope to inspire others to pursue their dreams, no matter the background one comes from," added Wong.

This was what sparked two young students from the Republic Polytechnic (RP) to develop SUSKIN, a sustainable vegan leather to improve environmental sustainability – one of the key themes of Samsung Solve for Tomorrow 2020. It is also the top societal issue that three out of five Gen Zs are most concerned about, according to a Samsung online poll among 110 Gen Z respondents in Singapore.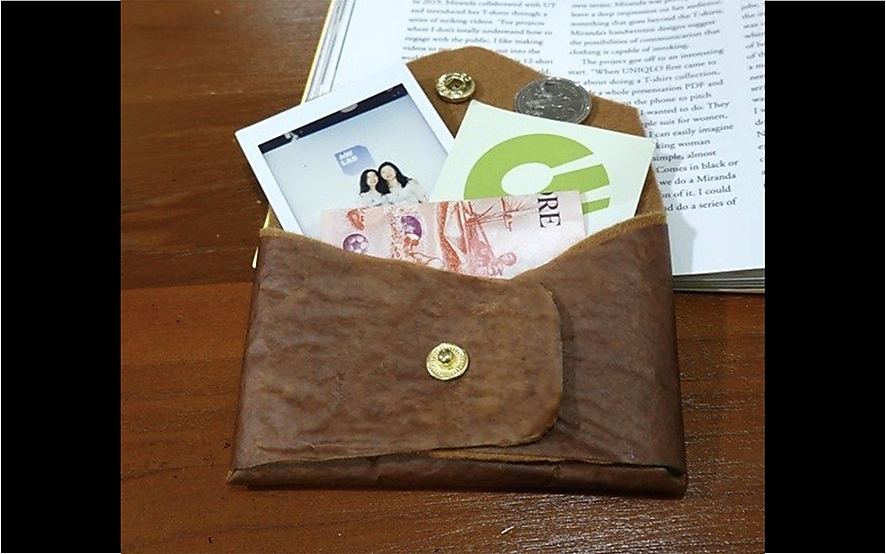 Using biomaterial engineering, the team used food waste to create a sustainable textile that withstands heat from hot-stamping customisation, opening opportunities with the fashion industry.
Fostering an inclusive and harmonious society
Another innovative solution we saw at this year's competition was DeafSpeak, a programme specially designed to aid hearing-impaired children in learning and development by team JBSamsung.

Two computer science undergraduates from the National University of Singapore (NUS), Zhang Zhi Yao and Hu Jia Jun, were motivated to level the playing field for those with special needs after learning about the challenges that their hearing-impaired classmate faced in education and in befriending peers when he was younger. This set the duo on their journey to develop DeafSpeak.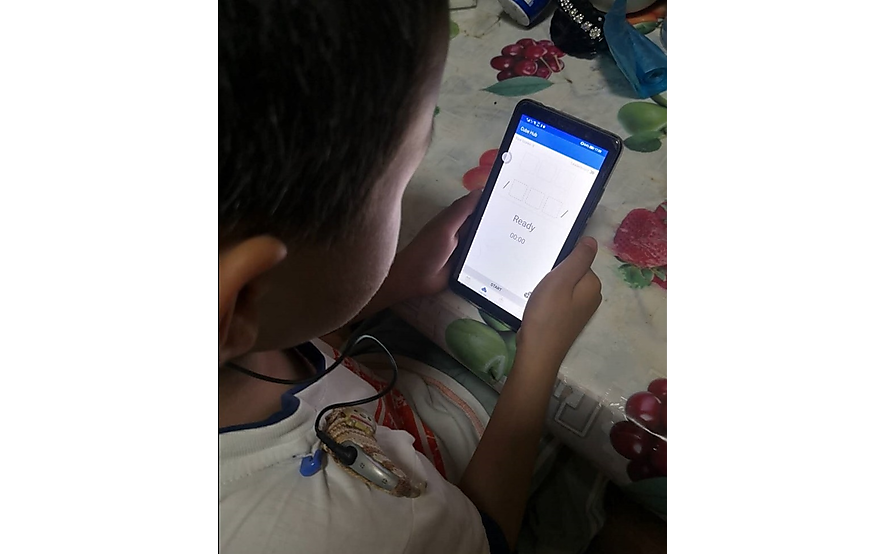 Working with associations for the hearing-impaired, JBSamsung trialled their idea with 20 young children to refine their prototype. "Facial recognition and artificial intelligence improved our training curriculum and provided real-time feedback to the users." said Zhang Zhi Yao, team representative of JBSamsung.

They also consulted audio-verbal therapists (AVTs) to ensure they were creating a product that would be useful for AVTs and caretakers.
- JBSamsung consulting medical practitioners from Singapore General Hospital, Touch Community Services and NUS (L-R)
An extraordinary Samsung Solve for Tomorrow
held in extraordinary times
Both SUSKIN and JBSamsung are the grand winners of Solve for Tomorrow 2020, the fourth edition of the competition in Singapore. They were two of the ten finalist teams to make it to the virtual Grand Finale on 26 June 2020.

This year's edition is specially meaningful as the competition and Grand Finale were able to proceed even though the participants and judges had to be kept physically apart when Covid-19 escalated.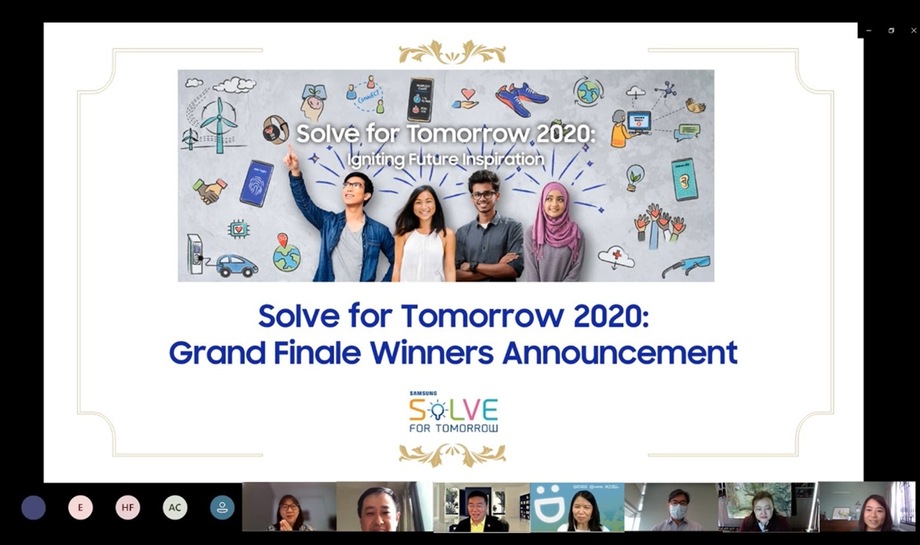 Samsung's virtual Solve for Tomorrow 2020 Grand Finale Announcement with an esteemed panel of judges from Samsung,
Thanks to technology, we were able to move quickly from a physical to virtual competition, where the students attended a series of webinars, virtual workshops and pitched their ideas virtually, through their screens.
Teams Braille Ebook, Lift, TechBoards, JayKay, Movelei and Fitzy organising virtual meetings to refine their Solve for Tomorrow proposals (L-R)
As Samsung Solve for Tomorrow spokesperson commented during the Grand Finale, "Solving for tomorrow doesn't need to take a hiatus just because we are in the middle of a pandemic."

And youths in Singapore are certainly not taking a break when it comes to addressing the societal and environmental issues that are closest to their heart. This year, 640 students participated in the competition, which is one of the highest numbers to date.
Empowering youths to make
a meaningful difference in their communities
The format of the competition may be different, but our goal remains to ignite the passion and creativity in Singapore's youths and provide them with the opportunity to address salient challenges of our nation through the application of STEM knowledge. This year's added focus to go beyond ideation and include prototyping helped bring actual ideas to life.

The Samsung online poll found that more than 80 percent of them are optimistic that Singapore can solve the societal and environmental challenges it faces, and they feel empowered to solve these issues.
Through this competition, youths across the nation have a platform to channel their optimism and desire to tackle issues in their community to create impactful solutions.

Besides environmental sustainability and building an inclusive, harmonious society, this year's Solve for Tomorrow Competition also focused on active ageing and health and well being.
Here are some solutions from the other winning teams that address issues related to these themes.
Promoting graceful and active ageing
Team LIBERO from NUS designed a smart, convertible wheelchair-walker that provides independent and safe mobility for the elderly. The prototype went through a realistic testing process – built and tested by a team member and his elderly grandmother.

The solution addresses a pertinent issue in Asia, while ensuring the elderly still have autonomy in mobility through the application of solutions such as real-time GPS navigation for convenient routes.

This enables the elderly to stay physically and mentally active during retirement, which was rated the most important factor for active ageing in Singapore.
Maintaining health and well-being
Innovating in adversity
In these ambivalent times, it is ever important that we think out of the box to innovate fast and solve real-world issues.

Technology has the potential to help us overcome some of the biggest challenges we face in the world today, and we are committed to driving forward innovation to improve society and ensuring that the next generation is equipped to experience the benefits of technology.

This year's competition unveiled many inspiring ideas and we hope that Solve for Tomorrow will continue to be a beacon of inspiration and empowerment for the future generations of youths.

For more information on the Solve for Tomorrow 2020 Competition, please visit: https://www.samsung.com/sg/solvefortomorrow/.