Design Your Dream Kitchen with Samsung
The kitchen is a big part of our home – even for homeowners who don't cook frequently. It is more than just a space where food is stored and meals are prepared. It is also where we spend quality time with our loved ones, and can even double up as a zone for work and play.

Whether you're a first time homeowner or simply looking to reconfigure your existing kitchen layout, read on to find out how you can customise and design your kitchen to reflect your personality and preferences.

Get ready to curate the ultimate kitchen experience at home with these three tips from Samsung!
Plan your kitchen spaces carefully
Consider demarcating important zones in the kitchen for eating, storage, prep, washing and cooking.

After plotting out your kitchen zones, you will then need to figure out appliance placements for each area – such as a table top or kitchen island for eating and prep work, a refrigerator for storage, a sink for washing and a stove for cooking – and plan around these.

While you may not be able to choose specific placements for your sink and refrigerator, you can still decide where you'd like to place your table tops or kitchen islands. As a general rule of thumb, table surfaces should ideally be wide enough to place appliances when needed, with enough leftover space for you to prepare meals, eat, or even do work whenever you need a change of scenery while working from home.

When it comes to choosing appliances, think of your own lifestyle and needs. For those who are always on-the-go, the Samsung Grill Microwave Oven comes equipped with pre-set cooking modes that helps you whip up meals and even desserts quickly and easily. Compact enough to tuck away in a corner and available in a variety of fun shades such as Mint Green or Pure White, this appliance seamlessly integrates into any kitchen setup.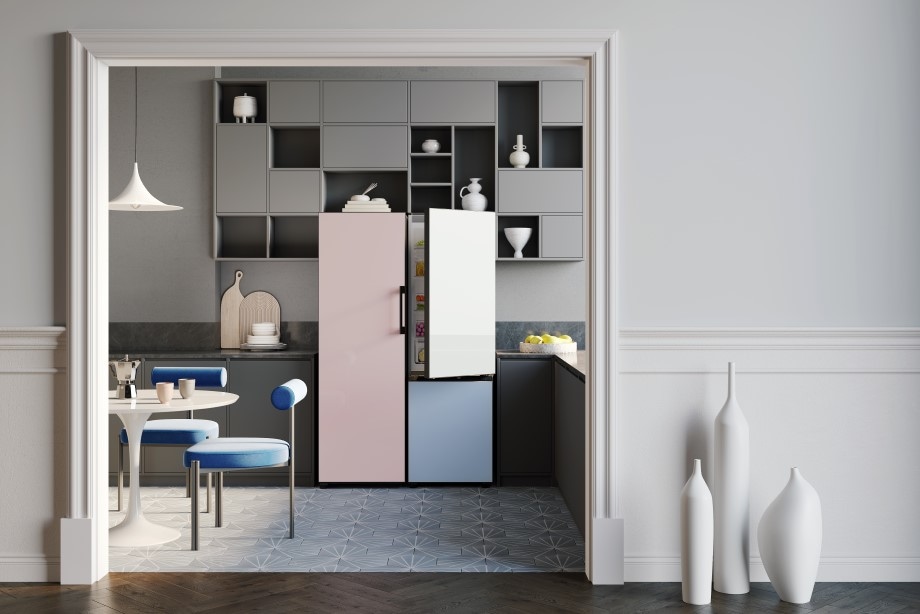 Play around with colours
The kitchen should spark joy. Gone are the days where kitchen walls, cabinets, appliances were only found in white or muted colours. In addition, you may choose a bold palette to add a touch of joy and excitement to your overall kitchen space.

At the pinnacle of Samsung's personalised offerings is the BESPOKE Refrigerator, which reimagines traditional notions of the fridge being a mere functional storage for food. Available in 5 original colours and 2 finishes, the BESPOKE Refrigerator is versatile enough to complement any type of kitchen interior design.

BESPOKE refrigerators will be available in Singapore from September onwards and retailed from$1,799.
Supercharge your kitchen with tech
After figuring out the number of appliances you need and their respective kitchen placements, don't forget to check whether there are enough electrical outlets to power up each gadget! Consider adding a Wi-Fi signal booster in the kitchen as well, so that you can introduce Wi-Fi enabled devices to your kitchen too – such as a tablet for entertainment purposes or to guide you with meal prep.

Sleek and compact, the Samsung Galaxy Tab S7+ is a handy companion to have around when you need to access recipes quickly online or play music and videos in the background as you cook. Boasting a massive 12.4"¹ Super AMOLED display – the largest yet on a Galaxy tablet – along with quad speaker sound by AKG® and Dolby Atmos® , the Galaxy Tab S7+ offers all the entertainment you can get in the form of a compact device, leaving ample space to cook and work in the kitchen!
¹ Measured diagonally as a full rectangle without accounting for the rounded corners. Actual viewable area is less due to the rounded corners
Transform a tiresome routine into something more sophisticated with the Samsung Jet Bot+ that comes with its own Clean Station™. Now you can automate this tiresome chore and enjoy a hygienically cleaned home effortlessly.

Clean without lifting a finger anytime, anywhere. Activating a clean with the Samsung Jet Bot+ can be done with just a few taps via the SmartThings App². Jet Bot+ even automatically empties dust³ and dirt into the Clean Station™ after vacuuming. The Clean Station™ Multi-layered Filtration System keeps your kitchen and home hygienically clean by trapping 99.999% of fine dust⁴, preventing them from being scattered back into the air.

The Jet Bot's advanced LiDAR Sensor ensures a thorough clean where no crumb gets left behind. By repeatedly scanning⁵ and gathering distance information, it can accurately map out your kitchen space and easily navigate underneath counter tables, in lowly-lit space⁶, and also manoeuvre around blind spots!
² Available on Android and iOS devices. A Wi-Fi® connection and a Samsung account are required
³ Results may vary depending on individual use. Dust and hair stuck inside the grille may not be removed with a single cycle.
⁴ Based on internal testing, using Max mode, in accordance with the IEC62885-2 Cl. 5.11 standard. Results may vary depending on the actual home conditions.
⁵ Scans 360° over an area of 6 metres at 10 rotations per second.
⁶ Based on internal testing in an area with furniture arranged in similar way to a real home environment compared with a conventional Samsung VR7000M
Grill Microwave Oven with Grill Fry, 30L (Mint)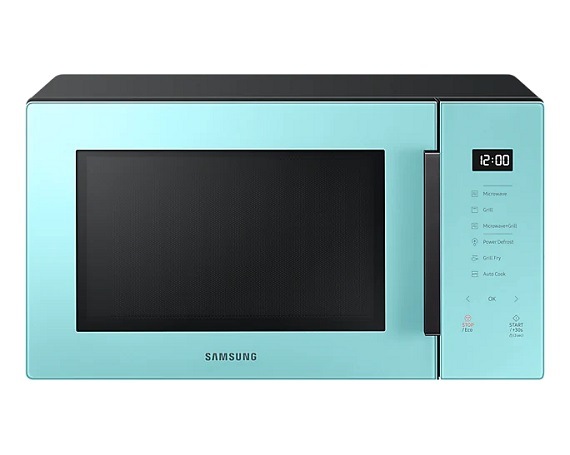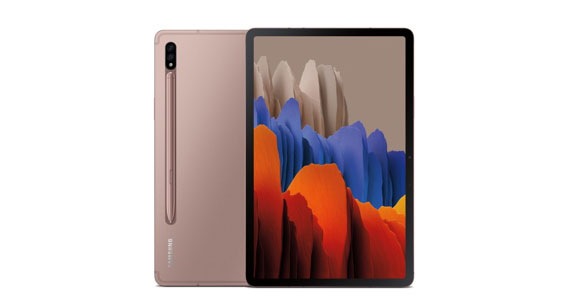 Jet Bot+ with Clean Station™