Is Galaxy Note9 faulty when the rear camera is tilted?
Last Update date :
Aug 01. 2022
Note 9's camera is equipped with Optical Image Stabilizer (OIS).

The Anti Shake function (using OIS) prevents photo distortion caused by camera shake when taking pictures. The basic operation principle of the anti-shake function is to move the lens in the direction opposite to the movement of the hand to achieve the optimum image quality. For this purpose, the camera lens is designed to be able to move up and down and left and right to operate the anti-shake function.

When the camera is off, the anti-shake function is not activated. Depending on the weight of the lens, the camera may be shifted to one side. When the camera is activated, the anti-shake function is
activated, so the lens moves to the optimum position.
All Samsung smartphones undergo rigorous internal inspection test, and are always being controlled under Samsung's high level of quality standards internally.


If you want to check camera performance of your device, please do Test hardware with Samsung Members application by follow these steps:

1
In Apps > select Samsung Folder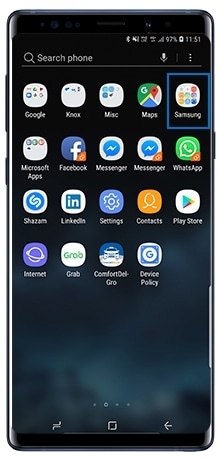 2
Select Samsung Members
3
Select Test Hardware
4
Select Camera
Please answer all questions.