BRAND INNOVATION
Into the blue
The thoughts of designers within Samsung's blue
Classic blue
Pantone chose Classic Blue as its 2020 Color of the Year. It is not particularly known for its warmth, but it is a color that offers comfort. It carries the strength to console people living in this fast-changing modern world. "A boundless blue evocative of the vast and infinite evening sky, Classic Blue encourages us to look beyond the obvious to expand our thinking; challenging us to think more deeply, increase our perspective and open the flow of communication." These are the words of Leatrice Eiseman, Executive Director of the Pantone Color Institute, explaining their choice for this year. Blue is a special color to Samsung as well. Ever since Samsung's CI was renewed in 1993, blue has been the identity color for Samsung.


Just like Classic Blue, Samsung's signature color also represents the values of comfort and trust. For Samsung designers, blue is the source of inspiration and the north star that defines their identity. Blue is used throughout Samsung's products each with different meaning, such as the Ice Blue LED on the Chef Collection Cooktop, the blue hinge on the Galaxy Book Ion, and the motion LED in the portable SSD. Designers continue to interpret the endless potential of blue by carefully adjusting its contrast and brightness, as well as testing combinations with different colors. Each of the manifestations of blue in Samsung's countless products are instilled with the contemplation, reinterpretation, and mission of a Samsung designer.
Cloud blue for
Galaxy S20
The Galaxy Smartphone came in various blue colors over the years, but the S20 has the brightest blue yet.
Yoojin Kim_
In the last few years, the Galaxy series has pursued a more youthful and gender-neutral brand. For the S20, we carefully considered neutral colors that provide comfort while naturally blending into any surrounding. That's how we ended up on Cloud Blue.
How special is blue to a Samsung designer?
Yunhui Cho_
The signature color of Samsung Electronics is blue, just as red is for Ferrari and yellow is for Lamborghini. Blue is a meaningful medium through which Samsung designers are reminded of their role and identity.
What do you think is blue's unique strength?
Yunhui Cho_
Blue changes each year based on different trends. However, the classical appeal of blue remains unchanged, and it has the special strength of harmoniously entering
our everyday lives.
I'm curious about the meaning of the name Cloud Blue.
Yoojin Kim_
We were inspired by the sky above us that freely roams anywhere without bounds and can be seen by anyone at any time. The warm, soft, and soothing emotions of this color has the capacity to touch the lives of diverse users, regardless of gender or age.
The blend between neutral colors and the prism must have been difficult to materialize in the manufacturing process.
Yoojin Kim_
Bright neutral colors can sometimes make expensive glass materials look like plastic. In order to retain the clear and pure attribute of glass, we worked with the product designer responsible for the exterior form and conducted countless tests with
other collaborating teams.
What kind of experiences do you want users to have with Cloud Blue?
Yunhui Cho_
I hope users experience the sensual appeal of this color that mystically transforms in different lighting or angles.
Yoojin Kim_
My aspiration is for users to experience a cool and composed kind of blue that calmly saturates our day-to-day lives.
Learn more about the Galaxy S20 here.
Navy for
Galaxy Home Mini
I'm curious about the color selection process.
Kwanhee Lee_
In the process of choosing the Galaxy Home Mini's color, we held a company-wide survey and collected color preferences from a lot of people. The results showed that there was a difference in The colors people preferred and colors they wanted to purchase. Navy was a color that could blend in any space with ease and was chosen as the color that people wanted to purchase the most.
The survey results are interesting. Was Navy chosen
Kwanhee Lee_
The core feature of this product is the IR control function that enabled the product to work as a remote control. A black plastic material had to be used in order to realize this function, and Navy was the ideal color to minimize any mismatch caused by the material and find balance throughout the product. It was the best solution to enhance the quality of the overall design.
Is there a correlation in the decision to use navy and fabric materials?
Kwanhee Lee_
The elasticity of the fabric that is put on at the final stage of manufacturing played a pivotal role in terms of creating a seamless design. We needed a fabric material that had incredible elasticity, but this could potentially lead to the product having different weaving sizes depending on the product's form. Navy turned out to be the perfect color to visually alleviate these flaws.
But fabric sees noticeable wear over time, including peeling.
Kwanhee Lee_
That's right. With fabric, contamination is always an issue. There is a higher chance of contamination because it is a product operated by touch, and fabric itself is affected by sunlight and humidity. Navy was chosen with all these scenarios in mind.
Getting to work with navy must have been a meaningful experience for you.
Kwanhee Lee_
When first designing the product, we were hoping that the design we create would be noticeably eye-catching. Now, rather than creating flashy designs that soon fade, we want to develop designs that could comfortably permeate into the lives of many people for a long time. Just like Samsung Blue.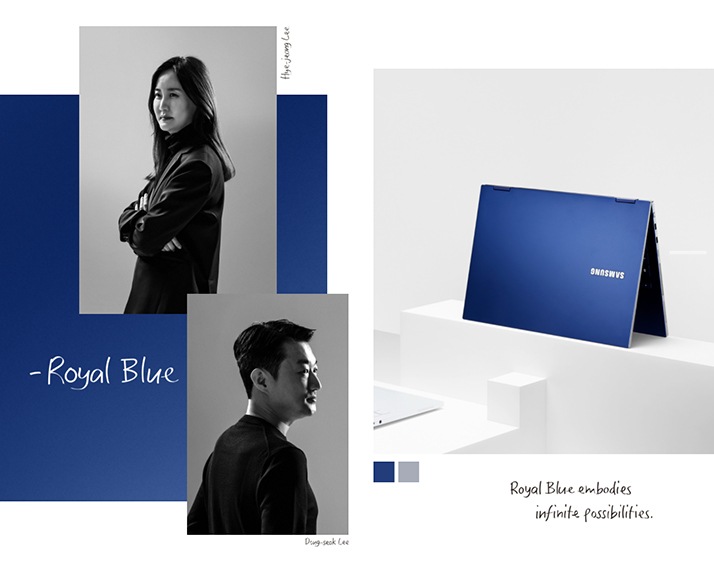 Royal blue for
Galaxy Book Flex
Royal Blue seems like a bold color not often seen on laptops.
Hyejeong Lee_
As far as I know, this is the first time a color with such intensity has been used in a laptop design. We wanted to take a bold and fresh approach to CMF in accordance with the solidity design that emphasized a simple yet strong form. Blue was best suited
for this approach.
Tell us how you came up with the name 'Royal Blue'.
Hyejeong Lee_
'Royal' alludes to its symbolic nature and 'Blue' expresses stylishness and trust. We needed a powerful 'impression' since we're not presenting a newly invented product. Tremendous effort was put into finding a deep and pure shade of blue, which led
us to Royal Blue.
What are your thoughts on blue as a designer?
Dongseok Lee_
It's a common color but not too obvious, and has a wide emotional spectrum depending on its depth. You may think it's a familiar color, but you will soon notice its unique and novel appeal.
Blue and metal seem like a great combination.
Dongseok Lee_
Blue is a stable and stylish color with a distinct presence. Metal shares these attributes as well. To maximize these shared elements, we fine-tuned the entire manufacturing process to focus on the details and be much more meticulously refined.
What was the most memorable part in the process of applying color

to the material?
Hyejeong Lee_
A color with very vivid tones like Royal Blue is affected more by material and finish. For a sturdier and refined shade of blue, we implemented additional manufacturing processes such as adding more coloring work and increasing the brightness and density of the metal particles.
What values do you want to instill in Royal Blue?
Dongseok Lee_
I wanted to express values of infinite possibilities, bright and formidable energy, confidence, perfection, and urban sentimentalities.
Hyejeong Lee_
I wanted this color to express the essence of the color itself in the context of the product and the pure passion toward the change in CMF in the perspective of a designer.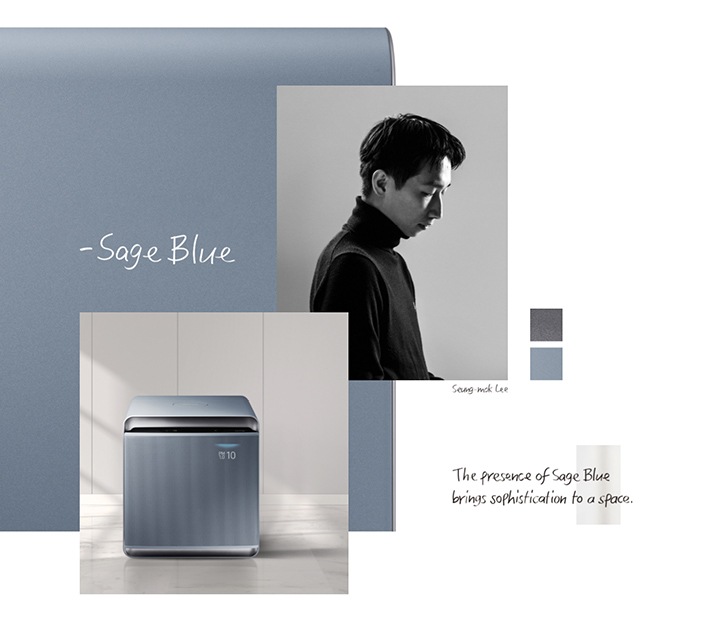 Sage blue for
wind-free Cube
Sage Blue seems like a color that amplifies comfort. It feels calm the more I look at it.
Seungmok Lee_
The motif was the color of pebbles glistening in crystal clear water. We further developed the tone based on essential features of the product such as its powerful purification abilities and quiet, Wind-Free function.
The color looks even more special since it hasn't been seen in other air purifiers.
Seungmok Lee_
Considering the nature of an air purifier, we wanted to find a color that didn't draw too much attention and blend well in any environment. We found that in Sage Blue, a blue that breathes life and fits perfectly in a clean space free of dust.
Colors can look different based on different textures. What kind of color and texture did you want to express?
Seungmok Lee_
The color had to be deep and profound like nature itself, and its texture had to be matte to express comfortable emotions. We experimented with countless colors and particles, eventually discovering the most natural texture we could find. This helps different colors exude their unique particles and harmoniously come together to illustrate a single tone.
What is the distinct appeal of Sage Blue?
Seungmok Lee_
Home appliances now come in a wide array of colors to cater to the unique lifestyles of individuals. They have now become a crucial part of interior design, representing the tastes and sentiments of users. A color like Sage Blue that works well in any setting can elevate the elegance and style of a space.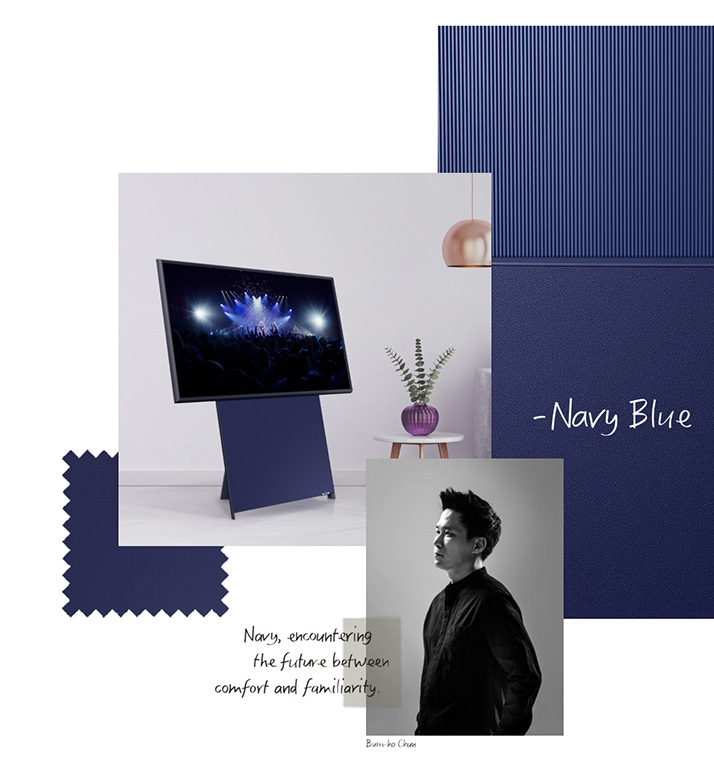 TVs are usually black or silver. That's why The Sero's navy looked so fresh.
Bumho Chun_
The Sero has been designed with the new generation in mind and is a product that pioneers new lifestyles. To make sure the incredibly innovative approach didn't seem foreign or uncomfortable, we chose blue as its color to maintain stability while emphasizing novelty in its form and function.
There are many different shades of blue. What made you decide on Navy Blue?
Bumho Chun_
Like the term 'Ancient Future', we wanted users to experience a fascinating future in a familiar and safe environment. Navy Blue was the magical color we were looking for that has a stylish presence under light but can be quiet and undisruptive in the dark.
Were there any difficulties in materializing the color with unfamiliar materials?
Bumho Chun_
Since we decided to use fabric, which is not usually used for TVs, we worked with a fabric manufacturer for the first time and had to cope with different lead times in production. Compared to working with resin or paint that had samples available in a matter of days, fabric or fiber samples took at least a month. Our efforts were focused on making strategic choices in limited time to create the best possible color.
What does blue mean to you as a Samsung designer?
Bumho Chun_
Designers have the innate mission to reinterpret colors based on trends, lifestyles, and product specifics and present them to users. With that in mind, blue gives Samsung designers a challenge to see things in different perspectives and find perfect balance.
Countless variations of blue are born over the course of history and changing trends, but Samsung Blue will always embody a single message. It seeks to build unwavering trust with users and enter deeply into their lives to expand on their experience and emotions. Just like this fresh and classic interpretation of blue, Samsung's blue will continue to accompany its users as it always has and illustrate a future filled with infinite possibilities.
Learn more about the The Sero here.
Original article from Samsung.com here.
You are invited
Get ready for exclusive access to in-depth features with thought leaders, invitations to bespoke events, editorial beats on innovation, and first dibs on the latest Samsung products. Join our mailing list today.
Subscribe